Class 05
Welcome to scot-rail.co.uk, Scotland's online railway community. The group is for any rail enthusiast interested in the railways and trains of Scotland. It not only consists of the wiki that you're reading now, but a busy online forum and mailing list, which is accessible to anyone who registers. If you would like to join in, all you have to do is register with us for free.
Hunslet 0-6-0 diesel mechanical shunting locomotives operated on BR Scottish Region from 1959 to 1968.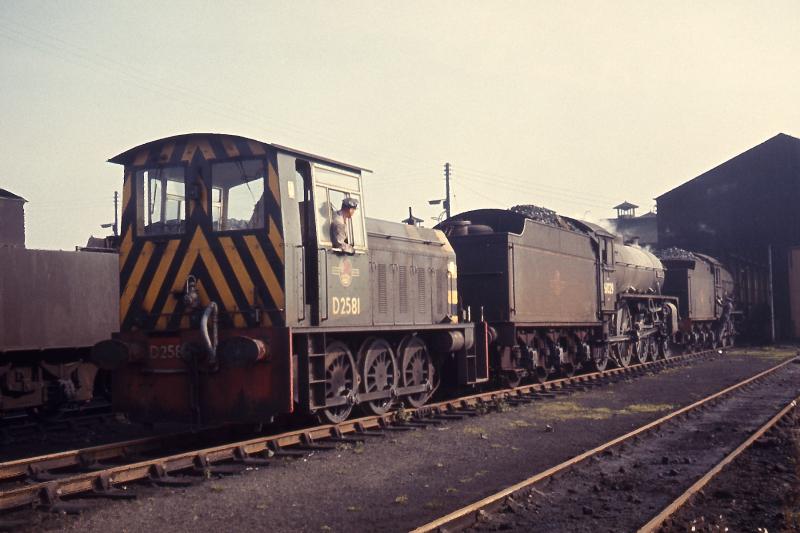 Hunslet 0-6-0 D2581 shunts B1 61029 Chamois and a J38 0-6-0 towards the repair shop at Thornton shed on 22 September 1966 Photo by Castlerahan
Hunslet built 69 diesel-mechanical 0-6-0 shunters with 204hp Gardiner 8L3 engines for British Railways, numbered D2550-D2618.
The Scottish Region had 12 delivered new from July 1958 to April 1959
These were the first of a second series built with 3'9" wheels, a taller cab roof and larger windows.

D2574 & D2575 new to Stranraer (68C),
D2576 to D2585 new to Thornton Junction (62A).

An additional loco was Departmental No. 88 (ex D2612) which moved from Faverdale Wagon Works to Barassie Wagon Works in the Autumn of 1963. Officially allocated to Hurlford (67B), then Ayr (62C) from February 1964.
D2574 moved from Stranraer (67F) to Ardrossan (67D) in March 1964, then to (Ayr 67A) in February 1965.
Dundee (62B) gained it's first Hunslet, D2585, in May 1965, joined by D2584 in December.
Rationalisation of the British Railways shunter fleet took place from 1967 as many of the traditional shunting duties were disappearing.
The Southwest pair, D2574 & D2575 moved to Dundee (62B) in March 1967
Eleven more locos were transferred in from the North Eastern Region in April 1967. From May these were allocated to various sheds in the East of Scotland.
The Aberdeen Kittybrewster allocation included a duty as Inverurie Works shunter.
Scottish Region Allocation at 31st May 1967 (24 locos)
Kittybrewster (61A) 2 locos
D2587, D2597
Dundee (62B) 4 locos
D2574, D2575, D2584, D2585
Thornton Junction (62A) 8 locos
D2576, D2577, D2578, D2579, D2580, D2581, D2582, D2583
Dunfermline Upper (62C) 3 locos
D2593, D2608, D2617
Haymarket (64B) 1 loco
D2592
Leith Central (64H) 5 locos
D2589, D2590, D2595, D2596, D2618
Ayr (67C) 1 loco
No.88
D2577 was the first of ScR Hunslets to be condemned in June 1967, followed by D2578 & D2584 the following month.
No.88 at Ayr had been out of use for some time before official withdrawal in September 1967.
Four of the first series locos with 3'4" wheels and low cab roofs moved to Scotland after being surplus at Speke Junction, Liverpool (8C).

D2556 & D2559 were reallocated to Haymarket (64B) in June 1967, and withdrawn in July before they could be sent back.
D2571 & D2573 moved north in spring 1968 after withdrawal and were stored at Eastfield / Cowlairs.

The last 13 Scottish Region Hunslet shunters were withdrawn June 1968, with remaining duties now covered by Barclay Class 06 locos.
Messages
Shunting in East Fife 1966-1990
Photo Links
See Also