Class 58
Welcome to scot-rail.co.uk, Scotland's online railway community. The group is for any rail enthusiast interested in the railways and trains of Scotland. It not only consists of the wiki that you're reading now, but a busy online forum and mailing list, which is accessible to anyone who registers. If you would like to join in, all you have to do is register with us for free.
Fifty Class 58 locomotives were built by BREL for British Rail from 1982 to 1987.
The locomotives were primarily used for hauling merry-go-round coal trains in the midlands of England.
The class occasionally worked as far north as Carlisle on freight trains, but there have been only unconfirmed reports of cross-border workings.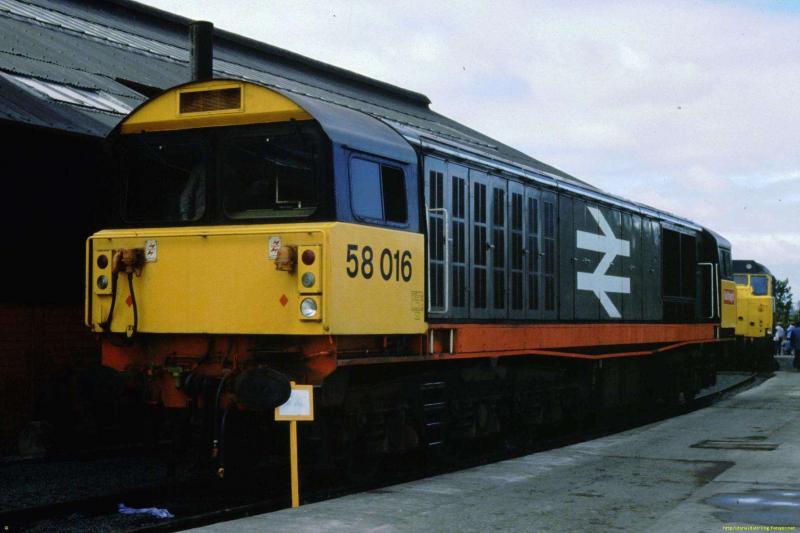 58016 at the 1985 Haymarket Open Day. Photo: Donald Stirling
Locomotive
58016
was the first of its class to visit Scotland, being displayed at the Haymarket Depot Open Day on 24th and 25th August 1985. It was hauled from Carlisle Kingmoor to Haymarket by
40122
on 23rd and back to Carlisle on the 27th.
Subsequent visits were made by locomotives on railtours organised by the Worksop Depot Charity Train Committee.
From 1996 the locomotives became part of the
DB Schenker
fleet, however the introduction of
class 66
locos meant the 58s were surplus to requirements and all were withdrawn from traffic by September 2002.
Some of the locos have seen further use on Mainland Europe.
Railtours
Date
Locos
Tour Name
Details
Route
Remarks
Photos

19.Mar.1994
58011
The Worksop Wanderer
link
Retford - Edinburgh - Ayr
With 47972 providing ETS.
photo
Ayr - Carlisle - Worksop
Trainload Coal livery.

21.Sep.1996
58046 & 58002
The Worksop Aberdonian
link
Retford - Edinburgh - Aberdeen
Both locos Mainline blue.
photo
Aberdeen - Edinburgh - Worksop

10.Jul.1999
58048 & 58016
The Worksop Midlothian
link
Worksop - Edinburgh (ECML)
Both locos DB Schenker red. EWS red and gold surely?
Edinburgh, Kincardine PS, Rosyth Dockyard, Edinburgh
37682 on rear.
photo
Edinburgh - Carlisle - Worksop

29.Jun.2002
58045 & 58025
The Worksop Highlander
link
Worksop - Edinburgh - Kirkcaldy - Blair Atholl
Both locos Mainline grey.
photo
Blair Atholl - Stirling - Edinburgh - Worksop
---
External Links: