Class 59
Welcome to scot-rail.co.uk, Scotland's online railway community. The group is for any rail enthusiast interested in the railways and trains of Scotland. It not only consists of the wiki that you're reading now, but a busy online forum and mailing list, which is accessible to anyone who registers. If you would like to join in, all you have to do is register with us for free.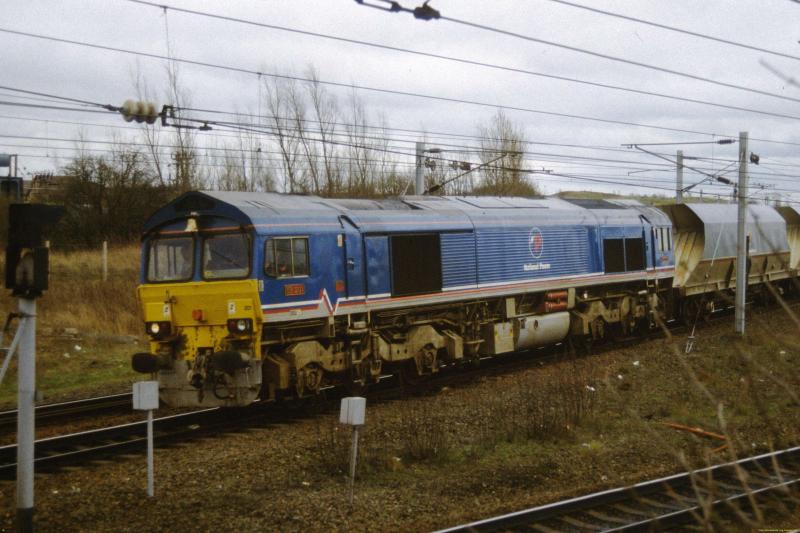 59201 near Mossend, February 1998. Photo: Donald Stirling
Three Class 59 locomotives are known to have visited Scotland.
1991
ARC owned Class
59104
was borrowed by British Rail's Railfreight Distribution sector for trial runs at 75mph over the northern part of the WCML in July 1991. (
Photo
).
The loco came north, light engine from Westbury, on Saturday 27th of July and stabled over the weekend at Motherwell TMD. On Monday 29th it made a return trip from Mossend to Carnforth with 15 freightliner type wagons loaded with metal slabs (1200 tonnes). On Tuesday 59104 departed for Crewe Basford Hall Yard hauling 25 loaded wagons (1800 tonnes), before heading to Temple Mills in London.
1998
DB Schenker
acquired the Yorkshire based rail operations of National Power in 1998.
Gauging trials were run with the NP locos and the large 'JMA' bogie hopper wagons prior to the introduction of Class 66 and HTA coal wagons.
A visit to Hunterston and back (via the ECML) ran on 25th/26th Feb 1998 and was worked by
59201
Vale of York
. <
fotopic link
>
The second NP 59 to visit Scotland was
59206
Pride of Ferrybridge
.
It ran north via Carlisle and Dumfries on 5th May 1998 as 4Z84 07:14 Milford Junction - Hunterston, and over the next few days it visited Killoch, Knockshinnock and Ravenstruther.
59206 returned home working 6Z34 11:22 Mossend - Eggborough Power Station coal (17 JMAs 1734 tonnes) via Millerhill on 8th May 1998. <
fotopic link
>
the class 59s are mostly found in the south western parts of england as of 2013
---
External Links: