Class 69
Welcome to scot-rail.co.uk, Scotland's online railway community. The group is for any rail enthusiast interested in the railways and trains of Scotland. It not only consists of the wiki that you're reading now, but a busy online forum and mailing list, which is accessible to anyone who registers. If you would like to join in, all you have to do is register with us for free.
Class 69s are diesel locomotives converted from
Class 56
by using EMD 710 engines. The locos were introduced to service by
GB Railfreight
in 2021.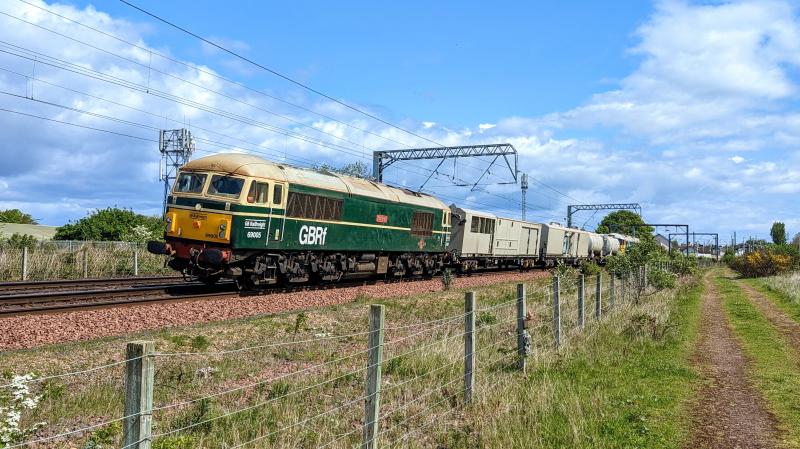 69005 leads 3Q99 Tyne Dock - Slateford through Prestonpans. 69002 is obscured by the ever growing vegetation. 16/05/23 Photo by GuyHouston
First visit of class 69 locos to Scotland was on Tuesday 16th May 2023, a 3Q99 Tyne Coal Terminal to Slateford Weed spray train transit move, with 69005 'Eastleigh' (BR lined green livery) leading and 69002 'Bob Tiller CM&EE' (BR large logo livery) on the rear.
The next movement of the 69s and 3Q99 was an overnight weed spray train visiting Thornton North Junction, Dunfermline, Alloa and Stirling in the early hours of Wednesday 17th. The following night the weed spray train covered the ECML to Berwick-upon-Tweed, again returning to Slateford Depot.
On Friday 19th May 2023 the locos returned south as 0Z69. It was thought 69005 had a fault, so 66743 hauled both locos from Slateford to Craigentinny Depot. From there, large logo 69002 hauled 69005 to Tyne Dock.
See also
External Links