Class 56
Welcome to scot-rail.co.uk, Scotland's online railway community. The group is for any rail enthusiast interested in the railways and trains of Scotland. It not only consists of the wiki that you're reading now, but a busy online forum and mailing list, which is accessible to anyone who registers. If you would like to join in, all you have to do is register with us for free.
Class 56 locomotives were comonplace on freight trains in Scotland in the 1990s.
After several years absence they reappeared on oil trains in 2013.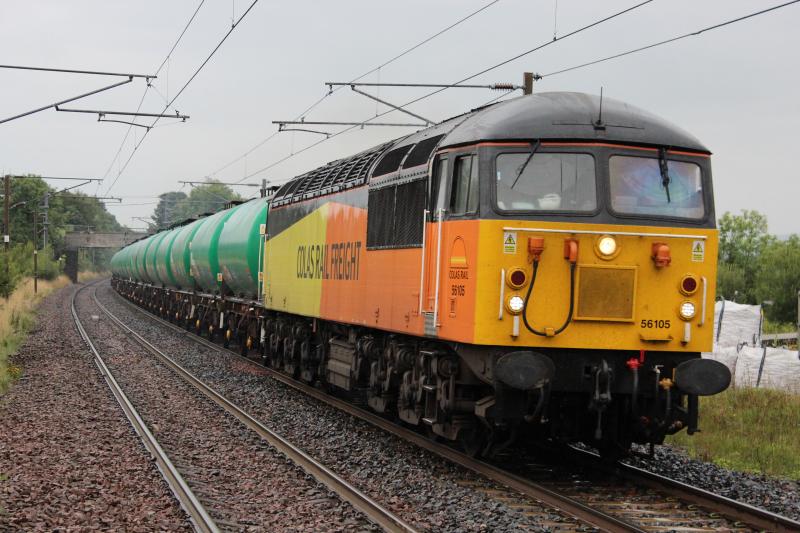 Colas Rail 56105 approaching Lochwinnoch on the 6N47 empties from Prestwick to Grangemouth (20/08/13) Photo by maynard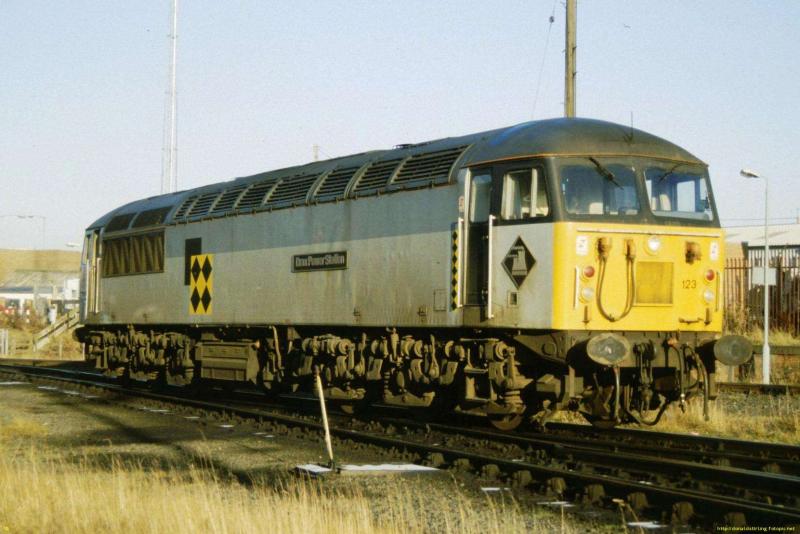 56123 in coal sector livery stables at Ayr in 1994. Photo: Donald Stirling
The class were primarily deployed on Merry-go-round coal trains to Longannet, Cockenzie and other power stations in Yorkshire.
The 56s were also used on
Enterprise
trains to Aberdeen, and occasionally Inverness.
Thread:
Aberdeen Class 56 workings
.
The last Class 56 to Aberdeen was 56018, it worked north on Sat
12th April 2003
with loaded lime wagons, stabled in Aberdeen over the weekend and worked south with the lime wagons on on Monday
April 14th
.
The use of the class in Scotland declined from the end of 1999 as EWS
class 66
locomotives became more wide spread.
Thread:
Last class 56 working before 2013
EWS withdrew its last class 56 locos in March 2004.
56037 and another EWS 56 roar north through Larbert with the morning Millerhill - Aberdeen. Photo: Locoman419
Fastline acquired three class 56s and one of these, 56302, visited Shettleston on
29th August 2006
.
Devon and Cornwall Railway (DCR) operate Class 56 locos, and these have occasionally visited Scotland on rolling stock moves or route learning duties. (
56301
,
56312
)
In 2013
Colas Rail
acquired a number of class 56s and have been returning them to service. From August 2013 they replaced Class 66 locos on the Aviation fuel trains from Grangemouth to Prestwick, Linkswood and Sinfin (near Derby). The latter two no longer served by Colas with Linkswood not receiving traffic and the Sinfin flow served again by DB Schenker and their 66 Pool.
As of 2018, despite a sufficient surplus of Class 70 locos moving to Scotland to make their stay as Colas' locos on freight traffic and the subsequent selling of their Class 60s to GBRF, Colas still appear to use Class 56 locos for the Prestwick Aiport (Monkton Sidings) flow:
| | | | |
| --- | --- | --- | --- |
| Headcode | Route | Notes | Times |
| 6R46 | 0632 Grangemouth - Prestwick | TThFO | |
| 6N47 | 1327 Prestwick - Grangemouth | TThFO | |
| 6N47 | 1656 Prestwick - Grangemouth | TFO (alternate path) | |
Runs as required, but mainly on Tuesdays & Fridays.
Colas Freight pool "COFS"
56078
,
56087
,
56094
,
56105
,
56113
,
56302
.
---
Photo Gallery on Scot-Rail.co.uk
External Links: