Class 66
Welcome to scot-rail.co.uk, Scotland's online railway community. The group is for any rail enthusiast interested in the railways and trains of Scotland. It not only consists of the wiki that you're reading now, but a busy online forum and mailing list, which is accessible to anyone who registers. If you would like to join in, all you have to do is register with us for free.
Introduction
The
Class 66s
(also known as
Sheds
,
Freds
,
Dreds
and
Bluebirds
) work all over the UK, 250 of them work for
DB Schenker
, approximately 100 for
Freightliner
, 19 for
DRS
, 78 for
GBRf
and 5 for Colas Rail. All of these companies' 66s visit Scotland on a daily basis.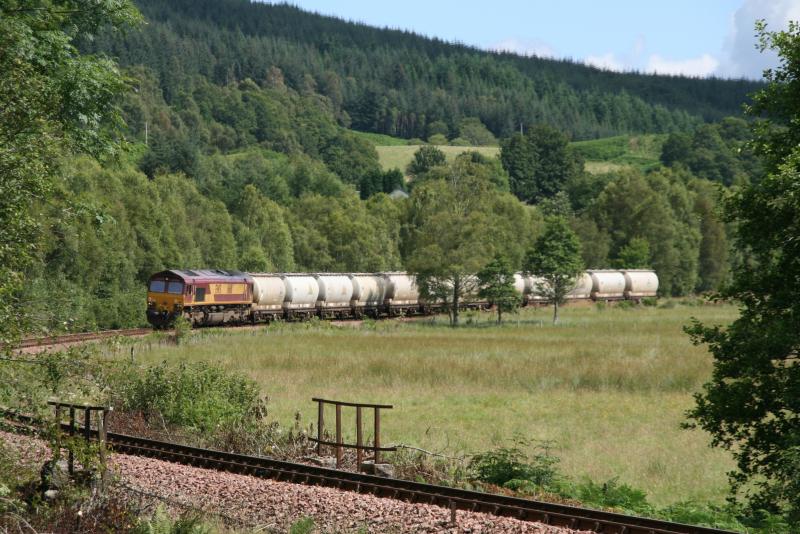 66111 » 66111 heading the daily freight. Photo taken between Tulloch and Fort William Photo by bigtukker
Workings
The 66s that work for DB Schenker can be found on a variety of duties, including the following:
Coal
Enterprise
Mossend to Aberdeen
Mossend to Fort William
Mossend to Grangemouth
West Highland Line
Class 66s have been active on the West Highland line to Fort William since mid 2000.
The Only DB Class 66s which are are permitted on the West Highland Line are 66100-114.
They are not usually permitted on the Oban branch, however, 66107 worked ballast train (6K16) to Dalmally on
13 February 2008
.
They are also used for engineering trains from Mossend, Carlisle and Millerhill.
Around 100 class 66s have been exported to Poland and France. The France class 66s occasionally return to the UK for the RHTT season and for repairs at Toton.
66048 is the only class 66 out of traffic for DBS following its derailment at Carrbridge back in 2010 and its been sold
So far, 22 class 66s have been repainted into the DB livery and they are:
66001, 66009, 66017, 66019, 66020, 66041, 66044, 66055, 66066, 66082, 66085, 66097, 66101, 66114, 66118, 66128, 66136, 66149, 66150, 66152, 66185, 66206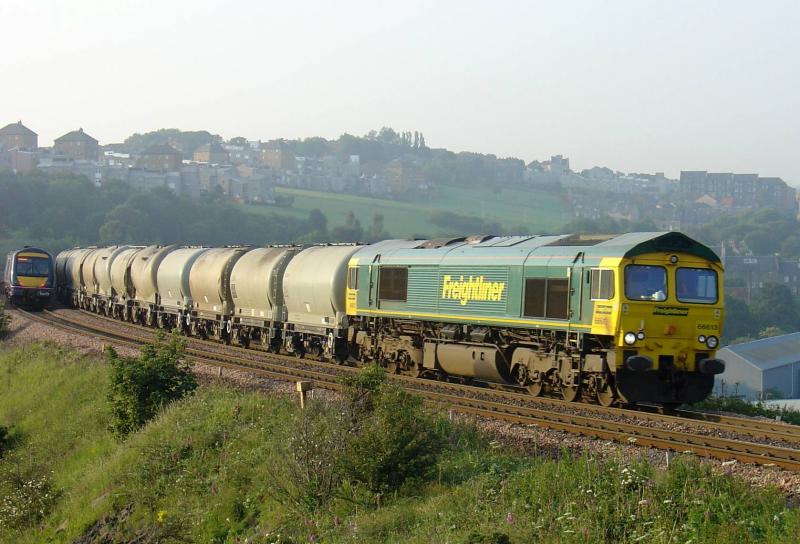 66613 at Ferryhills » 66613 works a southbound cement train. Photo by bob62C
Workings
Coal
Killoch to South
New Cumnock to South
Freightliner acquired 66411 - 420 from DRS, only a handful of 66s have been exported to Poland.
In 2016, they were no longer used on cement traffic. Colas rail run this using class 60s
Workings
Intermodal
Daventry to Mossend/Coatbridge/Grangemouth
Grangemouth to Aberdeen
Mossend to Inverness
DRS at one point had 66401 - 420 but they have since gone to GBRF and freightliner.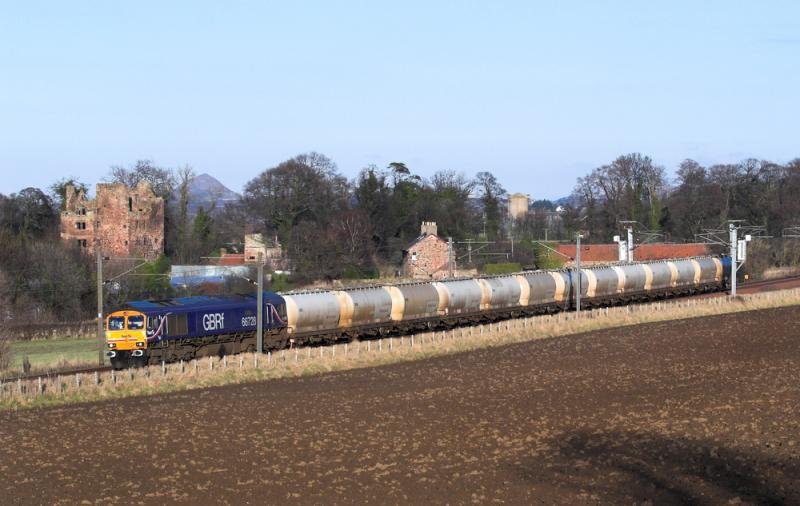 66728 with 6S44 » 66728 passing Red House Castle, Nr Longniddry, with the Alcan tanks from Blyth to Fort William. 22 February 2010 Photo by KeithSanders
Workings
Alcan
North Blyth to Fort William
GBRF acquired more class 66s from DRS, Colas and freightliner. 66734 is the only 66 out of traffic for GBRF and it is currently sitting on the banks of Loch Treig on the WHL since July 2012 following a derailment, it has now been scrapped on site.
In 2016, they were used on the Royal Scotsman and caledonian sleepers following changes to certain contracts