DRS
Welcome to scot-rail.co.uk, Scotland's online railway community. The group is for any rail enthusiast interested in the railways and trains of Scotland. It not only consists of the wiki that you're reading now, but a busy online forum and mailing list, which is accessible to anyone who registers. If you would like to join in, all you have to do is register with us for free.
Direct Rail Services
(
DRS
) is the railfreight company setup in 1995 by British Energy to provide BNFL with the rail services that they required at the time. Part of the reason for the setting up of DRS was to ensure that rail operations wouldn't be interrupted during the uncertain period around privatisation. DRS are now owned by the Nuclear Decommissioning Authority.
Since then DRS have expanded and run services for various companies including providing traction and crew for
Network Rail's
RHTT
trains this autumn, plus container trains for various hauliers including Eddie Stobart Ltd and The Malcolm Group.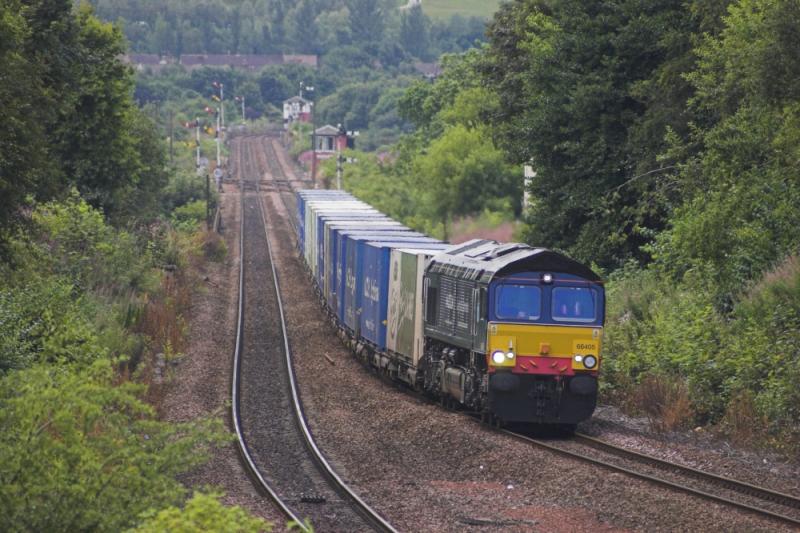 66405 with 4A11 Grangemouth - Aberdeen container train for The Malcolm Group and Asda. Photo by Ewan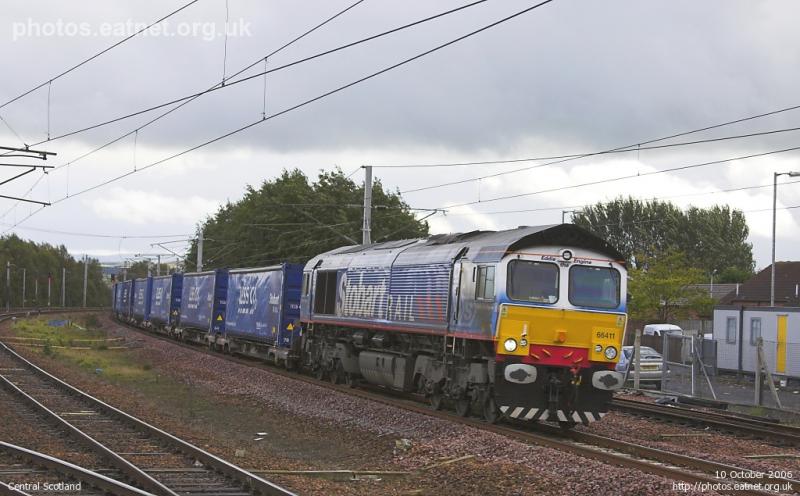 66411 with 4S43 Daventry - Grangemouth container train for Eddie Stobart and Tesco. Photo by Ewan
DRS are based at Kingmoor Depot in Carlisle where they maintain an extensive fleet of new and refurbished locomotives.
DRS services in Scotland include:
Nuclear Flasks for British Energy from Torness and Hunterston to Carlisle;
Five daily container trains from Daventry to Scotland (Mossend, Grangemouth and Coatbridge) for The Malcolm Group, John G Russell and Eddie Stobart;
Daily container trains from Grangemouth to Elderslie and Aberdeen for The Malcolm Group;
Daily container train from Grangemouth to Inverness for John G Russell and Eddie Stobart;
Rail Head Treatment Trains for Network Rail (which run from October to December);
Wagon repair trip workings between Grangemouth, Coatbridge, (Hamilton?) and Carlisle; and
Serco/Network Rail test trains as required.
See Also
External Links