Test Trains
Welcome to scot-rail.co.uk, Scotland's online railway community. The group is for any rail enthusiast interested in the railways and trains of Scotland. It not only consists of the wiki that you're reading now, but a busy online forum and mailing list, which is accessible to anyone who registers. If you would like to join in, all you have to do is register with us for free.
Network Rail's
Infrastructure Monitoring trains (or 'Test Trains') are operated on their behalf by
Colas Rail
, but some use
Class 37
locos hired in from
DRS
and
Class 67
locos from
DB Schenker
. Colas took over from DB Schenker on 7th September 2015. Until 2010 these test trains were operated by Serco.
NMT - New Measurement Train
Further details about the NMT can be found on the
HST
page.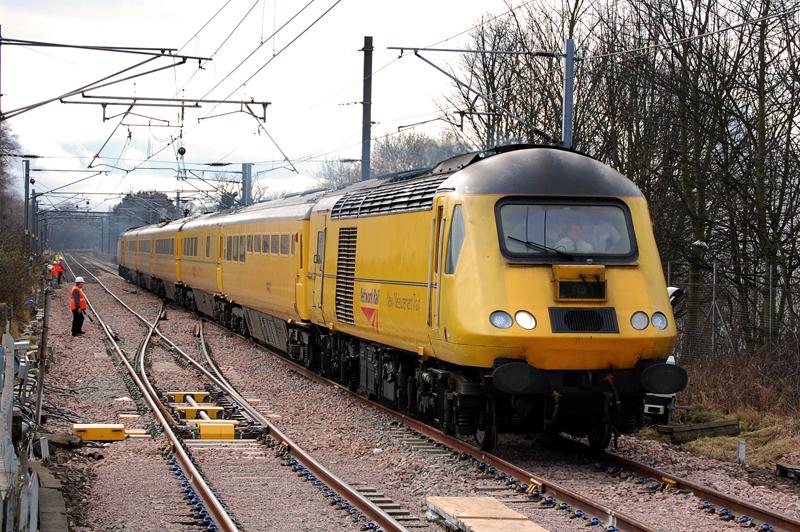 43013 and 43014 pass new point work at Slateford on 24/02/2009. Photo by calderdepot
TRC - Track Recording Coach
This is a Mk2 type coach and can be formed in a loco-hauled formation as a substitute for the NMT, and for a time ran in the NMT set until the MK3 test coaches were ready for use.
Numbered 999550. It has thin blue waist stripes as per NMT stock.
PLPR - Plain Line Pattern Recognition
37423 at Cradlehall » DRS 37423 is seen leaving Inverness at Cradlehall working 133Y 1452 Inverness Millburn C. Rail - Mossend Down Yard. 37419 was on the front. Photo by JONATHAN-BROOKS
TRU - Track Recording Unit
A purpose built 2-coach DMU based on the
Class 150/1 sprinter
.
Vehicles are numbered 999600 & 999601, and carry the set number 950001.
TIC - Track Inspection Coach
This is a Mk1 type coach (orignally an inspection saloon), with part recessed bodsides. It was used when the TRU was unavailable.
Numbered 999508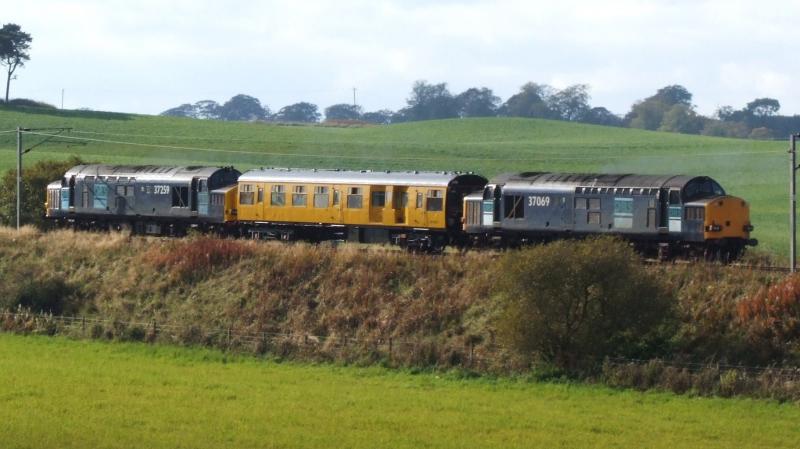 37069 and 37259 top and tail with the TIC on the Lanark branch in 2007 Photo by jackprentice2007
Radio Survey Train
Former Mk2E TSO coaches, with various low-profile radio antenna on the roof.
Used for testing the NRN, CSR and GSM-R systems.
Previously, a former class 101 DMU set known as Iris II was used on this duty.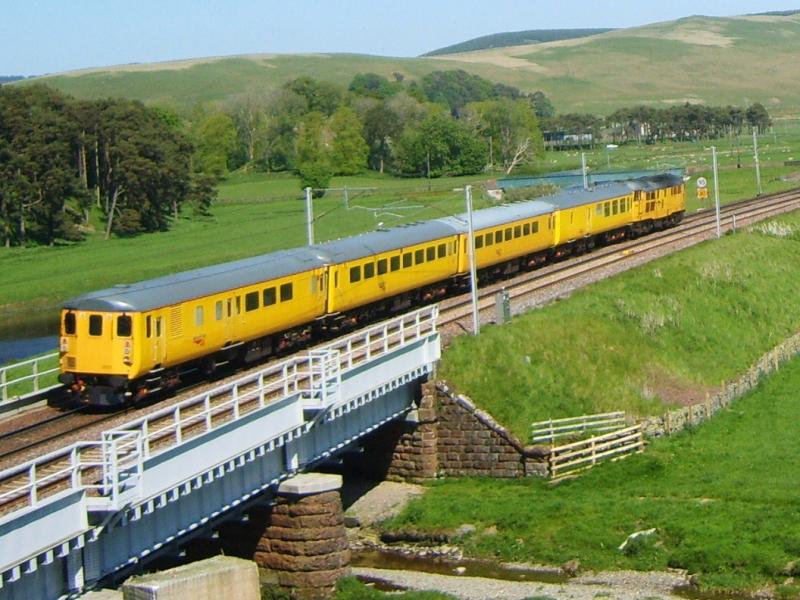 1Q20 heading home » 31602 on Mossend-Derby crosses the Clyde at Crawford 29/05/09. This train has 2 radio survey coaches in the formation Photo by 61600
UTU - Ultrasonic Test Unit
The Ultrasonic test coaches were converted from Mk1 EMU motor coaches. They are noticable at night by the bright lighting around the equipment fitted bogie.
There are currently three trains, each with one of 999602, 999605, 999606.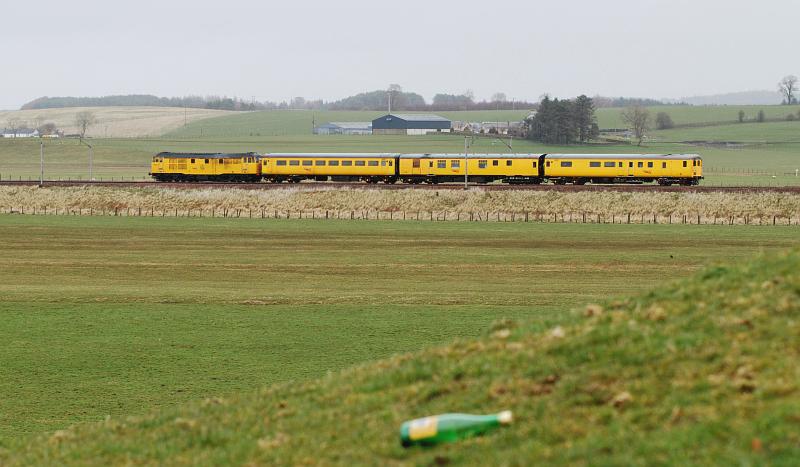 31105, with a UTU train, March 2009 Photo by jackprentice2007
SGT - Structure Gauging Train
Sometimes referred to as OSG - Optical Structure Gauging.
Features the 'Optical Car', a 2-axle wagon, painted black numbered DC 460000 .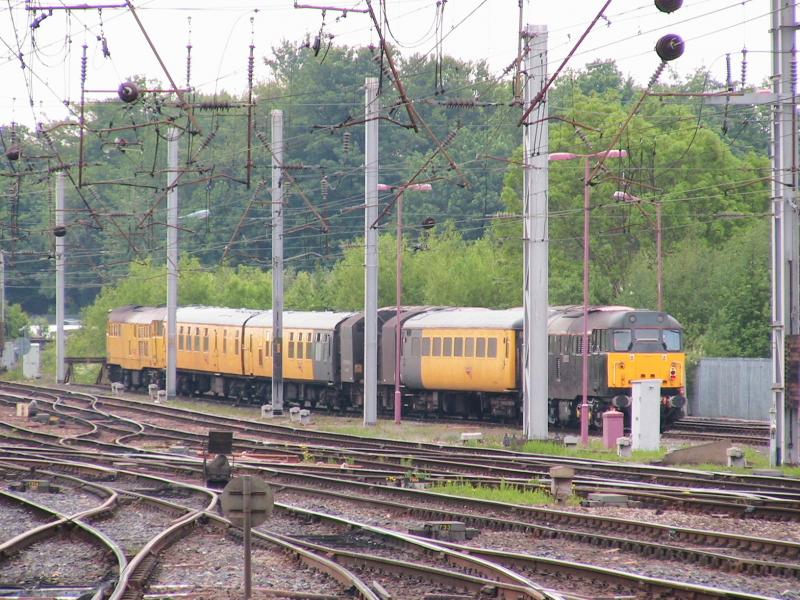 31459 cerberus and 31285 on the Structure Gauging Train stabled in front of Carlisle signal box, June 2008 Photo by pedro12
MENTOR - Overhead Line Equipment Testing
Numbered 975091. A Mk1 coach with a flat roof and a pantograph.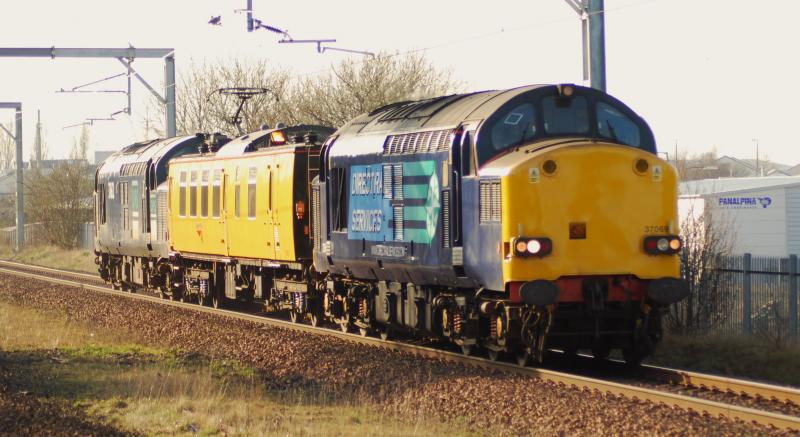 37069 Leads Test coach Mentor & 37612 on 1Q18 at Hillington East, March 2009 Photo by JimGillies
Other Vehicles
The individual test coaches may be accompanied by other vehicles, for staff accommodation, power supply generation or additional brake force.
From 2008, former
DBSO
driving trailers have been converted for use on the test trains.
See Also
External links