Class 31
Welcome to scot-rail.co.uk, Scotland's online railway community. The group is for any rail enthusiast interested in the railways and trains of Scotland. It not only consists of the wiki that you're reading now, but a busy online forum and mailing list, which is accessible to anyone who registers. If you would like to join in, all you have to do is register with us for free.
Class 31 - the Brush Type 2 - were built by Brush traction between 1957 and 1962, and were initially fitted with Mirrlees engines of either 1250hp or 1365hp. These proved unsatisfactory, and the class was re-engined with English Electric 1470hp engines from 1964 onwards. Mirrlees engined examples were Class 30 under the TOPS scheme, and EE powered examples became Class 31.
A total of 263 locomotives were constructed, initially numbered D5500-D5699 and D5800-D5862, the D5700-19 series being allocated to the Class 28 Metro-Vick Co-Bos.
Principally associated with the Eastern Region, examples transferred to the Western Region and Midland regions. None have been allocated to Scottish depots, and were only occasional visitors north of the border in BR days with no regular duties.
One of a number of visitors to the Haymarket open day in 1985 was 31438, which is now preserved on the North Norfolk Railway.
31438 hides round the back of Haymarket depot
Class 31s were used from time to time on Newcastle - Edinburgh local services, and very occasionally in pairs.
31405 at Waverley having arrived from Newcastle on 1S08
Use on the west side of the country has been more sporadic, and west coast main line passenger use even rarer. This photo was "not considered newsworthy" by the railway press at the time....
31294 works the 0600 Paddington - Edinburgh forward from Carlisle 17 September 1991
Railtours have brought the class over the border from time to time, usually in pairs due to their poor power to weight ratio.
Green Express railtours in the suburban platforms at Edinburgh Waverley
Since the general rundown of the fleet and the passing of some examples into private ownership, the class has been perhaps more frequent a visitor, with workings including The Royal Scotsman.
31190 assists 37261 at Park Farm near Linlithgow
A very unusual working saw 31454 in Mainline livery and 31601 in Wessex Pink top and tail an overhead line monitoring coach Mentor around the Scottish suburban electrified network.
31454 and 31601 pass Paisley Gilmour Street with Mentor
A few are now used with Network Rail, either in top/tail mode or with a Mark II DBSO running Mentor trains from Derby and Heaton north to Scotland. Several are also painted in Network Rail's yellow livery
---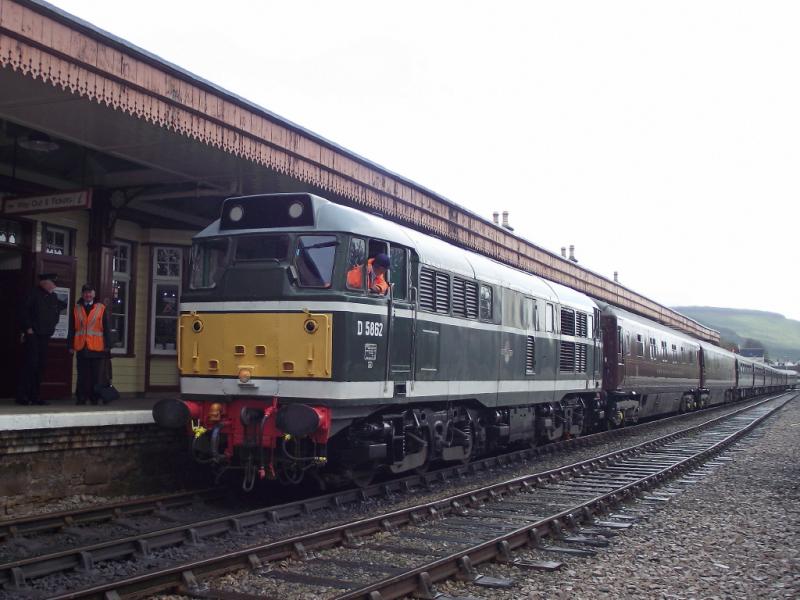 31 327 at Aviemore » D5862 (31327) couples-off from the stock at Aviemore, after arriving with 5H82, the 09:25 Boat of Garten - Kingussie Photo by BigDougie
List of Class 31s seen in Edinburgh
(on Discussion list).
List of active Class 31s since 1999 (click to search messages)