Network Rail
Welcome to scot-rail.co.uk, Scotland's online railway community. The group is for any rail enthusiast interested in the railways and trains of Scotland. It not only consists of the wiki that you're reading now, but a busy online forum and mailing list, which is accessible to anyone who registers. If you would like to join in, all you have to do is register with us for free.
Network Rail
replaced Railtrack in October 2002 as a 'not for dividend' company investing in, operating, managing and maintaining the railway infrastructure in the UK.
This includes the track, level crossings, signalling, tunnels, bridges, viaducts and seventeen of the busiest stations. Two of these are in Scotland -
Edinburgh Waverley
and
Glasgow Central
. Network Rail is also responsible for operating the Electrical Control Room at Cathcart which controls the 25KV overhead line equipment for all Scottish lines so equipped, extending as far South as Penrith and Marshall Meadows.
With the decision to take maintenance contracts in house, a new organisational structure was introduced in May 2004, replacing Regions with Routes and Territories.
Routes are responsible for Operations (signallers, operations control, timetabling)
Territories are responsible for Asset Management and Maintenance (track, signalling, telecoms, structures)
Scotland Route and Scotland Territory cover the lines in Scotland, and they are divided into two Operational and Maintenance Areas:
'East' includes the North Highlands, Inverness, Aberdeen, Perth, Dundee, Edinburgh, Falkirk, Glasgow Queen Steet High Level, and the East Coast Main line to the border.
'West' includes the West Highland Line, Glasgow Suburban network, Stranraer, Dumfries, and the West Coast Main Line to the border.
A small area around Gretna Junction (which is controlled by Carlisle Power Signal Box) is part of the London North Western Territory.
The Network Rail Scotland headquarters are at Buchanan House in Glasgow.
In July 2005 Ron McAulay was appointed to the newly-created post of Director, Scotland. The Director oversees all Network Rail's activities in Scotland and acts as the senior contact with the Scottish Executive.
Network Rail own several specialist trains, which are operated on their behalf by contractors:
Infrastructure Test Trains (operated by Serco) including the New Mesurement Train (NMT), a converted HST which covers the mainlines of UK each fortnight;
Rail Head Treatment Trains (RHTT) - 'leaf-busting' trains run in the autumn to avoid delays due to reduced grip on the rails;
MPVs (Multi-Purpose Vehicles) used for Weedkiller duties and autumn rail head treatment;
Snowploughs and Snowblowers.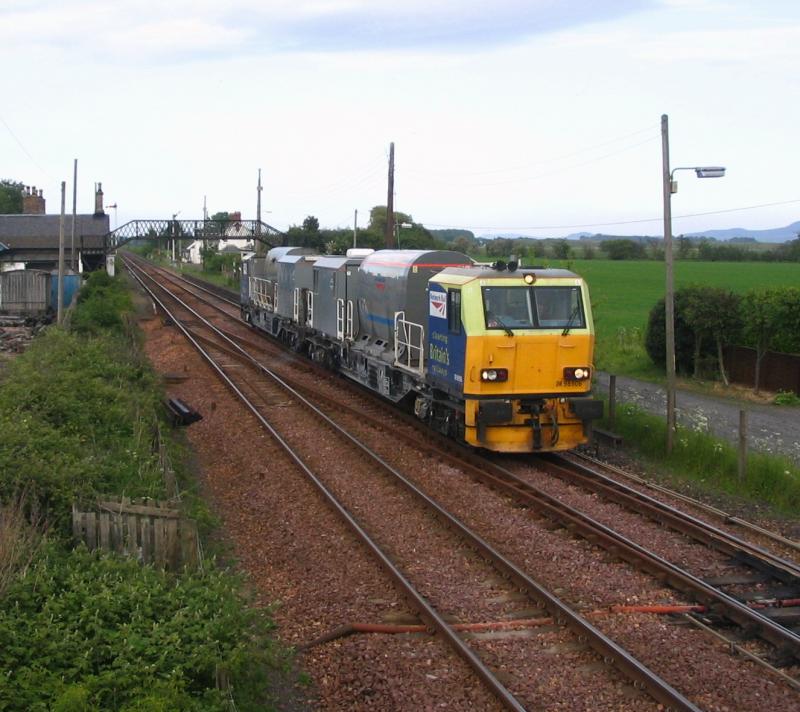 MPV passes Errol whilst weedkilling in May 2007. Photo by Aitken
Network Rail plays a key role in realising ambitions of
Transport Scotland
- see
Major Projects
---
External Links: