Class 86
Welcome to scot-rail.co.uk, Scotland's online railway community. The group is for any rail enthusiast interested in the railways and trains of Scotland. It not only consists of the wiki that you're reading now, but a busy online forum and mailing list, which is accessible to anyone who registers. If you would like to join in, all you have to do is register with us for free.
The British Rail
Class 86
is an electric locomotive built during the 1960s. One hundred of these locomotives were built by English Electric at their Vulcan Foundry, Newton-le-Willows, or British Rail (BR) at their Doncaster works. The class 86s were built primarily to haul trains on the new West Coast Main Line between London Euston, Birmingham, Crewe, Manchester Piccadilly, Liverpool and later Preston and Glasgow.
The operators with active class 86s left are Freightliner & GBRF.
Network Rail
Two locomotives (numbered 86901/902) have been converted into mobile load-banks to test the electricity supply at selected locations around Britain. The locos can still move under their own power and are also used to clear ice off the overhead lines.
The pair visited Scotland for the first time on 14 July 2005, and were used later in the month on the reinstated Larkhall branch. As of 2013, they are currently stored at Derby RTC and were scrapped in late 2016/early 2017.
They are many more 86s stored, mostly under overhaul for being exported to mainland europe
---
Freightliner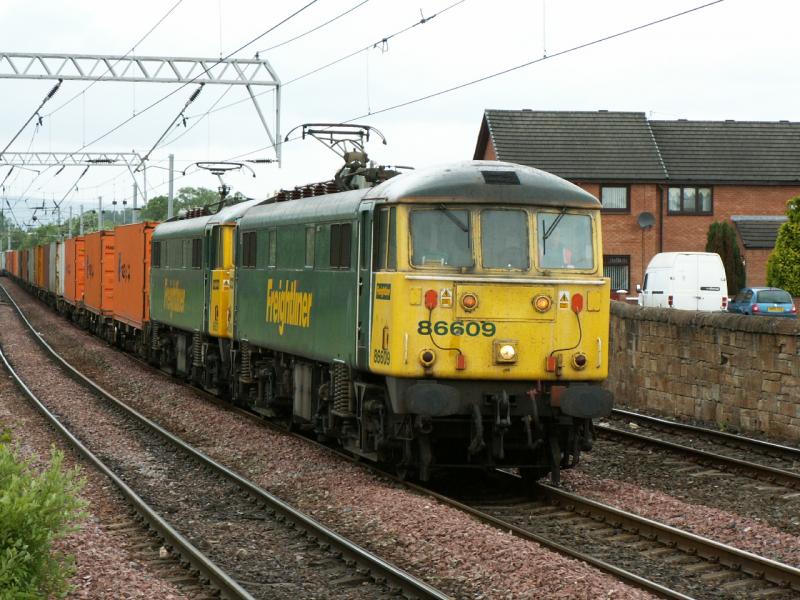 86609 & 86621 head South with a intermodal train, seen approaching Coatbridge Central. Photo by sa56009
They operate class 86s on their intermodal trains between Ipswich and Crewe and between Crewe and Coatbridge.
Caledonian Sleeper (GBRF)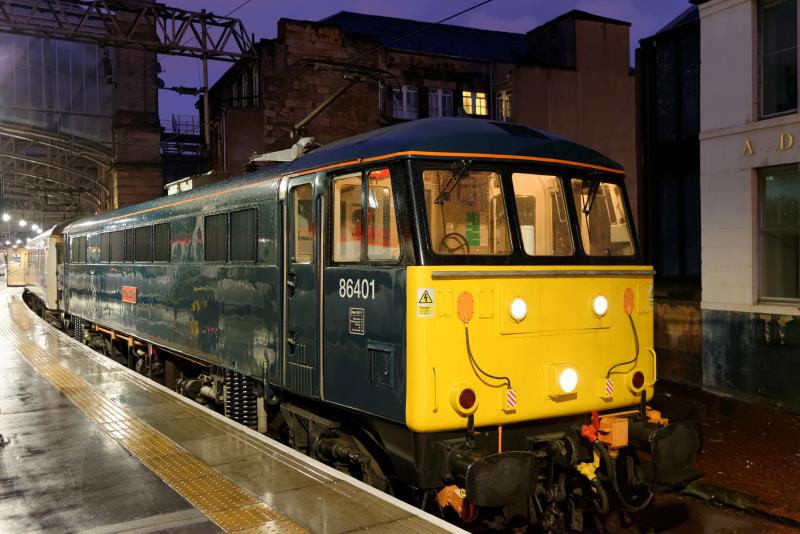 86401 at Glasgow Central » BR Class 86/4 No. 86401 Mons Meg on Caledonian Sleeper, 15 December 2016 Photo by mckenz
In 2015 Electric Traction Ltd hired a number of AC electric locomotives to GB Railfreight to move empty coaching stock to and from London Euston on behalf of Serco Caledonian Sleeper Limited. Among these were 86101 "Sir William A Stanier FRS" & 86401 "Mons Meg", the latter being named so upon entering service for CS.
As well as occasional appearances hauling the revenue earning sleeper, both locos have seen use working the empty sleeper stock to and from Glasgow & Polmadie Depot since 2016.