Class 81
Welcome to scot-rail.co.uk, Scotland's online railway community. The group is for any rail enthusiast interested in the railways and trains of Scotland. It not only consists of the wiki that you're reading now, but a busy online forum and mailing list, which is accessible to anyone who registers. If you would like to join in, all you have to do is register with us for free.
Twenty-five of these 25kV AC Electric locomotives were built by BRC&W, for use on the West Coast Main Line, with the first appearing in November 1959.
The class operated in Scotland between 1972 and 1990.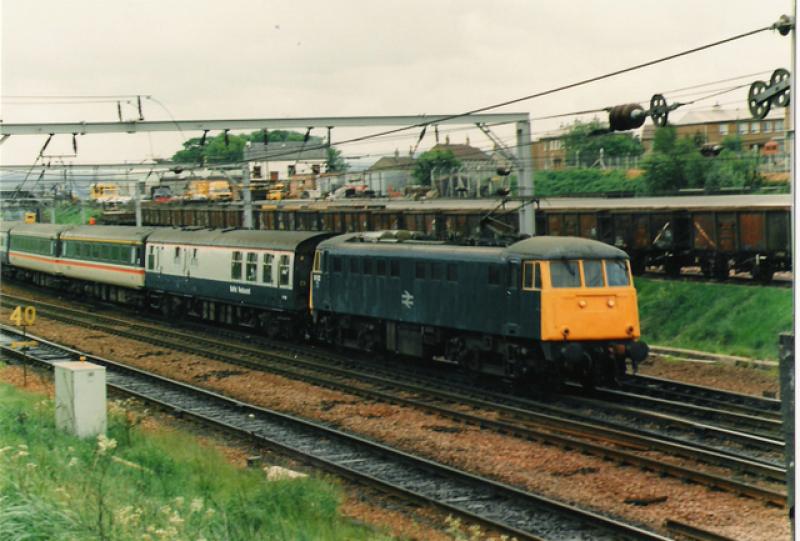 81010 leaves Carstairs for Glasgow after dropping off Edinburgh portion. Late 1980s. Photo by taybridge1878
Three of the class had been withdrawn from service by the early 1970s when the WCML electrification reached Glasgow and the class had been renumbered from the original E30xx series into the 81001-81022 series.
On 28th June 1972, Class 47 1969 was seen towing three electric locos, E3096 (81021), 83005 and E3161 (class 86) past Larkfield Jct and into Shields ETD. Along with Class 85 E3072 which had already been in Scotland since January, these locomotives have began driver training runs between Glasgow and Greenock.
E3008 (81007) transferred to Shields in May 1973, then was replaced by 81015 in January 1974.
At the start of the new WCML Electric timetable, the training locos transferred back to the London Midland Region.
However, from the 29th March 1975, all 22 of the Class 81 fleet were reallocated to
Shields ETD
in the BR Scottish Region.
The 81s were mixed traffic locomotives and worked the length of the WCML from Glasgow Central and Mossend Yard to London, on Sleepers, Postal and Parcels, freights and container trains, although the daytime express passenger trains were more usually hauled by the more powerful Class 86 and 87 locomotives.
From February 1980, Classes 81, 83 and 85 were authorised to work air-conditioned stock in passenger service, which allowed them to stand in for 86s & 87s, particularly as later Mk2 coaching stock was increasingly used on Scotland - Manchester/Birmingham trains.
The class was progressively run down during the 1980s, withdrawals taking place in 1983 (one), 1984 (two), 1986 (one), 1987 (three), 1988 (four) 1989 (five), 1990 (four), 1991 (the last two)
81012 was the last of the class to have a Classified repair at Crewe in July 1987. The introduction to service of
Class 90
locos from 1988-1990 meant the end for the first generation electric classes 81 and 85.
In March 1989. two of the last nine locos, 81002 & 81004 moved to Willesden to work Empty coaching stock trains between London Euston and Wembley. In January 1990, 81009 was sent to Willesden to replace unserviceable 81002, but it too was soon out of service.
By April 1990, locos 81012 & 81017, the last two operational Class 81s had moved to Willesden to finish their BR career on the Empty Stock Workings. They were finally withdrawn from service in July 1991 and replaced by Class 85s.
Four of the class (81004/15/18/21) were scrapped by MC Metals at Springburn in 1992.
One Class 81 Locomotive, 81002 / E3003 is preserved, and based at Barrow Hill.
See also
Photos
External Links