Virgin West Coast
Welcome to scot-rail.co.uk, Scotland's online railway community. The group is for any rail enthusiast interested in the railways and trains of Scotland. It not only consists of the wiki that you're reading now, but a busy online forum and mailing list, which is accessible to anyone who registers. If you would like to join in, all you have to do is register with us for free.
"Virgin Trains - Proudly Serving You For 22 years"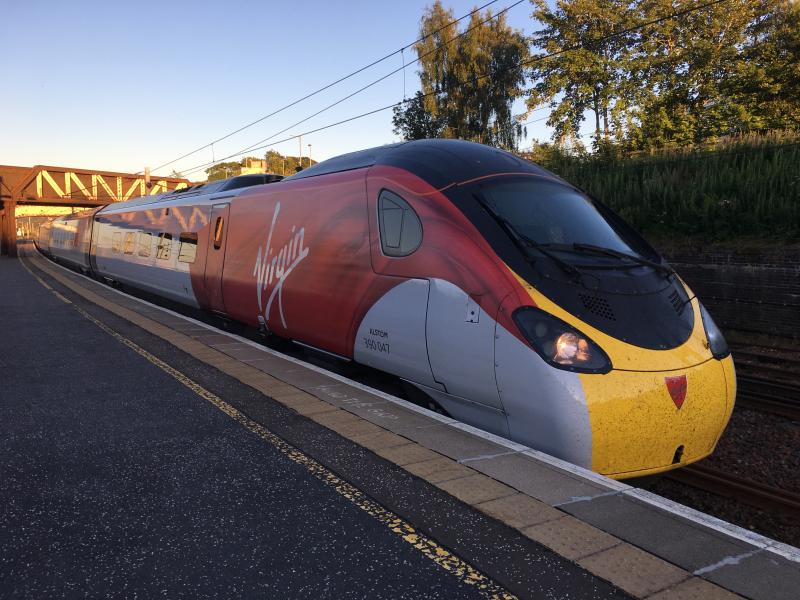 Virgin West Coast Pendolino at Carstairs
Virgin Trains
have operated the Intercity West Coast franchise since 9 March 1997.
Virgin West Coast run services from London Euston to Birmingham, Wolverhampton, Manchester, Liverpool, Holyhead, Preston, Carlisle and Glasgow Central. Virgin re-introduced a daily train between Edinburgh Waverley and London Euston from
27 September 2004
.
Virgin's 15 year franchise plan was based on the West Coast Route Modernisation delivering a 140mph railway from London to Crewe and Manchester by 2005. However this further upgrade has been postponed and trains now run at a maximum speed of 125mph.
Virgin West Coast uses the
Virgin Trains
brand.
Rolling Stock
The fleet Virgin inherited from British Rail, consisted of push-pull trains formed of Mk2 and Mk3 coaches, and
Class 86
,
Class 87
, and
Class 90
electric locomotives. This fleet was completely replaced by 53 new
Class 390
"
Pendolino
" trains (later extended to 56 trainsets).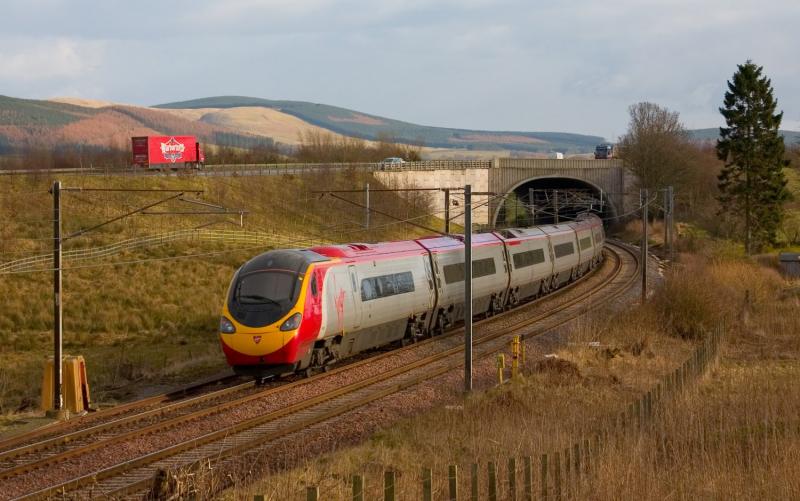 Virgin West Coast Pendolino in original Virgin silver and red livery
The Class 390's started running between Glasgow and London on
January 5, 2004
. 125mph tilting operation in Scotland began at the December 2005 timetable change.
Maintenance of the trains has been contracted to Alstom subsiduary West Coast Traincare, since early 1999.
The Class 390's home depot is Longsight, Manchester, but they are also serviced at West Coast Traincare's depot at
Polmadie
.
Virgin West Coast used to lease a number of
Class 57
locomotives, for use as
Thunderbirds
, and for hauling trains over unelectrified diversionary routes such as Glasgow - Carlisle via Kilmarnock. The locomotives have since been transferred to Direct Rail Services and West Coast Railway Company.
End of Virgin Trains
In April 2019, Virgin Trains was disqualified from the bid for the new West Coast Partnership franchise following dispute with the DfT over pension liabilities, which meant that Virgin Trains would cease operations in March 2020.
However in August 2019, the First Trenitalia consortium was awarded the West Coast Partnership contract (branded as Avanti West Coast) to commence operations on 8th December 2019, thus ending Virgin Trains after 22 years.
---
External Links: