Class 87
Welcome to scot-rail.co.uk, Scotland's online railway community. The group is for any rail enthusiast interested in the railways and trains of Scotland. It not only consists of the wiki that you're reading now, but a busy online forum and mailing list, which is accessible to anyone who registers. If you would like to join in, all you have to do is register with us for free.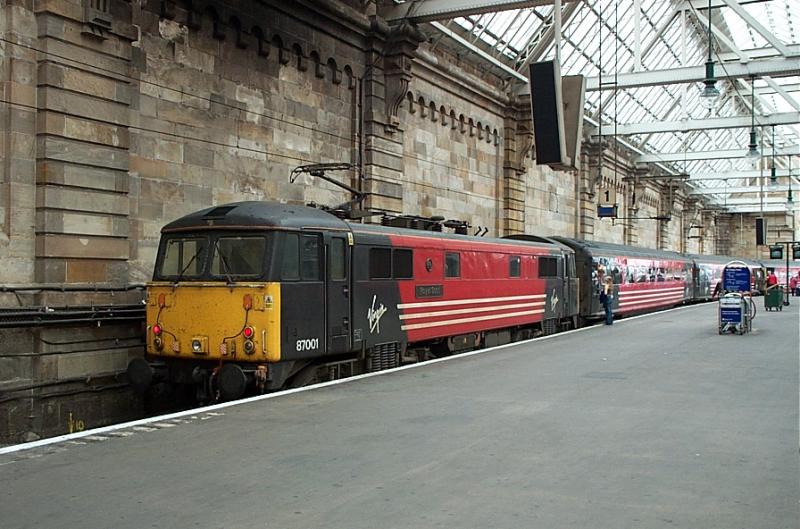 Class 87 locos, introduced in the mid 1970s, operated the Glasgow Central to London Euston line for many years, before the
Class 390
Pendolinos took over. A handful of the class saw some active use with
GBRF
on mail trains between Shieldmuir and Willesden before being sold and exported to Bulgaria by 2010.
The only active class 87 left in the UK now is 87002 "Royal Sovereign", with the remaining two stored and on display in England:
• 87001 "Royal Scot" at the National Railway Museum, York.
• 87035 "Robert Burns" at Crewe Heritage Centre.
Caledonian Sleeper (GBRF)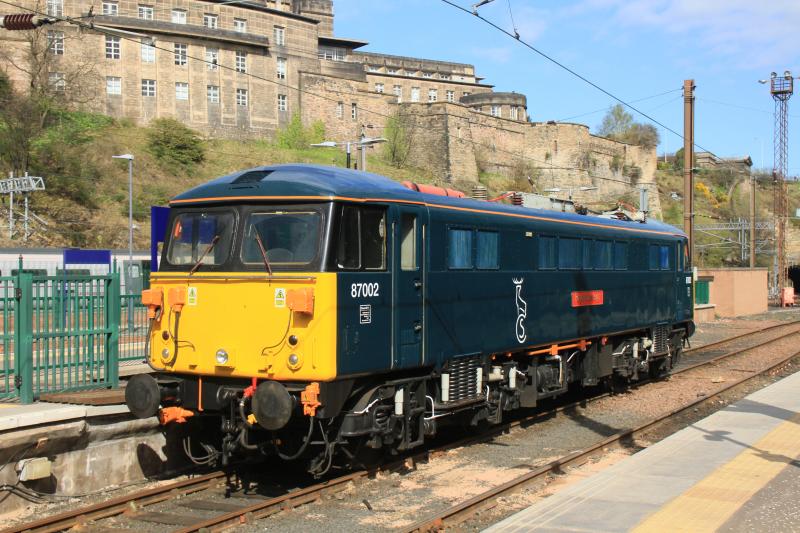 87002 » 87002 stabled in the Motorail siding at Waverley (Full Sun) on 17/04/2015 Photo by PIERSHILL2001
In 2015 Electric Traction Ltd hired a number of AC electric locomotives to GB Railfreight to move empty coaching stock to and from London Euston on behalf of Serco Caledonian Sleeper Limited. Among the locos selected was 87002, which led to the loco being repainted from its BR Blue into Caledonian Sleeper "Midnight Teal".
Since then the 87 has made occasional appearances in Scotland at both Glasgow Central & Edinburgh Waverley respectively, typically covering for when otherwise capable locos fail or fail to show - in some cases 87002 has covered for other AC locos and has done sleeper ECS runs to/from Polmadie and Glasgow Central.