Class 390
Welcome to scot-rail.co.uk, Scotland's online railway community. The group is for any rail enthusiast interested in the railways and trains of Scotland. It not only consists of the wiki that you're reading now, but a busy online forum and mailing list, which is accessible to anyone who registers. If you would like to join in, all you have to do is register with us for free.
Virgin West Coast
operate a pool of 56 Class 390 Pendolinos. These trains operate between Glasgow Central and London Euston, with a Mondays to Fridays daily service from Edinburgh also. On Sundays these trains can also be seen running between Edinburgh and Birmingham instead of the usual
Class 221
. The fleet are also used on various other services south of the border.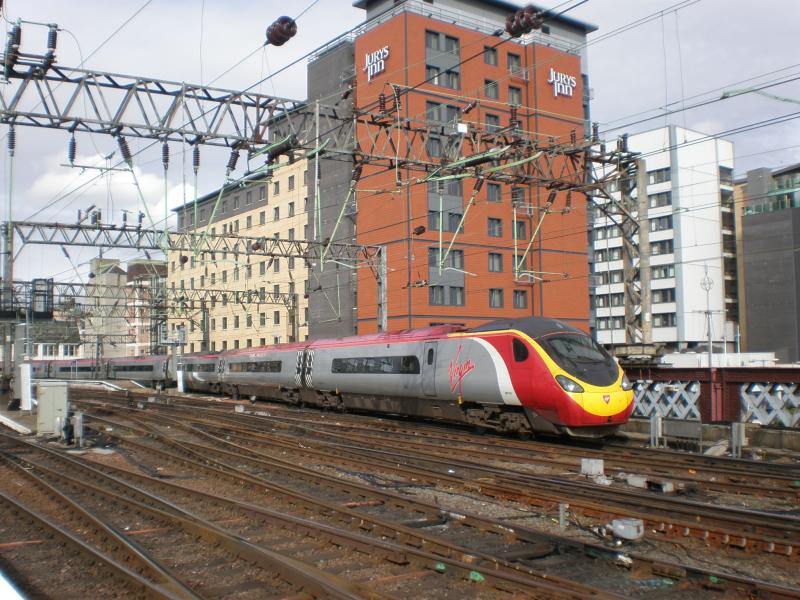 390019 at Glasgow Central » 390019 leaves Glasgow Central with a CrossCountry service to Birmingham International on the 24th August 2008. Photo by LaSeandre
Originally, 53 9-car units were built at Alstom Washwood Heath between 2001 and 2004. In 2010-12, additional four 11-car units and an additional 62 extra carriages to increase the existing 31 sets to eleven carriages were built at Alstom's Savigliano factory in Italy. The Class 390 units are able to run up to 125mph on the West Coast Mainline when in tilting mode.
The trains do have selective door controls fitted, so that only the front five vehicles have their doors enabled (i.e. able to be opened by a passenger pressing the button); however, this is not in use at present, and stations currently served have platforms long enough for the 9 or 11 cars.
Class 390s can be diesel hauled by the
class 57/3
locomotives fitted with 'Dellner' coupings.
Firsts
The first Pendolino to operate under its own power in Scotland was 390012, which was used on the following test trains:
Monday
28th April 2003
1X51 22:00 Polmadie - Carstairs arr 22:26
actual 23:00 dep, arr 23:26
1X52 22:36 Carstairs - Polmadie arr 23:05
actual 23:34 dep, arr 23:59
1X53 23:27 Polmadie - Carstairs arr 00:12
actual 00:05 dep, arr 00:50
1X54 00:18 Carstairs - Polmadie arr 00:47
actual 00:55 dep, arr 01:14
Tuesday
29th April 2003
1X50 21:36 Polmadie - GLC arr 21:46 (
first visit of a 390 to Glasgow Central
)
1X51 21:56 GLC - Carstairs arr 22:26
1X52 22:36 Carstairs - GLC arr 23:09
1X53 23:23 GLC - Carstairs arr 00:12
1X54 00:18 Carstairs - GLC arr 00:50
1X55 00:56 GLC - Carstairs arr 01:28
1X56 01:33 Carstairs - Polmadie arr 02:02
First Passenger service
Monday
January 5, 2004
, with 390004 used on 1S55 08.30 Euston - Glasgow and return 1M31 15.35 Glasgow - Euston.
First Diversions via G&SW route
Pendolinos hauled by
class 57
locomotives ran via Kilmarnock on Good Friday
14th April 2006
(and also the following Tuesday) due to engineering work between Gretna Junction and Carstairs.
Record Breaking
Friday
22 September 2006
was a record breaking day for Virgin, when 390047, which was named "
Heavens Angel
" before departure, operated non stop between Glasgow Central and London Euston, departing Glasgow Central at 12:37 and arriving in London Euston at 16:32. Journey time recorded as 3hrs 55mins and 27secs. This beat the previous record southbound of 4hrs 14mins.
See Also
Internal Links