RHTT
Welcome to scot-rail.co.uk, Scotland's online railway community. The group is for any rail enthusiast interested in the railways and trains of Scotland. It not only consists of the wiki that you're reading now, but a busy online forum and mailing list, which is accessible to anyone who registers. If you would like to join in, all you have to do is register with us for free.
During the Autumn,
Network Rail
run a number of
Rail Head Treatment Trains
(
RHTT
s). These are used to improve track conditions during the leaf fall season. This is done using a combination of water cannons and the application of sandite (a thick sand based paste that improves adhesion) to the rail surface.
Sandite is applied through pipes located on one of the bogies of one of the vehicles while water canons spray water from the centre of one of the vehicles. Sandite and spraying are only carried out at a maximum speed of 40mph. Sandite application stops if the train drops below 10mph.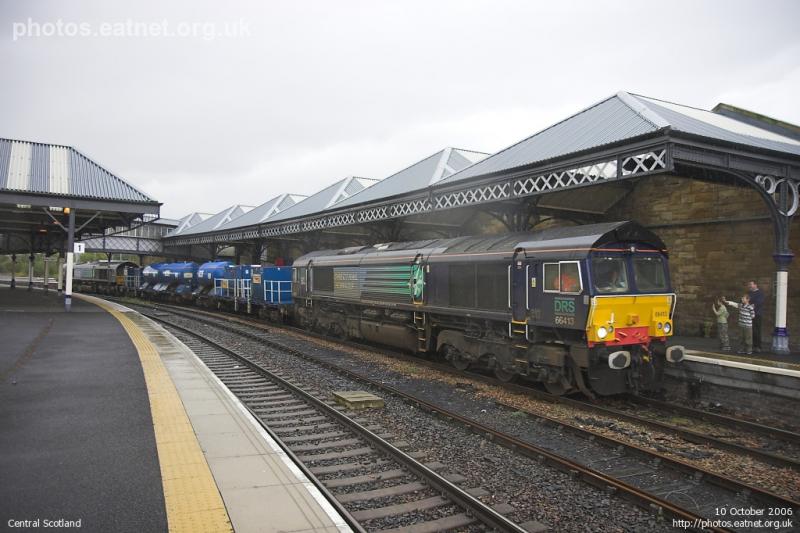 66413 and 66412 top and tail the Inverness RHTT through Perth. Photo by Ewan
Track cleaning and sandite application are only carried out at specific points on the routes covered by the RHTT trains. There are sandite start and end boards which indicate where sandite should be applied. The signalman can also request the RHTT to treat track which has been found to be contaminated.
The Scottish RHTT trains for the Autumn 2007 season were operated by either a pair of
DRS
66/4s
in top and tail formation (which allows the train to reverse without having to carry out a run-round) or by MPVs (Multi-Purpose Vehicles - Two-car multiple units with driving cabs and a flat bed for carrying various modules at different times of the year).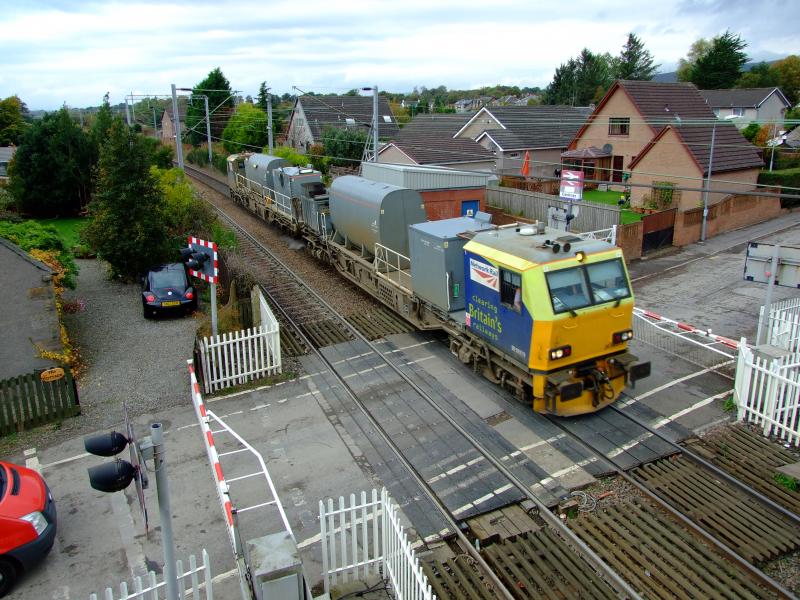 A Network Rail MPV on RHTT duties passes Cardross, 13th Oct 2007 Photo by Darrel
Times
2014
Times for the 2014 season RHTT trains in Scotland:
2012
Times for the
2012 Season RHTT trains
in Scotland.
2011
Times for the 2011 season RHTT trains in Scotland:
2010
Times for the 2010 season RHTT trains in Scotland:
Note timings are for Saturdays. Weekdays timings may differ.
Runing from 06/10/10 to 26/11/10 (but may end earlier).
2009
Times for the 2009 season RHTT trains in Scotland (expected to run from 7th October until 28th November) :
Millerhill 3S93 MTWFO, 3S93 SO (MPV) Fife Circle/Dunblane
Millerhill 3S93 SUN, (MPV) West Highland, on 8th, 15th, 22nd November.
Ayr TMD 3S94, (MPV) Lanark/Shotts/East Kilbride
Inverness 3S95 EWD (DBS 67) Aberdeen/Dundee/Perth. Amended Timings for 3S95 due to Blockage south of Aberdeen in November.
Carlisle Kingmoor 3S09 TWFO (DRS locos) Dumfries/Mauchline
2008
Times for the 2008 season RHTT trains in Scotland:
2007
In 2007, RHTT trains ran using new 3Sxx headcodes in Scotland.
2006
In 2006 they ran using a 3Zxx headcode and described by the special bell code 3-4-2 in Absolute Block signalling areas. In 2006 there were five trains running in Scotland, based at the following locations: