Class 122
Welcome to scot-rail.co.uk, Scotland's online railway community. The group is for any rail enthusiast interested in the railways and trains of Scotland. It not only consists of the wiki that you're reading now, but a busy online forum and mailing list, which is accessible to anyone who registers. If you would like to join in, all you have to do is register with us for free.
Introduction
The Class 122 DMUs were built for the Western region of British Rail in 1958 by the Gloucester Railway Carriage & Wagon Company. Twenty single-car driving motor vehicles with cabs at both ends were built, numbered W55000-55019. These were supplemented by ten single cab driving trailer vehicles, numbered W56290-56299. The vehicles were similar in design to the 3-car
Class 116
units built at Derby, with doors provided at each seating bay.
The single-car class 122s and class 121s built by Pressed Steel were nicknamed 'Bubble cars' by enthusiasts.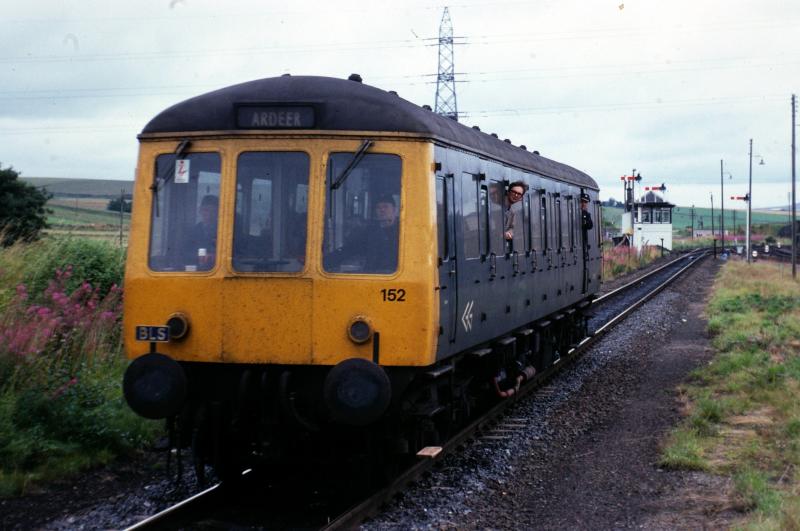 SC55002 » Despite the destination board showing Ardeer this single unit railcar is arriving Keith Junction on a Branch Line Society special on 27 August 1979 Photo by willy92140
Use In Scotland
The first Gloucester Single to be transferred to Scotland was W55000 which arrived at Ayr depot in February 1967 together with AC Cars railbus W79975 to work Kilmarnock - Ayr services. More were transferred north in 1968, including three units with trailer cars allocated to Hamilton Depot.
Three of the Singles, Sc55011-13, were converted in 1968 into Motor Luggage Vans for use on Parcels traffic, these had seats removed, and an extra pair double doors fitted in the body side. These units, designated class 131s, worked routes in Central Scotland often attached to Class 101 units.
Inverness had an allocation of 122s through the 1970s and these units worked with the Class 120s on the Inverness - Aberdeen route.
When Leith Central depot closed in 1972, the Singles based there were reallocated to Haymarket. In the same year the units at Hamilton moved to Eastfield Depot.
In June 1973, the class 122 vehicles at Eastfield Depot formed part of hybrid 3-cars set, with a class 101 DMSL at one end and the DTS car in the centre. The DTS vehicles were withdrawn in August 1977.
Car Sc55002 moved back to Hamilton depot where it was used as replacement for a missing
Class 116
DMB in a 3-car set. In August 1975 it was noted working out of Glasgow Central with Sc59326 and Sc50879.
By 1978 Sc55002 had received the GG logo of the Greater Glasgow PTE on its plain blue livery. It then had a spell working from Inverness.
By March 1980 all five Scottish Region 122s were based at Dundee Depot and most were now painted in Blue and Grey livery. They were used, singly or in pairs, on local services from Dundee to Carnoustie/Arbroath and to Perth. Some of them had "Tayway" stickers on the cab fronts, the marketing name for the Dundee - Carnoustie service sponsored by the Tayside Regional Council.
Sc55005 was transferred away to Tyseley in March 1981.
Dundee depot closed in 1982 and the four 122s and other DMUs were reallocated to Haymarket in March. Initially they continued on the Tayside duties, and also for strengthening trains from Edinburgh to North Berwick and Dunblane to 4-cars, but were increasingly used as temporary replacements for missing class 101 motors in 3-car sets. The Singles were given set numbers in the 400 series with the last 2 digits matching the vehicle number.
The Scottish region's last three class 122s (Sc55000/02/11) were sent south to the London Midland Region in August 1984.
Sc55007 had been withdrawn from passenger use in December 1983, renumbered TDB977223 and retained at Haymarket for Route Learning. It remained in use until around 1988. It arrived at MC Metals at Springburn in June 1991 for scrapping.
By 1979 the three class 131 Motor Luggage Vans were being used for Route Learning. Two were withdrawn from capital stock in 1980 and moved to York. One saw some further use as a Route Learning car, before becoming a stores vehicle at Derby RTC.
The last 131 Sc55015 had been repainted in blue and grey livery and remained in capital stock until September 1983, when it was converted into a
Sandite unit
and renumbered TDB977177, based at Eastfield. It carried the name 'SANDRA' on the lower body side and a West Highland terrier toward the left end. In autumn its intended duties were to treat the railhead on the West Highland line ahead of the morning sleeper, it also worked to Stranraer for the same purpose. At other times it was used as a Route Learning vehicle, or for 'Q' train police patrols.
TDB977177 remained in use until around 1988. It arrived at MC Metals at Springburn in July 1990 for scrapping.
Some Class 122 units survived in passenger service in South West England into the early 1990s. After withdrawal four of them (55000/03/06/09) reached MC Metals at Springburn in 1995, however they were not scrapped and but stripped of residual asbestos insulation and sold for further use or preservation.
A former Class 121 Pressed Steel single-car
960011 (vehicle 977859)
in Railtrack livery visited Scotland between 2001 and 2004, while in use as a video survey unit.
Another former Class 121 used for Video surveying, vehicle 977968 in all yellow with Eurailscout branding, was noted at Motherwell TMD on 9th November 2004.
List of Vehicles allocated to Scottish Region
Vehicle No.
Type
W.R. to Sc.R.
1971
1975
1978
1981
1983
1985
Sc55000
122 DMBS
Jan.67 to 67C
64H
HA
HA
DE
HA
L.M.R.
Sc55002
122 DMBS
Jun.68 to 66C
66C
ED
HN
DE
HA
L.M.R.
Sc55005
122 DMBS
Jun.68 to 66C
66C
ED
IS
DE
L.M.R.
L.M.R.
Sc55007
122 DMBS
Jun.68 to 66C
66C
ED
ED
DE
HA
Dept (HA)
Sc55011
122 DMBS
Apr.68 to 67C
60A
IS
IS
DE
HA
L.M.R.
Sc55013
131 DMLV
Apr.68 to 67C
64H
HA
HA
W
Sc55014
131 DMLV
Apr.68 to 64H
64H
HA
HA
W
Sc55015
131 DMLV
Apr.68 to 64H
64H
HA
HA
HA
HA
Dept (ED)
Sc56291
122 DTS
Jun.68 to 66C
66C
ED
W
Sc56297
122 DTS
Jun.68 to 66C
66C
ED
W
Sc56299
122 DTS
Jun.68 to 66C
66C
ED
W
60A, IS = Inverness. 64H = Leith Central. 66C, HN = Hamilton. 67C = Ayr
DE = Dundee. ED = Eastfield. HA = Haymarket
L.M.R. = London Midland Region. W = Withdrawn. Dept = Departmental service.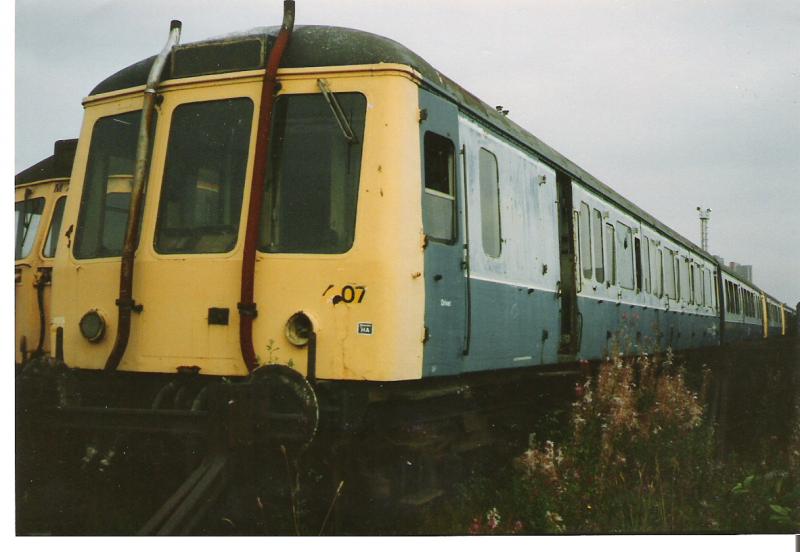 Route Learning Unit TDB977223 (Sc55007) awaits scrapping at MC Metal Processing, Springburn, 31 August 1991 Photo by darrel
See Also
External Links
Photos