Class 88
Welcome to scot-rail.co.uk, Scotland's online railway community. The group is for any rail enthusiast interested in the railways and trains of Scotland. It not only consists of the wiki that you're reading now, but a busy online forum and mailing list, which is accessible to anyone who registers. If you would like to join in, all you have to do is register with us for free.
Class 88s are Electro-Diesel locomotives, a fleet of ten were introduced in 2017 by operator DRS.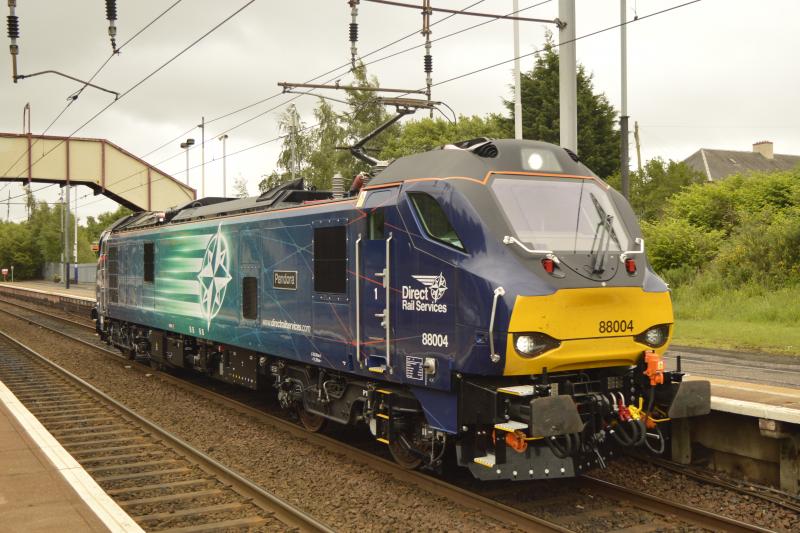 First Visit to Scotland » DRS 88004 Passing Through Holytown with 0Z06 Kingmoor to Motherwell, on 9th June 2017 Photo by newyorknixxie
First visit of a class 88 to Scotland was 88004 'Pandora' running as 0Z06 light engine from Carlisle Kingmoor to Motherwell on Friday 9th June 2017
First freight working on Monday 12th June 2017, 88003 'Prometheus' hauling the 4S43, 06:16 Daventry to Mossend Intermodal train. 88004 then worked the return 4M48 19:05 Mossend to Daventry.
88005 'Minerva' on diesel power featured in the Bo'ness and Kineil Railway's Winter Diesel Gala on 29th December 2017.
88002 'Prometheus' hauled the Branch Line Society's Gourock Growler tour from Carlisle Kingmoor to Mossend Yard (1Z86) on 27th April 2019. A change to the plan saw the tour continue with a Class 68 top and tail with the Class 37s.
On the Grangemouth Branch
The newly installed overhead line electrification from Grangemouth Junction to Fouldubs Junction was tested in the early hours of Saturday 23 March 2019, by loco 88002 'Prometheus'.
On Tuesday 25/06/2019, 88004 'Pandora' ran light as 0Z88 13:59 Motherwell TMD to Grangemouth Docks FPA, and returned as 0Z69 17:15 Grangemouth Docks FPA to Motherwell TMD. <Flickr>
On the Morning of Saturday 29/06/2019, 88001 'Revolution' hauled a new 4Z41 Daventry - Grangemouth Docks FPA service to Fouldubs Junction on electric power, before switching to diesel for the short journey into the FPA Docks sidings. Unfortunately, the loco suffered a damaged pantograph (said to be caused by overhanging trees), and the 4Z41 return working had to be made on diesel power to Mossend.
No other electric hauled trains ran to Grangemouth in 2019 or 2020.
Venturing North
On the evening of 22nd October 2020, 88002 'Prometheus' hauled the two vehicle Network Rail 'snow train' as 6Z22 from Motherwell TMD to Perth, returning light as 0Z22.
On 24th February 2021, 88008 'Ariadne' ran light from Motherwell to Perth, before returning as 6Z16 with the two vehicle Network Rail 'snow train'. <Flickr>
On 30th August 2022, 88003 'Genesis' ran light from Mossend to Blackford Freight Terminal as 0Z55. The next day, Wednesday 31st, it was present for the offical opening ceremony of the terminal, before running light south to Motherwell TMD as 0Z56. <Flickr>
See also
External Links