Class 68
Welcome to scot-rail.co.uk, Scotland's online railway community. The group is for any rail enthusiast interested in the railways and trains of Scotland. It not only consists of the wiki that you're reading now, but a busy online forum and mailing list, which is accessible to anyone who registers. If you would like to join in, all you have to do is register with us for free.
The Class 68 locomotives were built by Vossloh and introduced to service by
DRS
in 2014. They are powered by a 3805hp CAT C175-16 Caterpillar engine, and have a maximum speed of 100mph.
The first Class 68 to cross the border in to Scotland was on 9th June 2014 with 68003 hauling five mk2 coaches as the 1120 5Z69 from Carlisle Kingmoor to Motherwell.
The first revenue earning train to be Class 68 hauled in Scotland was on 29th July 2014, with 68005 hauling the 4H47 05:08 Mossend - Inverness Needlefield Yard Intermodal train.
The class made its passenger debut on additional ScotRail services for the 2014 Ryder Cup at Gleneagles, the first working was on Tuesday 23rd September, 68006 hauled eight Mk2 coaches (and 68005 on the rear) as 1Z25 0623 Glasgow Central to Gleneagles.
68013 has also visited Motherwell on March 7th 2015.
ScotRail Use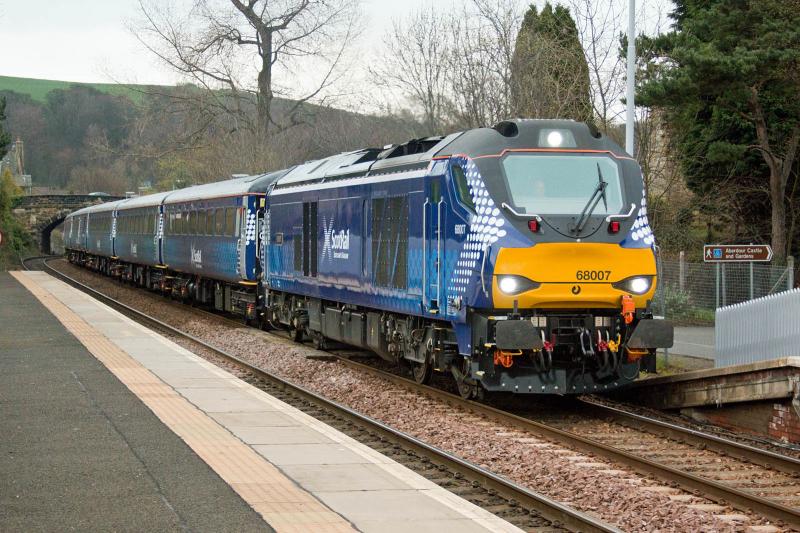 68007 Valiant with 2K14 18:15 Glenrothes with Thornton - Edinburgh at Aberdour 14th April 2015 Photo by camerar
In 2016, an additional 9 class 68s (68026-34) were ordered and arrived in 2017 but will mostly be used for loco hauled Transpennine express services from 2018.
See Also
Scot-Rail.co.uk Links
External Links