Class 33
Welcome to scot-rail.co.uk, Scotland's online railway community. The group is for any rail enthusiast interested in the railways and trains of Scotland. It not only consists of the wiki that you're reading now, but a busy online forum and mailing list, which is accessible to anyone who registers. If you would like to join in, all you have to do is register with us for free.
The
class 33s
were built by BRC&W between 1960 to 1962, and are similar to
class 26
and
class 27
locomotives, but have a larger 8-cylinder 1550hp sulzer engine.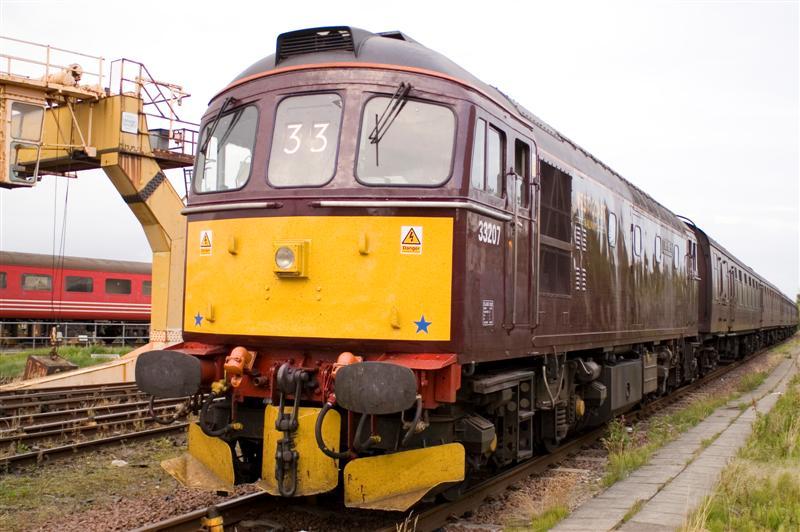 33207 » 33207 stands in the yard at Glasgow Works after hauling steam loco 45157 (aka 45407) and support coach from Glasgow Central on 31-08-06 Photo by class47man
During their British Rail career they were based on the Southern Region, although in the mid 1990s a few appearances in Scotland were made on special trains.
Loco D6504 (33004) made two return overnight trips from London King's Cross to Edinburgh Craigentinny in February 1961. It is believed these runs were to test electric train heating equipment. (
More details
)
From December 1961 a cement train from Cliffe (Kent) to Uddingston brought the class as far north as York, where the traction was changed to a Class 40. There have been suggestions that class 33s may have worked the northern section on some occasions, but no specific dates or locos have emerged.
Twelve locos withdrawn in the late 1980s were scrapped by MC Metals at Springburn in 1991-1992. It is thought these locos moved north by road. 33013/016/022/031/037/039/043/055/059/107/119/212.
The next recorded visit of the class to Scotland was on 1st April 1995, with 33109+33116 working Hertfordshire Rail Tours
Skirl 'o the Bagpipes
from London Victoria to Inverness and return - including a trip to Boat of Garten, Strathspey Railway, on the outward leg. (
6 Bells Jn. review
), <
Flickr 1
>, <
Flickr 2
>
The same locos 33109+33116 were back in Scotland later in April, used for filming action sequences near Dumfries, to feature in the
Mission Impossible
movie staring Tom Cruise. The locos ran north on 13th April hauling 4TC unit 417 as 5Z58 Derby RTC to Ayr. <
Flickr 1
>, <
Flickr 2
>.
Filming took place between Kilmarnock and Dumfries <
Flickr 1
>, <
Flickr 2
>. The locos and unit 417 returned South on 9th May 1995.
HRT ran
Skirl 'o the Bagpipes 2
on 16th March 1996, with 33109+33116 again, this time from King's Cross to Aberdeen and back. (
6 Bells Jn. review
), <
Flickr
>.
Three class 33 locomotives were sent to Scotland on 1st October 1999.
33025
(grey/yellow) and
33030
(EWS livery) were allocated to Motherwell, and outbased at Aberdeen for local freight duties.
33019
(grey/yellow) was kept at Motherwell Depot as a source for spares.
Journeys to and from Aberdeen were usually 'dead in train' on scheduled freights, however 33030 did have two notable workings:
27th March 2000, 33030 hauled failed 66023 and its train (the 6E43 'Enterprise' to Doncaster) from Aberdeen to Millerhill.
10th October 2000, 33030 worked the 1B16 Aberdeen portion of the Sleeper train, south to Dundee with failed 47732, where replacement 47790 took over.
33030 caught fire at Huntly while working 6A11 to Aberdeen on Weds 17 Jan 2001. As 33025 had been out of service at Motherwell for a while, both 33 were now out of action.
33025 and 33030 were officially withdrawn on 8 February 2001.
Preservation
33019 was moved from Motherwell TMD to Bo'ness, by road, on 3rd May 2002.
It worked it's first train preservation on the next day, during the SRPS diesel gala weekend, and featured in a triple header with 27001 and 26004.
33019 departed Bo'ness on 25th February 2003, by road to Derby RTC.
33109 'Captain Bill Smith RNR' (in BR blue with white cab window surrounds) was a participant in the Bo'ness & Kinneil Summer Diesel Gala on
23rd
&
24th July 2016
. It was
hauled north
from the East Lancs Railway by 47237 together with a pair of class 40s on 22nd and returned
South on Friday 29th
.
After sitting at Motherwell Depot for almost a year, 33025 and 33030 were bought by DRS and repaired at Glasgow Works, returning to traffic in July 2002.
Long withdrawn
33023
was also aquired by DRS and moved to Glasgow Works by road on 06/03/2002 as a source of spares. <
Flickr
>. It departed on 12/08/2004 by road to Kingsbury for scrapping.
Most sightings of the DRS 33s were running to or from Glasgow Works, but 33025 + 33030 were reported on the Carlisle - Hunterston Flask trains a couple of times.
DRS sold their class 33s (
33025
,
33029
,
33030
,
33207
) to WCRC in September 2005 (with 37197 and 37261 going to DRS).
The small WCRC fleet of class 33s are not fitted with ETH and have mostly been seen in Scotland on empty stock movements, often on the West Highland line.
33025 (still in DRS colours with Multimodal branding) was on the rear of Railtourer's Edinburgh Christmas Special from Stevenage to Edinburgh and return, on 03/12/05, the train hauled by 47826. (
6 Bells Jn. review
).
33029 (with 40145 leading) featured on an SRPS tour from Linlithgow to Lincoln (and return) 6th Dec 2006. (
6 Bells Jn. review
)
The class was used for a time on
The Royal Scotsman
Western Tours in the absence of Class 37s, with 33207 being the first in
September 2006
, visiting Mallaig, Taynuilt and Wemyss Bay.
33029 and 33207 featured during
2007
, and 33025 was used in June and July
2008
.
33207 was based at Craigentinny for snow clearance duties in January 2010.
33207 also made a brief visit north on
8th December 2010
to rescue 37685 which failed on snow clearance duties near Fort William, returning to Carnforth on
15th December
.
WCRC operational fleet: (all now painted maroon).
After a long period of no WCR 33s working north of the border, 33029 paired with 37706 hauled three Mk2 carriages from
Carnforth to Hamilton
on 30/03/2022. The locos returned south light engine.
Fragonset / FM Rail
The Fragonset locos were painted black with a red waist band.
However,
33021
'Eastleigh' was still in a unique all red livery when it worked with 31459 on a 'St James Day Tripper' railtour from Preston to Edinburgh on 5th May 2001. (
6 Bells Jn. review
), <
Flickr
>.
33108
reached Inverness with maroon inspection saloon DB999506 in
March 2002
<
Flickr
>, and then
a 2nd visit to Dumfries 8th May 2002
The Rhins & Machars Crompton
railtour of 18th May 2002, took black pair 33021 'Eastleigh' + 33108 'VAMPIRE' from Crewe to Largs, Stranraer and Glasgow Central. (
6 Bells Jn. review
), <
Flickr
>.
33103
'SWORDFISH' visited Scotland in June 2006 with green inspection saloon 975025 'Caroline'. <
Flickr
>.
See Also
External Links:
Photo Links: