Glasgow Works
Welcome to scot-rail.co.uk, Scotland's online railway community. The group is for any rail enthusiast interested in the railways and trains of Scotland. It not only consists of the wiki that you're reading now, but a busy online forum and mailing list, which is accessible to anyone who registers. If you would like to join in, all you have to do is register with us for free.
Location
:
Springburn, Glasgow
Operator
: Gemini Rail Services(UK) Limited
Current User
:
ScotRail
Previous Users
: Northern Rail,
DRS
,
SPT
The Gemini Rail Services facility in Glasgow was formerly known as St. Rollox, Railcare Springburn, Knorr-Bremse Springburn or Alstom Train Renovation Centre, and was originally built as the main works of the Caledonian Railway Company.
The core work at the Glasgow Works has been the overhauls of
Class 156
,
Class 158
DMUs and bogie overhauls on
Class 314
,
Class 318
and
Class 320
EMUs for ScotRail.
EMUs visiting the works require haulage by diesel locomotives using Translator vans coupled at either end, from late 2017/start of 2018 however the hire of Europhoenix/Rail Operations Group
Class 37
locos with fitted coupler adapters (typically 37800 or 37884), or DRS
Class 57
'Thunderbird' locos with their retractable bars have seen use.
Until the 12th May 2018, Glasgow Works had its own British Rail era translator vans (ADB 975864 + ADB 975867), but due to their deteriorating state and wheel flats were moved south to Loughborough for potential use with the Class 769 project before cutting up.
Proposed Closure
In early December 2018, the then new owner of the works, Gemini Rail Services (having recently taken over from Knorr-Bremse), announced plans to close the plant due to decline in work over the years and blame on the site of late introduction to Scotrail trains.
The site is currently in a consultation period and refurbishment jobs are still in progress. More information can be found in the RAIL News Article found in the external links at the bottom of the page.
Current Work
Stripping of Scotrail Class 314 withdrawals
Exams on Scotrail HST Power Cars (when required)
Previous Work
Modifications/branding of x10 GTR/Great Northern leased Class 365s for Scotrail
Refurbishment of Class 156 for Northern Rail
Fitting Controlled Emission Toilet (CET) tanks to ScotRail Classs 156
Overhauls to Caledonian Sleeper Mk2 & Mk3 stock
Repainting of the ScotRail Class 156 fleet: Class 156 Saltire Relivery
Modifcation to ScotRail Class 158. Haymarket Class 158 Modifications
Overhauls of Northern Rail Class 142.
Overhauls of Grand Central Class 180.
Life extension overhauls to Class 314 (Relivery/Overhaul 2011-12).
Refurbishment of Glasgow Subway trailer cars.
See
Rolling stock reports for 2007-2015
Resident Shunter
One
class 08
shunting loco is based at the Works, 08730.
There had previously been two: 08568 named "St Rollox" had been out of use for many years but was sold to Railway Support Services in Wishaw, Warwickshire by the end of 2017.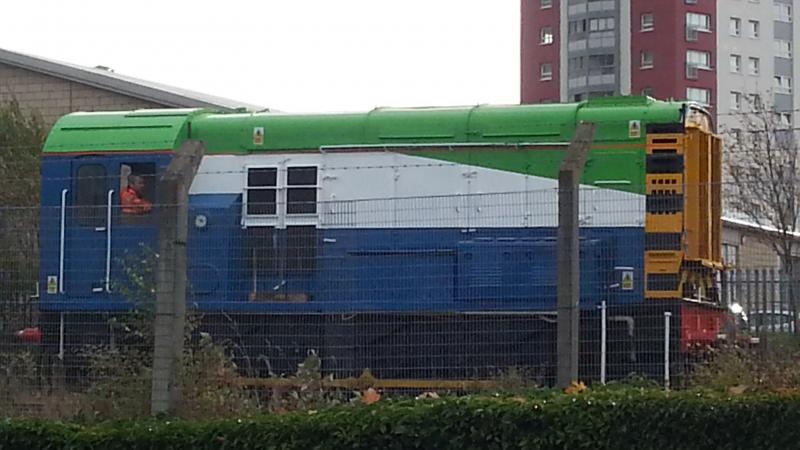 Class 08 loco 08730 recently painted in Knorr-Bremse colours of blue, white and green. No branding or numbers have been applied. Seen shunting at Glasgow Works (Springburn) on 31st October 2013. Photo by Jeffray Wotherspoon
---
External Links: