Class 156
Welcome to scot-rail.co.uk, Scotland's online railway community. The group is for any rail enthusiast interested in the railways and trains of Scotland. It not only consists of the wiki that you're reading now, but a busy online forum and mailing list, which is accessible to anyone who registers. If you would like to join in, all you have to do is register with us for free.
Introduction
ScotRail operates a fleet of 45
Class 156
"Super Sprinters".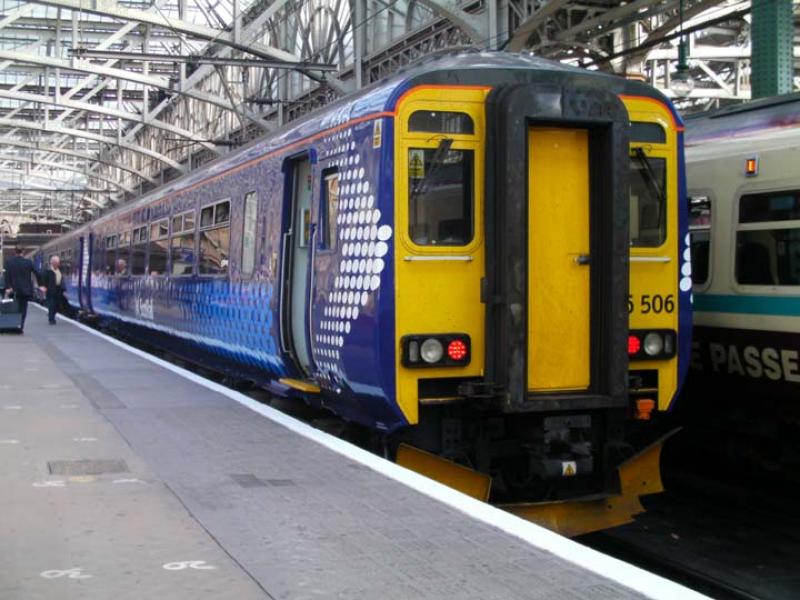 156 506 » Glasgow Central 08.09.2010 1118 to East Kilbride Photo by Martin_Baumann
The fleet was originally split between SPT sponsored services and other ScotRail services. As such, twenty-eight of them were in
SPT Carmine and Cream livery
, and twenty in
First ScotRail blue livery
. With the transfer of SPT's rail powers to Transport Scotland and the rebranding of the ScotRail franchise to a unified livery, the entire fleet of twenty-eight Carmine and Cream 156s was repainted into the new ScotRail saltire livery.
In December of 2018 with the start of the new timetable, five of Scotrail's 156 'Barbie' units were to transfer south for a new life with Northern at Heaton Depot in Newcastle. These are as follows:
156447, 156465 & 156485 (transferred on 13/12/18)
156449 & 156496 (transferred on 15/12/18)
RETB
Ten of the fleet are fitted with
RETB
equipment for working on the
West Highland Line
. These are 156450, 156453, 156456, 156457, 156458, 156467, 156474, 156476, 156493 & 156499.
In early 2014 two 'SPT' units numbered 156445 and 156500 were fitted with the equipment.
Unit 156478 also had RETB equipment removed during 2015, but may be re-fitted following the completion of refurbishment. In October 2016, 156478 returned to service. The unit is now owned by Brodies, Kilmarnock.
FSR Refurbishment
The ScotRail 156s went through a
refurbishment programme
at Derby Works with 156450 being the first to get the treatment, returning in February 2007. The refurbishment programme was completed in November 2007.
PRM-TSI Modifications
Routes
Class 156s currently operate the following routes:
Glasgow Queen Street - Oban/Fort William/Mallaig (RETB fitted units only)
Glasgow Queen Street/Edinburgh - Stirling/Dunblane/Alloa (shared with 158s/170s + 365/385 EMUs)
Glasgow Queen Street - Maryhill - Anniesland (shared with 158s/170s)
Edinburgh - West Calder - Shotts - Glasgow Central (shared with 158s)
Edinburgh - Carstairs - Motherwell - Glasgow Central (Shared with 380s)
Fife Circle (More commonly covered by 158s/170s)
Glasgow Central - East Kilbride
Glasgow Central - Barrhead
Glasgow Central - Kilmarnock
Glasgow Central - Dumfries - Carlisle / Newcastle
Glasgow Central - Stranraer
Stranraer / Girvan / Ayr - Kilmarnock / Newcastle
Class 156's can also occasionally be found on the following lines in the event of service disruption:
Glasgow Central/Edinburgh Waverley - North Berwick/Dunbar (more commonly covered by Class 158/Class 170)
Edinburgh Waverley/Glasgow Queen Street - Perth/Dundee (more commonly covered by class 158/class 170)
See also...
Internal Links
Class 156 Formations
Class 156 Diagrams SX
Class 156 Diagrams Weekend
Class 156 Saltire Relivery
Ex Scotrail 156s
Class 156 SPT Livery
Class 156 FSR Repaint 06
Class 156 FSR Refurbishment 07
Class 156 FSR Refurbishment 2011-2014
Class 156 Refurbishment 2017-2019
External Links