Class 156 FSR Refurbishment 07
Welcome to scot-rail.co.uk, Scotland's online railway community. The group is for any rail enthusiast interested in the railways and trains of Scotland. It not only consists of the wiki that you're reading now, but a busy online forum and mailing list, which is accessible to anyone who registers. If you would like to join in, all you have to do is register with us for free.
First ScotRail's
fleet of 20
Class 156
units were given a
repaint into First livery
and some interior work at Derby during 2006.
In a second phase of work, also carried out by Bombardier at Derby, the 20 units received a further £2.7 million interior refurbishment, funded by
Transport Scotland
.
The final set, 156485, was completed at Derby Litchurch Lane Works in November 2007.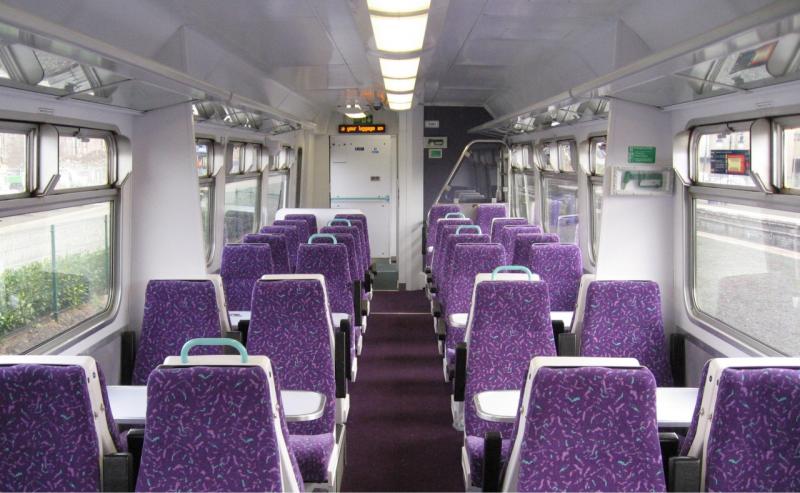 Interior shot of First ScotRail's 156492 (car 52492) taken on 6th April 2007 Photo by Dysgraphyk
The second phase of refurbishment included:
Interior repaint
Replacement seatbacks
New carpet and seat covers in 'First' colour scheme
Dedicated wheelchair space and table
| | | |
| --- | --- | --- |
| cycle racks in 156457 | seats in 156457 | new table tops in 156457 |
| | | |
| --- | --- | --- |
| Unit Number | Arrived Derby | Departed Derby |
| 156450 | 23/11/06 | 13/02/07 |
| 156446 | 02/01/07 | 27/02/07 |
| 156492 | 21/02/07 | 20/03/07 |
| 156458 | 28/02/07 | 30/03/07 |
| 156447 | 21/03/07 | 19/04/07 |
| 156465 | 02/04/07 | 03/05/07 |
| 156457 | 20/04/07 | 18/05/07 |
| 156462 | 04/05/07 | 01/06/07 |
| 156478 | 21/05/07 | 18/06/07 |
| 156449 | 04/06/07 | 29/06/07 |
| 156499 | 19/06/07 | 13/07/07 |
| 156493 | 02/07/07 | 27/07/07 |
| 156456 | 16/07/07 | 17/08/07 |
| 156467 | 06/08/07 | 31/08/07 |
| 156476 | 20/08/07 | 13/09/07 |
| 156477 | 03/09/07 | 27/09/07 |
| 156453 | 14/09/07 | 09/10/07 |
| 156496 | 28/09/07 | 23/10/07 |
| 156474 | 10/10/07 | 01/11/07 |
| 156485 | 24/10/07 | 16/11/07 |