Glasgow Subway
Welcome to scot-rail.co.uk, Scotland's online railway community. The group is for any rail enthusiast interested in the railways and trains of Scotland. It not only consists of the wiki that you're reading now, but a busy online forum and mailing list, which is accessible to anyone who registers. If you would like to join in, all you have to do is register with us for free.
Introduction
The
Glasgow Subway
is owned and operated by
SPT
.
The Subway forms a 10.5km circle in the centre-west of Glasgow. All of the passenger railway is underground, contained in twin tunnels, with trains running clockwise on the 'outer' circle and anticlockwise on the 'inner'.
The tunnels are very small, only 3.4m in diameter, and the trains run on an unique track gauge of 1220mm (4 feet from rail-to-rail).
History
It started in 1896 as a cable-hauled system, but was converted to electric 3rd-rail operation in 1935. The Subway continued to operate with its original rolling stock until 1977, when the system was closed for modernisation.
The railway in its present form reopened for passenger use on 16 April 1980. A maintenance depot and control room was built at Broomloan as part of the modernised system.
It was branded as the 'Underground' from 1936 onwards, until SPT decided to revert to the popular 'Subway' name in 2002.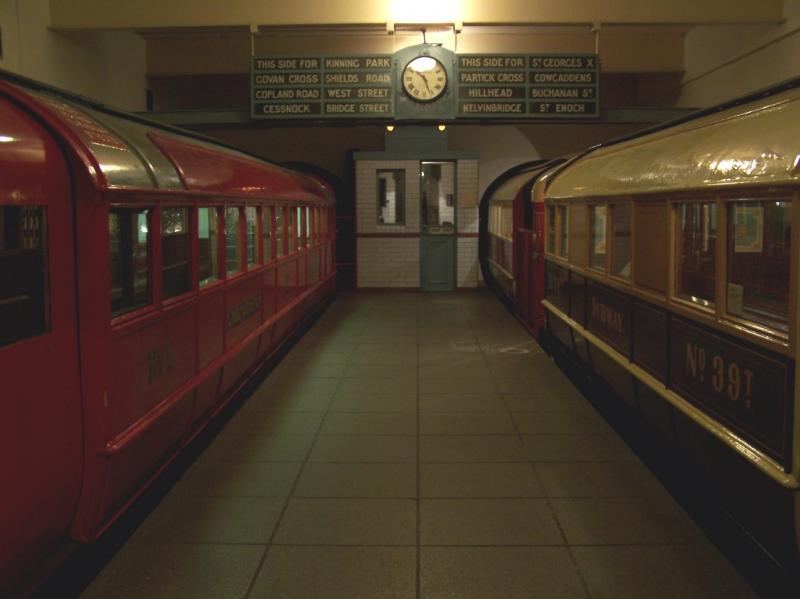 As was » The Glasgow Subway station in the old Transport Museum at the Kelvin Hall taken in March 2010 just before removal down to the riverside. Photo by Deepol01
The Subway Trains
Thirty-three new vehicles were built for the modernised system by Metro-Cammell of Birmingham and delivered between 1977 and 1979.
Each car is 12.58 metres long, has 4 traction motors and a driving cab at one end and has a maximum speed of 54km/h.
The 33 'power cars' built by Metro-Cammell were supplemented by 8 'trailer cars' built by Hunslet TPL of Leeds (and fitted out at Kilmarnock) in 1992.
The 'power cars' were refurbished in 1995 by Adtranz at Derby, and the 'trailer cars' were refurbished by Railcare at
Glasgow Works
from early 2007.
Trains are normally formed of three cars, the maximum length of train that can be accommodated in each station.
The formation is a 'power car' at each end, and either a 'trailer car' or freewheeling 'power car' in the centre. A three-car train has a seating capacity of some 112 places, and space for additional 165 or so standing passengers.
Power cars are numbered
101
to
133
Trailer cars are numbered
201
to
208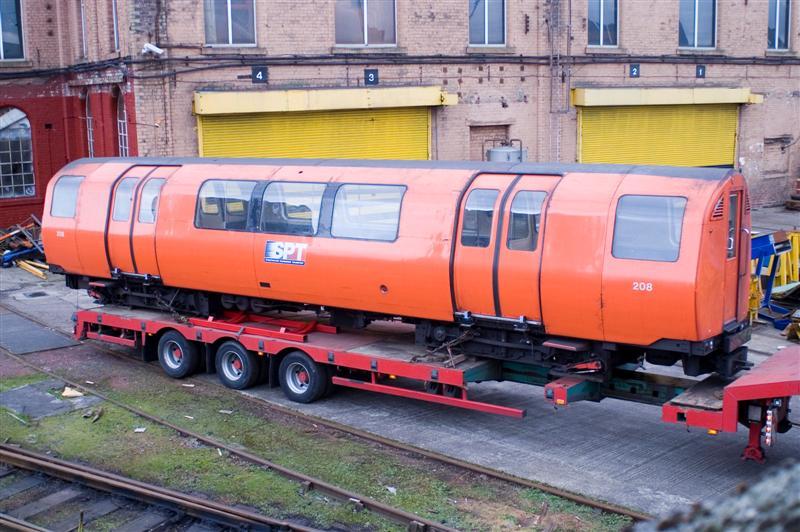 Subway car 208 arriving at Glasgow Railcare for refurbishment. Photo by class47man
Liveries
When new, the trains carried a light orange livery with a white white band, and 'GG Trans-clyde' branding behind cabside windows. After a few years they were painted in a darker orange, 'Strathclyde Red', but without the white band.
From 1983, the livery featured black window pillars and 'Strathclyde Transport' branding on middle of the bodyside. In the late 1990's 'SPT' branding in blue, red and white was used.
To celebrate the Subway's centenary in 1996, two cars were turned out in lined Carmine and Cream livery, the original colours of the Glasgow District Subway.
The final repaints in to the 'Strathclyde Red' livery featured yellow doors and black SPT logos.
Some cars have carried advertising liveries. In 1999 a train was given all over black vinyls promoting Morgan's Spiced Rum, and in 2004 another was given blue vinyls promoting mobile phone network o2.
Between 2006 & 2011 the SPT Subway livery was Carmine and Cream, divided by an light orange stripe, and full orange ends on the driving cabs.
From 2011 onwards the stock returned to the Orange livery, now accompanied by patches of white and grey to give a more modern look.
To celebrate the Subway's 120th in December 2016 special liveries were applied to cars nos. 101 & 130 (plus 'Celebrating 120 years' text applied around the Subway logos on trailer 201). District Subway colours were given to 101 and no. 130 was given a scheme of grey with orange doors, inner/outer line lining & a dark grey front - styled in the fashion of the upcoming Stadler driverless subway trains. It's to be noted the set isn't always in a set formation as cars are separated when required maintenance.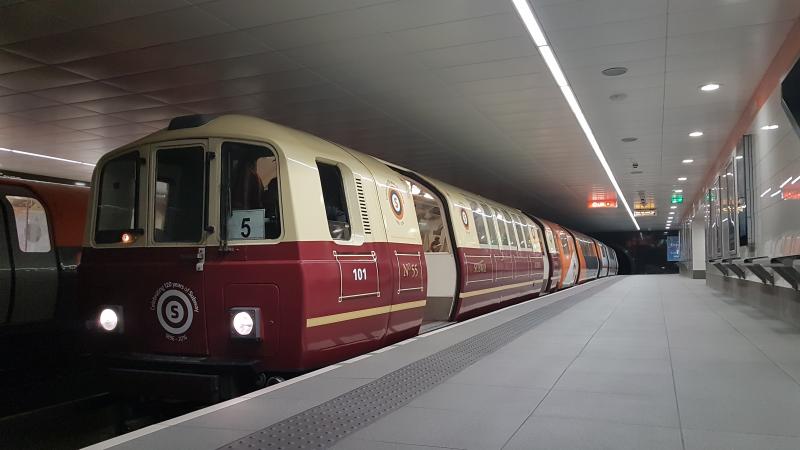 Anniversary Set in full view @ Govan (04/10/18) » Glasgow Subway Cars 101, 201 & 130 in full sight at Govan while the driver partakes in the usual tests here. Photo by TheDustyBinman
Battery Electric Locos
There are also three battery electric locos (built by Clayton Equipment) for hauling engineers trains. These are named after characters from a Bud Neill cartoon strip.
| | | |
| --- | --- | --- |
| Number | Name | Build number |
| L2 | Lobey Dosser | CE B0965B/77 |
| L3 | Rank Bajin | CE B0965A/77 |
| L4 | El Fideldo | CE B3542/88 |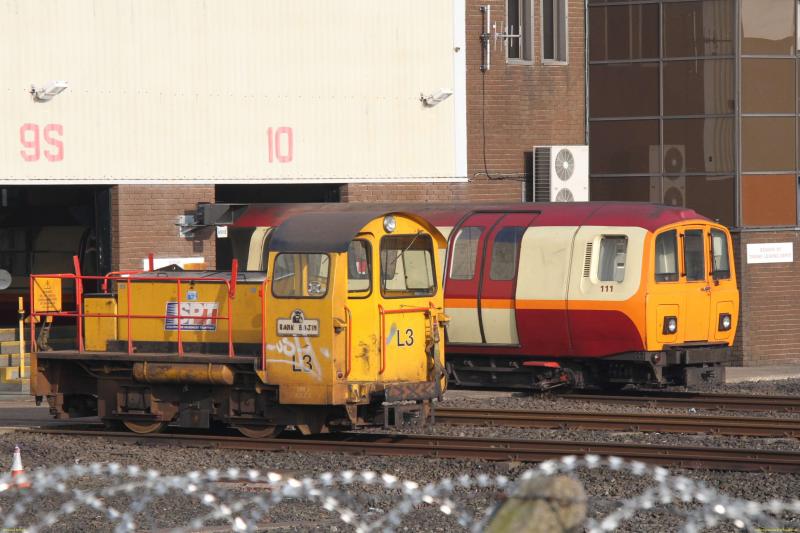 L3 and 111 at the Subway depot at Broomloan, February 2010 Photo by Donald Stirling
The Future of the Subway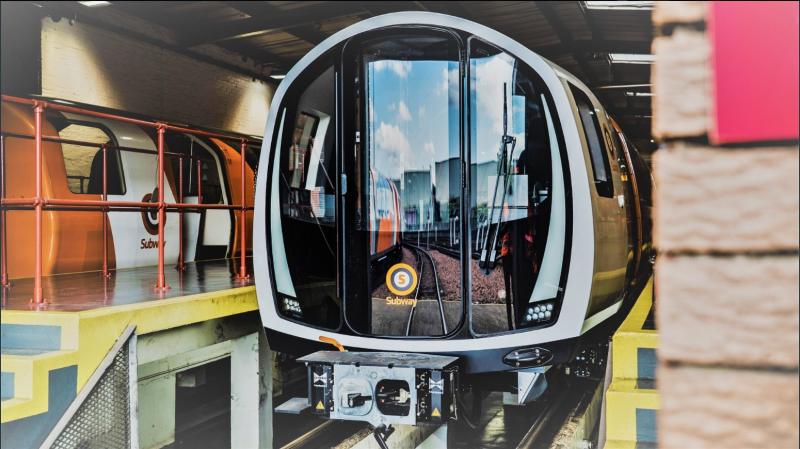 New Subway Train Delivered » (from SPTcorporate Twitter, for wiki) first of the new Stadler Subway Trains sitting in Broomloan Depot. Photo by TheDustyBinman
On the 4th March 2016, it was announced by SPT that as part of the Glasgow Subway modernisation and refurbishment plan that this would include the introduction of entirely new Subway Trains that are to be designed by Stadler. These have been planned to be driverless and this also will warrant a complete resignalling of the system. With a value of £200 Million being sunk into the project, it is estimated to be completed by 2020.
The first Stadler set was delivered to Broomloan on the 4th May 2019.
See Also
Internal Links
External Links