Inverness Class 158 Refurbishment
Welcome to scot-rail.co.uk, Scotland's online railway community. The group is for any rail enthusiast interested in the railways and trains of Scotland. It not only consists of the wiki that you're reading now, but a busy online forum and mailing list, which is accessible to anyone who registers. If you would like to join in, all you have to do is register with us for free.
The twenty five Inverness based
ScotRail
Class 158s
have received a £9 million refurbishment at
Glasgow Works
, funded by
Transport Scotland
.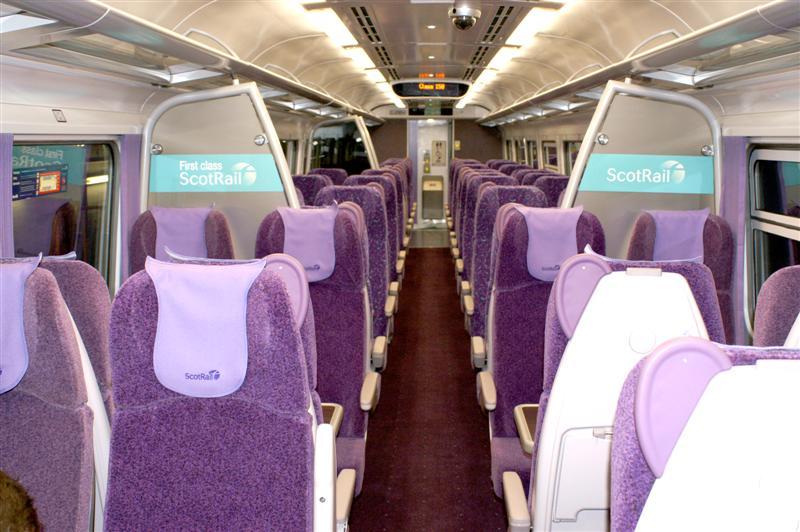 Interior of 52701 from 158701 - the first unit to be refurbished at Glasgow Works. Photo by Class47man
The C6+ refurbishment included:
Full interior repaint
New Grammer IC3000 Seating
Improved first class area with table lamps and power points
Improved Lighting
Increased Luggage Space
Additional Cycle Rack
Refurbished Toilets
Improved Train Entrance
Reliability mods
| | | | |
| --- | --- | --- | --- |
| vestibule cycle rack 57701 | extra cycle rack 52701 | wheelchair space 52701 | overhead racks |
| extra luggage rack 57701 | interior 57701 | standard class seats | first class seats |
| | | |
| --- | --- | --- |
| Unit Number | Arrived Glasgow Works | Departed Glasgow Works |
| 158701 | 21/01/07 | 19/06/07 |
| 158711 | 21/03/07 | 30/07/07 |
| 158717 | 21/03/07 | 30/03/08. Also in for Collision Damage Repairs |
| 158713 | 17/06/07 | 24/08/07. Also in for Relivery |
| 158722 | 17/07/07 | 03/10/07 |
| 158721 | 30/07/07 | 16/10/07. Also in for Relivery |
| 158723 | 24/08/07 | 31/10/07 |
| 158709 | 25/09/07 | 23/11/07. Also in for Relivery |
| 158712 | 18/10/07 | 12/12/07 |
| 158714 | 20/11/07 | 20/01/07 |
| 158702 | 06/12/07 | 31/01/08 |
| 158724 | 12/12/07 | 17/02/08 |
| 158704 | 20/01/08 | 01/03/08 |
| 158715 | 01/02/08 | 25/03/08 |
| 158710 | 17/02/08 | 10/04/08 |
| 158718 | 02/03/08 | 24/04/08 |
| 158703 | 25/03/08 | 02/05/08. Also in for Collision Damage Repairs |
| 158707 | 03/04/08 | 08/05/08 |
| 158705 | 16/04/08 | 21/05/08 |
| 158706 | 24/04/08 | 29/05/08 |
| 158708 | 02/05/08 | 10/06/08 |
| 158720 | 14/05/08 | 19/06/08 |
| 158725 | 21/05/08 | 04/07/08 |
| 158716 | 09/06/08 | 23/07/08. Also in for Relivery |
| 158719 | 04/07/08 | 08/09/08. Also in for Relivery |
| 158715 | 14/12/09 | 24/12/09 |
158715 in for retrofit