Class 158
Welcome to scot-rail.co.uk, Scotland's online railway community. The group is for any rail enthusiast interested in the railways and trains of Scotland. It not only consists of the wiki that you're reading now, but a busy online forum and mailing list, which is accessible to anyone who registers. If you would like to join in, all you have to do is register with us for free.
Introduction
ScotRail operates a fleet of forty
Class 158
"
Express
" DMUs. These are allocated between
Corkerhill Depot
(formerly Haymarket) and
Inverness Depot
. The units are primarily used on long-distance rural services as well as short distance commuter services within the Central Belt.
Routes
Class 158s currently operate the following routes:
Glasgow Queen Street - Maryhill - Anniesland (shared with 170s)
Late evening Edinburgh - Motherwell and early morning Motherwell - Edinburgh
Aberdeen - Inverness (Shared with 170s)
Inverness - Kyle/Wick
Borders Railway/Fife Circle (Shared with 170s)
Refurbishment
The Class 158s underwent a refurbishment programme at
Glasgow Works
, Springburn between 2015 & 2018. This included exterior repainting, a remodel of the interior seating arrangements and the new saltire moquette to go with. The Inverness sets were treated first, and the then Haymarket based ones were secondary.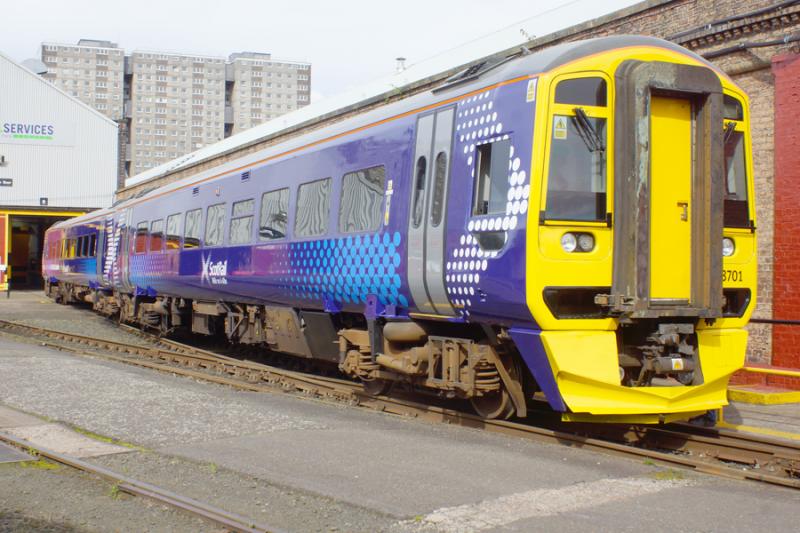 158701 » 158701 ex works stands outside the main building at its launch on 1st September Photo by class47man
Loans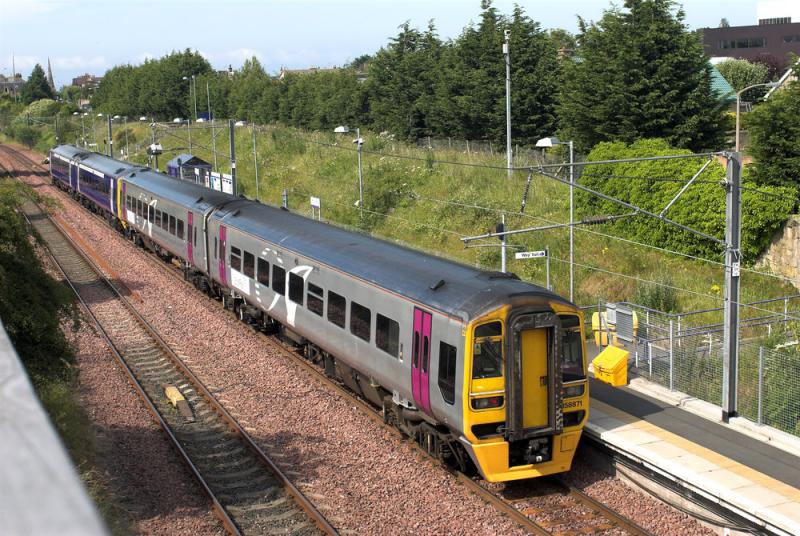 Different liveries at Brunstane » 158786 (plain blue) leads 158871 (Alphaline) at Brunstane station. 25 June 2009 Photo by KeithSanders
158782, 158786, 158789 and 158791 arrived at HA on loan during February 2007. 158791 returned south to Northern on 3rd March 2007.
158867, 158868, 158869 and 158870 arrived at Haymarket on 14 December 2007 on long-term loan from Northern, an arrangement which was due to end in June 2010. However, a new agreement was made with the ROSCO and the units formed part of the ScotRail fleet and remained with ScotRail indefinitely. In 2010 the Angel Trains fleet were repainted into the TS Scotrail Saltire livery (and eventually fitted with the new standard oval LED lights), and all 8 units remained in Scotland until 2018 when they transferred to Arriva Rail North.
The first 2 158s (158870/871) left Scotland on 5th January and later in the year, due to the sufficient arrival of 385 EMUs for Scotrail by the introduction of the new winter timetable in December 2018, the remaining sets were transferred south to Heaton Depot:
158782, 158786 & 158868 on 10th December 2018 &
158789, 158867 & 158869 on 12th December 2018.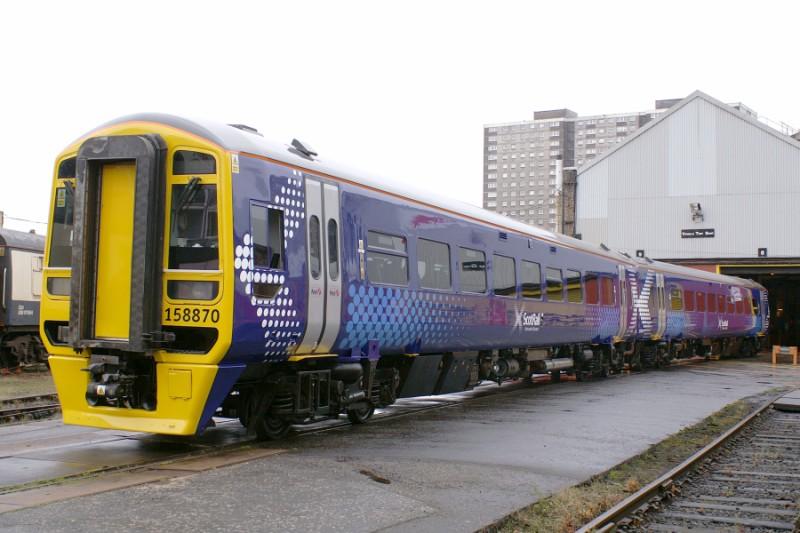 158870 » Ex Works 158870 stands outside the test house prior to departure on Sunday 19th September Taken with permission of Railcare & FirstScotrail Photo by class47man
See also
Internal links
External links