Class 142
Welcome to scot-rail.co.uk, Scotland's online railway community. The group is for any rail enthusiast interested in the railways and trains of Scotland. It not only consists of the wiki that you're reading now, but a busy online forum and mailing list, which is accessible to anyone who registers. If you would like to join in, all you have to do is register with us for free.
Class 142 'Pacer'
units were visiting
Glasgow Works
for overhaul from June 2005 to May 2009.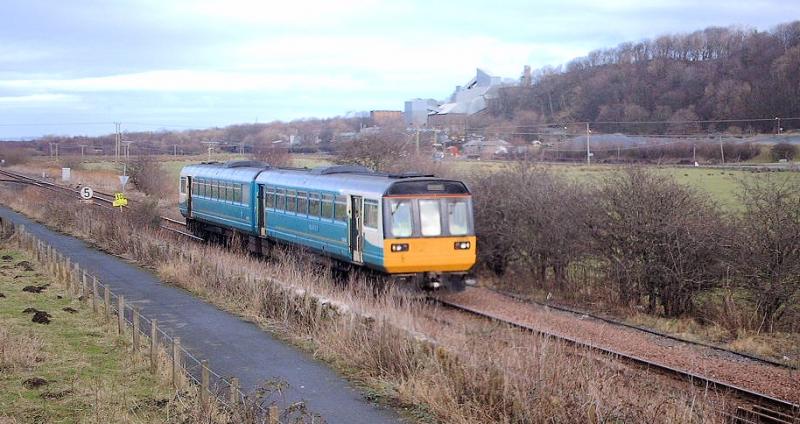 142 078 on the Kilmarnock-Barassie line, en-route to Glasgow Works, 24th January 2007. Photo by AndrewIrvine
Until 2014, Class 142 units occasionally worked early morning
Carlisle - Dumfries
trains in lieu of Northern Rail class 156s.
The Pacer units, classes 142, 143 and 144, are restricted in the routes they are permitted to operate on.
Class 14x - Lines cleared in Scotland
LoR code
Line of Route Description
SC031*
Gretna Jn - Kilmarnock
SC039
Kilmarnock - Barassie
SC059*
Shields Jn - Barassie
(ECS only)
SC059*
Barassie - Ayr
SC123*
Bellgrove Jn - High Street Jn
(ECS only)
SC129
Springburn - Belgrove Jn
(ECS only)
SC131
Shields Jn - Belgrove
(ECS only)
SC147*
Berwick - Haymarket Depot (via Edinburgh Waverley)

*

Partial LoR route only
The table is out-of-date, class 142s visiting Glasgow Works started running via Beattock in the Summer of 2008.