Class 143
Welcome to scot-rail.co.uk, Scotland's online railway community. The group is for any rail enthusiast interested in the railways and trains of Scotland. It not only consists of the wiki that you're reading now, but a busy online forum and mailing list, which is accessible to anyone who registers. If you would like to join in, all you have to do is register with us for free.
Twenty-five 2-car railbus type DMUs, designated BR Class 143, were built in Scotland in 1985/1986.
The carriage bodies were built by Walter Alexander & Company (Coach-builders) Limited of Falkirk, while the two-axle underframes, mechanical parts and final assembly were subcontracted to Andrew Barclay Sons & Co. of Kilmarnock.
Like the similar
Class 142
railbus units, they were marketed as '
Pacers
' by British Rail. For their first five years in service, the 25 class 143s were based at Heaton maintenance depot in Newcastle, with 143001-019 painted BR Provincial sector colours of light blue with a white stripe and dark blue band, and the final six 143020-025 in the Tyne and Wear PTE livery of yellow and white with a blue stripe.
The first unit was seen complete outside Barclay's Caledonia Works on 18th June 1985.
The National Union of Railwaymen had 'blacked' these privately built trains, and it was only after a High Court injunction on 24th July that the NUR executive allowed it's guards to work the 143s.
143001 moved to Derby RTC on 31st July, and the 2nd unit 143002 did a test run from Kilmarnock to Carlisle and back on 6th August, before running to Heaton Depot on 7th.
143003 was the first of the class in passenger service on 14th October 1985, on a special diagram from Newcastle covering Hexham and Sunderland local services.
Perhaps the most remarkable working for this class occurred on 13th of November 1985, when unit 143004, whilst at Carlisle for crew training, was used on a special to Glasgow Central via Beattock in place of a late running main line train from the South. It is understood the unit returned to Carlisle via Kilmarnock and Dumfries.
Walter Alexander employees had the the opportunity to ride one of their products on Saturdays 9th and 16th November 1985. 143010, newly completed at Kilmarnock was moved to Ayr TMD, and thence on the Saturday morning to Falkirk Grahamston via High St Junction and Greenhill, to pick up the special party. The charter train consisted of a run from Falkirk to Inverkeithing, back to Stirling, return to Inverkeithing and set down at Falkirk.
On the 9th 143010 returned to Ayr TMD, but following the excursion on 16th, 143010 was noted stabled at Eastfield TMD on Sunday 17th. On Thursday 21st November 1985, it was used on a Edinburgh to Bathgate special, conveying David Mitchel MP Minster for Public Transport, before going south to Newcastle.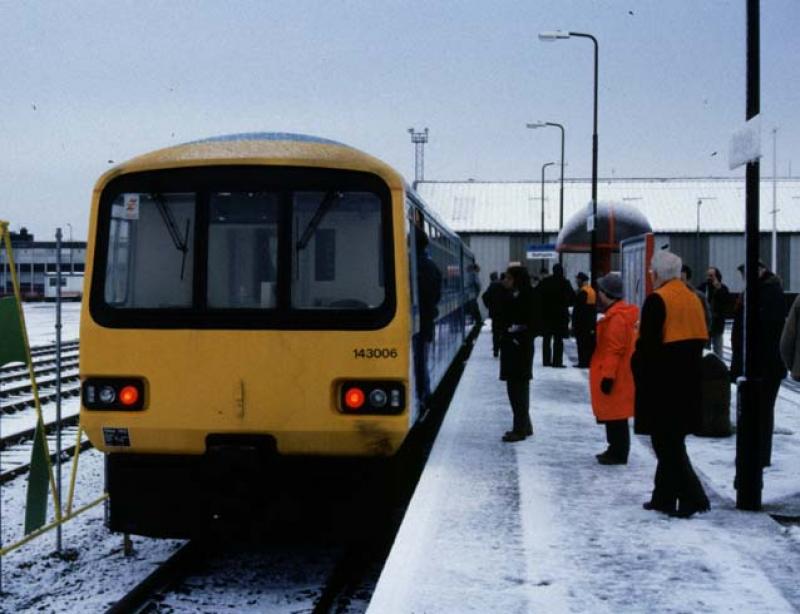 143006 after arrival at Bathgate with the 0603 from Waverley on the first day of passenger services after re-opening of the line on Monday 24 March 1986 Photo by jimn1013
In the Spring of 1986, ScotRail borrowed three class 143 units to launch the re-opening of the Bathgate to Edinburgh line to passenger service.
143006 ran empty from Heaton to Haymarket Depot, Edinburgh on Saturday 15/3/86, ready to start driver training. This unit was used on a 'preview special' to the not-quite-finished Bathgate station on Monday 17th March. Two further units 143016 and 143019 came north on the morning of Saturday 22nd.
143006 was one of many items of rolling stock on display at an Open day event at Bathgate held on on Sunday 23rd of March.
On Monday 24th March 1986, unit 143006 was on the very first public train, the 06:03 Edinburgh - Bathgate and the 06:43 return service. 143019, complete commemorative headboard, formed the official re-opening train with Scottish Secretary Malcolm Rifkind MP on board.
The new service and cheap introductory fares proved very popular and over-crowding was a problem when only a single unit was used. On Tuesday 25th, 143016 and 143019 were paired together as a 4-car train, with a 3-car class 101 operating the other Bathgate diagram. On Wednesday 26th 143019+143006+143016 formed a 6-car 15:18 Edinburgh – Bathgate and return. Saturday 28th saw the three Pacers again in 6-car formation on Bathgate trains.
All three pacers were back in use in for the 2nd week, but from the 3rd week onwards the Bathgate service was operated by specially branded
class 101
3-car DMUs until
Class 150
s took over in October 1987.
With the Thornaby Wheel lathe out of order, 143001 was sent north from Heaton to Craigentinny on 12th November 1986, returning on 18th.
The original SCG mechanical gearboxes on the Pacers proved to be very unreliable and during 1989, the first nineteen class 143s were renumbered 143601-619 after being fitted with Voith hydraulic transmissions by RFS in Doncaster. The others became 143320-325.
143607 was seen departing East from Edinburgh in July 1989, although it is not known where it came from.
Hunslet Barclay in Kilmarnock won a contract to fit Voith transmission to the PTE-funded pacer fleets, and the six Tyne & Wear units were converted, becoming 143620-625 in 1990.
In passenger service from Newcastle the 143s ran as far north as Berwick-Upon-Tweed on the east coast main line, in the west they were a daily sight at Carlisle, and made appearances on the local trains to Dumfries.
From 1991 the class was repainted in to the new Regional Railways livery, some of the repaints were done by Hunslet Barclay at Kilmarnock.
In the spring of 1991 the first class 143 was transferred from Heaton to Cardiff, and by December 1992 all 25 units had moved to South Wales. They also worked services in the Bristol area, and later some of the class moved to operate in the Exeter area.
Two class 143s were withdrawn prematurely in 2004 & 2005, the remaining units will be taken out of service in 2020. It is likely at least one 2-car unit will be preserved on a heritage railway in England.
Class 144
Walter Alexander won a further order for Twenty-three 2-car DMUs, however the mechanical parts were built by British Rail Engineering and these DMUs, designated Class 144, were assembled at Derby from 1986 to 1987. The Class 144s were for use in West Yorkshire and finished in a red and cream livery. In 1988 ten non-driving centre cars were built and added to units 144014-023.
144001-008/014-23 visited the Hunslet Barclay Works in Kilmarnock from 1989 to 1991 to have the original SCG mechanical gearboxes changed to Voith hydraulic transmissions.
144017 also came to Kilmarnock for repairs after a collision with a Class 37 at Skipton in 1992.
In the post BR era, Class 144s often appeared at Carlisle on services from Leeds, however it is not thought any worked north of Carlisle in passenger service.
The class 144 units are to be withdrawn from service in 2020.
A three-car set 144022 (55822+55858+55845) moved by road to the
Keith and Dufftown Railway
on
September 2020
.
See Also
External links:
Photo links