Class 104
Welcome to scot-rail.co.uk, Scotland's online railway community. The group is for any rail enthusiast interested in the railways and trains of Scotland. It not only consists of the wiki that you're reading now, but a busy online forum and mailing list, which is accessible to anyone who registers. If you would like to join in, all you have to do is register with us for free.
A few of the BRC&W built Class 104 units operated in Scotland in the 1980s
The first six class 104 driving vehicles arrived in January 1984 from the Manchester area as replacements for
class 107
units destroyed in a fire at Ayr Depot.
By the start of 1985 these had been painted in the standard blue/grey livery carried by the majority of DMUs, but class 104s which came north later remained in plain blue livery.
Whilst based at Ayr depot set formations varied considerably, and hybrid units were the norm.
Several other class 104s were transferred north in 1986 and 1987. By 1988 the remaining vehicles were based at Eastfield.
The Scottish Region's last 3 operational class 104 driving vehicles (53472,53478,53530) were transferred to Chester in April 1989.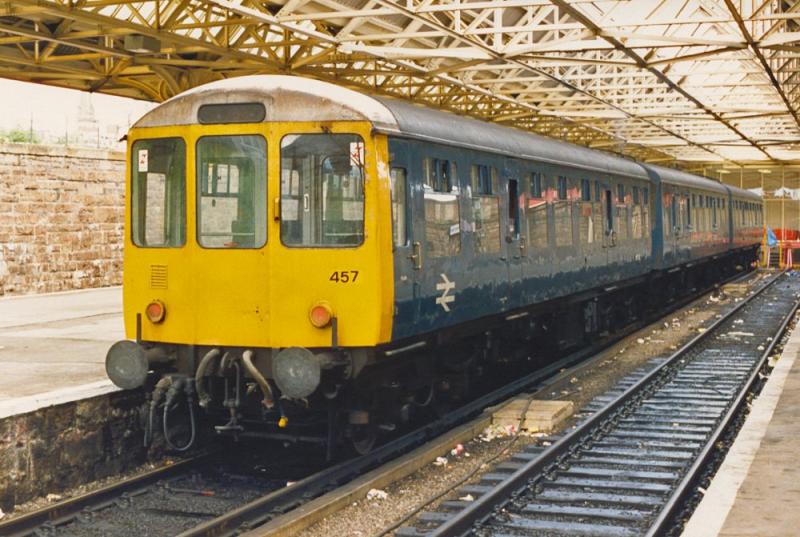 class 104 Set 457, (53504+59228+53556) awaits its next turn at Dundee on 7th June 1987. Photo by Jim Ramsay
The most celebrated class 104 was 104325 (53424+53434) which in 1985 was painted in a maroon and white livery for the Highlands and Islands tourist board to work a Summer only shuttle service between Crianlarich and Oban.
During the winter it was stored in Cowlairs Carriage shed.
The unit, which was known as the 'Mexican Bean', was used again in 1986 and 1987, before being withdrawn.
It was moved from Cowlairs to Haymarket in December 1988, and then to Thornton Yard in February 1989. It was eventually scrapped by MC Metals in Springburn in 1991.
List of all Scottish Region Class 104 vehicles
| | | | | | |
| --- | --- | --- | --- | --- | --- |
| Vehicle | Type | Livery | In to ScR use | Out of ScR use | Set Numbers (sample only) |
| 53424 | DMCL | Maroon & White | 04/85 R -ED | 12/87 W | set 325, 04/85 |
| 53430 | DMBS | Blue, white cab roofs, black front | 06/86 R -AY | 07/86 W | set 454, 06/86 |
| 53434 | DMBS | Maroon & White | 03/85 R -ED | 12/87 W | set 325, 03/85 |
| 53452 | DMBS | Blue & Grey | 01/84 NH-AY | 07/86 W | set 450, 06/84 |
| 53461 | DMBS | Blue & Grey | 01/84 NH-AY | 02/87 Su | set 452, 07/86; set 453, 06/84 |
| 53464 | DMBS | Blue | 11/86 NH-AY | 10/88 ED-NH | set 456, 03/88 |
| 53472 | DMBS | Blue | 11/87 NH-ED | 04/89 ED-CH | set 459, 03/88 |
| 53473 | DMBS | Blue & Grey | 01/84 NH-AY | 02/87 Su | set 452, 06/84, set 451, 08/86 |
| 53478 | DMBS | Blue | 11/87 NH-ED | 04/89 ED-CH | set 458, 03/88 |
| 53491 | DMCL | Blue, white cab roofs, black front | 06/86 NH AY | 12/86 W | set 368, 09/86, set 514 08/86 |
| 53504 | DMCL | Blue, white cab roofs. | 11/86 NH-AY | 10/88 ED-NH | set 457, 03/88 |
| 53505 | DMCL | Blue & Grey | 01/84 NH-AY | 02/87 Su | set 450, 08/84; set 550, 07/86; set 451 09/86 |
| 53510 | DMCL | Blue & Grey | 01/84 NH-AY | 05/85 Su | set 367, 03/85; set 449, 08/84 |
| 53517 | DMCL | Blue | 11/86 NH-AY | 10/88 ED-NH | set 456, 03/88 |
| 53525 | DMCL | Blue & Grey | 01/84 NH-AY | 02/87 W | set 452, 08/84; set 368 09/86; set 455 12/86 |
| 53530 | DMCL | Blue | 11/87 NH-ED | 04/89 ED-CH | set 458, 03/88 |
| 53542 | DMCL | Blue | 06/86 NH-AY | 09/86 W | set 455, 08/86 |
| 53556 | DMCL | Blue | 11/86 NH-AY | 10/88 ED-NH | set 457, 03/88 |
| 53565 | DMCL | Blue & Grey | 05/84 BX-AY | 05/85 Su | set 367, 03/85; set 432, 08/84 |
| 53577 | DMCL | Blue & Grey | 05/84 BX-AY | 06/86 Su | set 366, 08/84 |
| 53598 | DMBS | Blue | 06/86 NH R-AY | 12/86 W | set 455, 07/86 |
| 59153 | TCL | Blue & Grey | 05/87 NH-AY | 10/89 W | set 393, 04/88 |
| 59168 | TCL | Blue & Grey | 11/86 NH-AY | 10/88 ED-NH | set 456, 03/88 |
| 59195 | TSL | Blue | 05/87 NH-AY | 10/88 ED-NH | set 459, 03/88 |
| 59210 | TBSL | Blue & Grey | 05/84 BX-AY | 05/85 Su | set 367, 03/85; set 323, 08/84 |
| 59215 | TBSL | Blue & Grey | 05/82 NL-HA | 12/87 W | set 366, 07/86 |
| 59225 | TBSL | Blue & Grey | 01/84 R -AY | 07/87 W | set 368, 09/86; set 426, 08/84 |
| 59228 | TBSL | Blue | 11/86 NH-AY | 10/88 ED-W | set 457, 03/88 |
| 59230 | TSL | Blue | 05/87 BX-ED | 10/88 ED-W | set 458, 03/88 |
AY = Ayr, ED = Eastfield, HA = Haymarket
NH = Newton Heath (Manchester), BX = Buxton, NL = Neville Hill (Leeds), CH = Chester
R = Reinstated, Su = Stored Unserviceable, W = Withdrawn
See Also
Internal Links
External Links
Photo Links