Class 210
Welcome to scot-rail.co.uk, Scotland's online railway community. The group is for any rail enthusiast interested in the railways and trains of Scotland. It not only consists of the wiki that you're reading now, but a busy online forum and mailing list, which is accessible to anyone who registers. If you would like to join in, all you have to do is register with us for free.
Two
Class 210
Diesel-Electric Multiple Units were built as prototypes by BREL, entering service in 1982.
The two units, one a 4-car set, the other 3-car set, spent most of their short careers based at Reading depot on the Western Region.
One of the units, 210 001 came north for a month of trial runs in Scotland in the Autumn of 1983.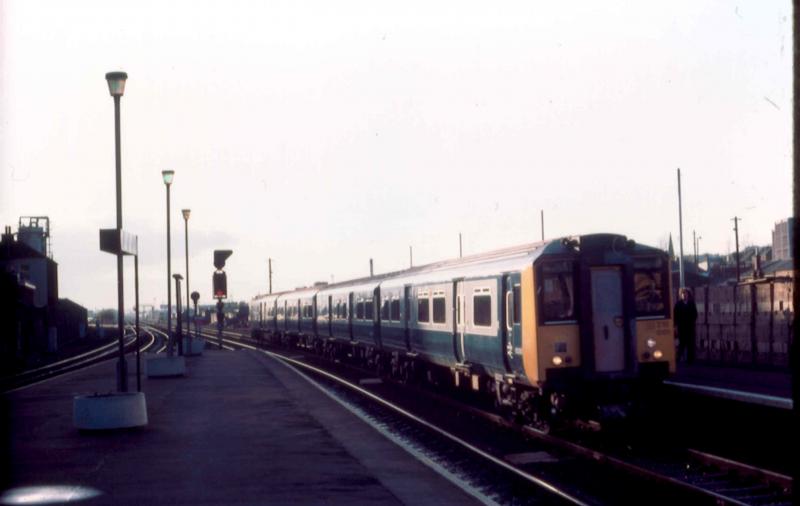 DEMU 210001 arriving at Haymarket in November 1983 with a train from Dundee when it was undergoing trials in Scotland. Photo by Deepol01
Unit
210 001
comprised of vehicles:
60201
Driving Motor Brake Second
60401
Trailer Second
60450
Trailer Composite (with lavatories)
60300
Driving Trailer Second
The DMBS 60201 was powered by a Paxman 6RP200L engine rated at 1,125 hp, effectively half an HST Paxman Valenta unit.
Trial runs in Scotland, 1983
After arriving at Haymarket Depot in mid October 1983, the DEMU operated on the Edinburgh - Stirling - Perth diagram (normally operated by a 47/7 and Mk2
Push-Pull
set) for two weeks from Monday 17th October.
For the next two weeks from 31st October the Class 210 unit ran on Edinburgh - Dundee services in place of one of the loco hauled trains.
On Monday 14th November, the DEMU ran ECS from Edinburgh to Glasgow Queen Street and then formed the 09.50 to Fort William and 14.15 return in place of the usual locomotive hauled set.
The following day it worked a special service from Glasgow Queen Street to Inverness, departing at 08.54 and returning to Glasgow at 16.05.
This completed its trials in Scotland and the prototype DEMU returned as ECS to Reading depot on 16th November.
A very similar looking Electric Multiple Unit,
317 335
, was on display at Ayr Station in October 1983, during an
open day
.
See Also
External Links
Photo Links