Class 334 Relivery and Refurbishment 2011-2014
Welcome to scot-rail.co.uk, Scotland's online railway community. The group is for any rail enthusiast interested in the railways and trains of Scotland. It not only consists of the wiki that you're reading now, but a busy online forum and mailing list, which is accessible to anyone who registers. If you would like to join in, all you have to do is register with us for free.
The 40 unit ScotRail
Class 334
fleet underwent a first refurbishment programme from 2012 to 2014.
The work included:
Relivery into Scotrail 'Saltire' blue livery (from SPT Carmine & Cream)
Interior refurbishment, including new seat covers, new floor etc.
The majority of the work was caried out at Brodie Engineering's Bonnyton Depot in Kilmarnock, although some inital work was done at Shields Depot starting in November 2011.
It should be noted that two units had previously received vinyl 'Saltire' blue reliveries for the official Airdrie - Bathgate launch:
334006
in Nov-2010, and
334012
in Jan-2011. These were the last two in the refurbishment programme.
The Class 334 EMUs were hauled to and from Kilmarnock, by diesel locomotives operated by GB Railfreight. From 04/05/2013,
Class 55
55022 was deployed on these workings.
As the translator vans were not compatible with electrical connections on the Class 334 units, a long brake pipe was run through the EMU, and three braked vehicles either side were provided. For the first in-bound run on
03/02/12
SRPS railtour coaches were used (hauled by 57304), but for all remaining runs, TTA tanks wagons painted bright blue were provided as the brake-force runners.
TTA Tank Wagons: STL 51948, STL 51951, STL 51952, STL 51953
QSA Translator Vans: ADB 975864, ADB 975867 (blue and cream livery)
The first 4 runs to Kilmarnock originated at Polmadie, but from August 2012 all ran from Yoker Depot, usually on a Saturday, with arriving and departing Class 334s moved on the same day. At first the movements ran as STP schedules typically using headcodes
6Z53
and
6Z54
, usually out via Barrhead and return via Barassie. From December 2013 the trains ran on
WTT schedules
, as
6V53
and
6V54
, normally running via Barassie both ways.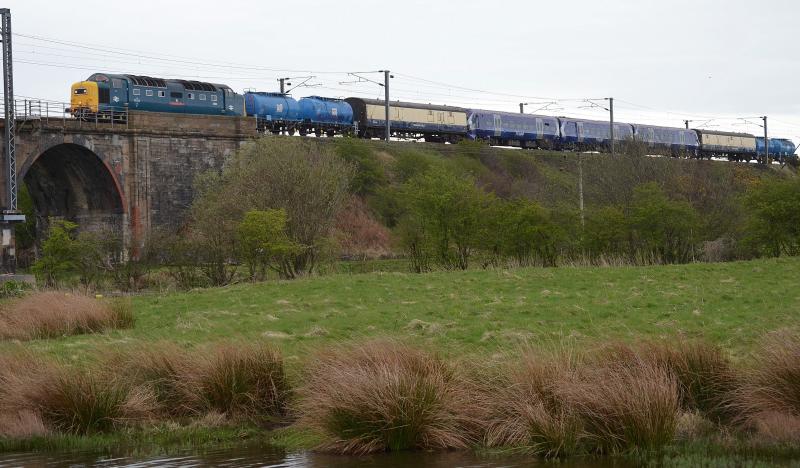 55022 with 334025 on Longford Viaduct near Kilwinning with 6Z54 Kilmarnock to Yoker.Taken on 4th May 2013 Photo by clarkc
See Also