Class 334
Welcome to scot-rail.co.uk, Scotland's online railway community. The group is for any rail enthusiast interested in the railways and trains of Scotland. It not only consists of the wiki that you're reading now, but a busy online forum and mailing list, which is accessible to anyone who registers. If you would like to join in, all you have to do is register with us for free.
Introduction
ScotRail
operate a fleet of 40 Alstom built
Class 334
"
Juniper
" three-car Electric Multiple Units.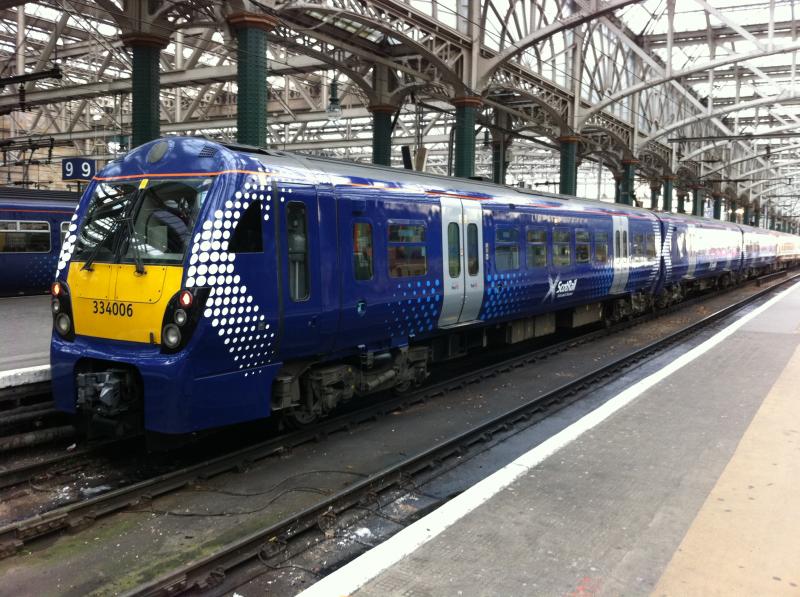 334006 at Glasgow Central » 334006 waits to depart Glasgow Central with the 14:00 to Ayr. Photo by admin
The first unit, 334001, arrived at Shields Depot on 3rd August 1999.
A pair of 334 had a test trip to North Berwick, although they have not been used on that route in passenger service.
The first use of the class in passenger service was 3rd April 2001, when 334010 and 334020 worked the 10:05 Glasgow Central to Gourock.
334001 was named Donald Dewar until refurbishment
334021 was named Larkhall until December 2013. It was de-named when it was refurbished.
During July 2016, 334004 and 334015 were had their tightlock couplers removed at one end and replaced by Scharfenberg Dellner Couplers. 334004/015 temporarily operated as a 6 car unit to test the use of the coupler. From late August the entire fleet of Class 334 will receive the modification. With 6 units likely to be out of traffic at any one time. 334004/015 should have the other end replaced while the first few sets are modified.
Services
Until December 2010
The 334s are split 50/50 between services to Ayrshire and Inverclyde and services through the Glasgow low level stations.
December 2010 onwards
With the opening of
Airdrie Bathgate
the Class 334s will work exclusively through Queen Street Low Level, with the majority of units working Airdrie-Bathgate services and a handful of units working North Electric Line services.
See Also
Internal Links
External Links