Class 303
Welcome to scot-rail.co.uk, Scotland's online railway community. The group is for any rail enthusiast interested in the railways and trains of Scotland. It not only consists of the wiki that you're reading now, but a busy online forum and mailing list, which is accessible to anyone who registers. If you would like to join in, all you have to do is register with us for free.
Nicknamed the Glasgow Blue Train, the
Class 303
units operated around the Glasgow Electric network for over 40 years.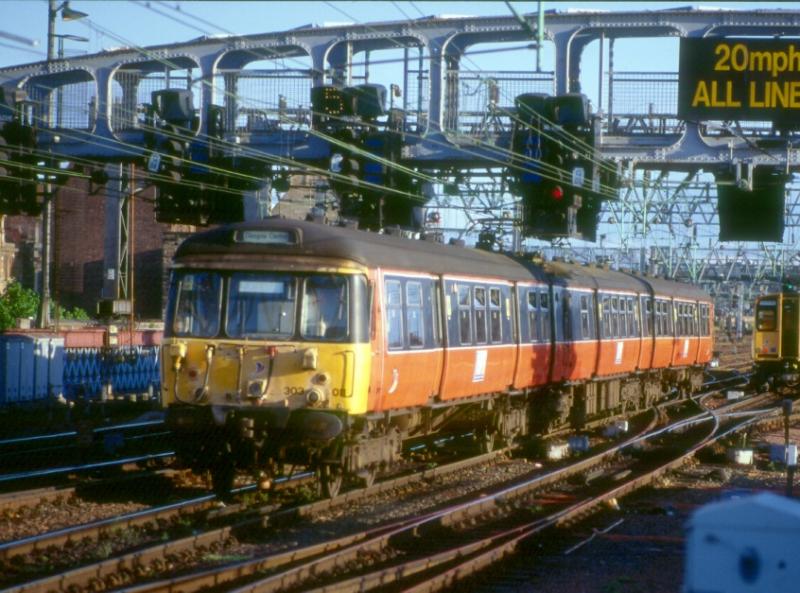 Ninety-one of these 3-car trains were built by Pressed Steel at Linwood from 1959-1960.
The original livery of 'Caledonian blue' with yellow and black lining and grey roofs, gave these distincive trains their nickname.
The electric trains entered service on the North Clyde routes in November 1960, but a series of incidents saw steam trains reintroduced in December, while the electric trains underwent modifications.
The North Clyde electrics resumed in October 1961 and South Clyde services started in May 1962.
Similar
Class 311
units were built for the Inverclyde
electrification
in 1967.
A down turn in passenger numbers saw 12 sets sent to the north west of England in the early 1980s.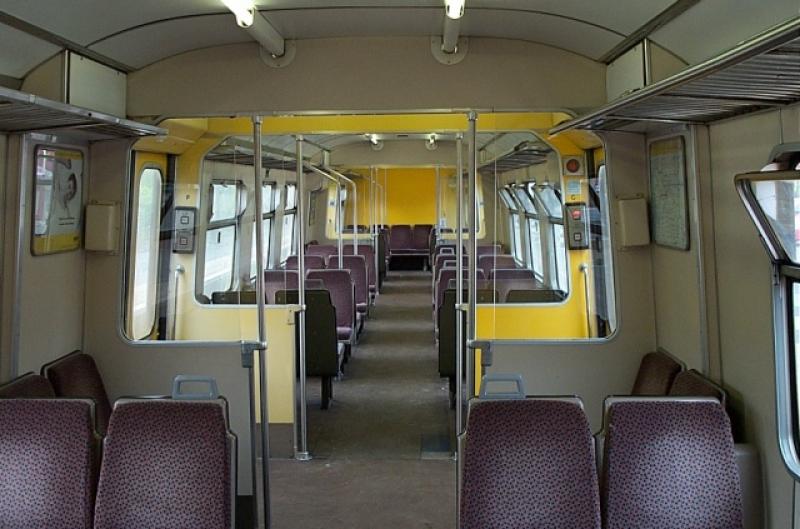 Interior of refurbished 303012, July 2001. Photo: Dysgraphyk
50 units were refurbished at Glasgow Works between 1984-87 with new interiors. The remaining unrefurbished units were replaced by new
Class 320
units, and were withdrawn from service by November 1990.
One unrefurbished unit, 303048, was restored to original blue livery in March 1991, and was used on special duties for a number of years. However it was scrapped in 1998.
By the late 90s, there were only 40 units left in service, and eventually they were withdrawn once the
class 334s
became more reliable.
The last units in service were 303011+303088 working the 09:27 Bellgrove - Helensburgh on
30 December 2002
.
Only 303032 survives and is based at the
Bo'ness & Kinneil Railway
where it has operated in push pull mode with a diesel loco.
Links
External Links
: