Class 08
Welcome to scot-rail.co.uk, Scotland's online railway community. The group is for any rail enthusiast interested in the railways and trains of Scotland. It not only consists of the wiki that you're reading now, but a busy online forum and mailing list, which is accessible to anyone who registers. If you would like to join in, all you have to do is register with us for free.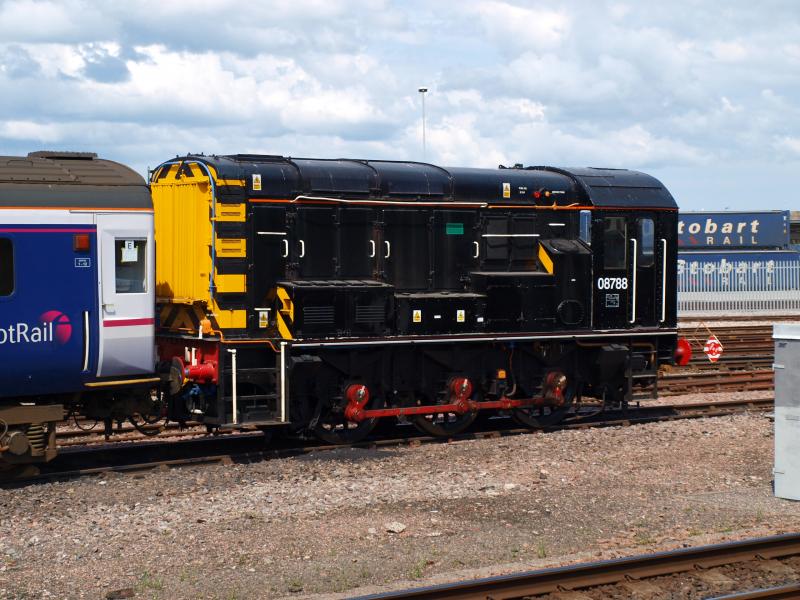 Inverness - 04-07-2009 » 08788 soaks up the highland sunshine outside Lochgorm works. Photo by agcthoms
Class 08 are shunting locomotives, built by British Rail between 1955 and 1962, with English Electric engines and traction motors.
The decline of wagonload freight and locomotive hauled passenger trains has seen their numbers fall and there are now only a few locations in Scotland where they still operate.
A class 08 is based at Inverness and used by ScotRail for shunting HST trailer coaches at the Maintenance Depot.
Until the London - Inverness
Caledonian Sleepers
changed to Mk5 stock on 10th October 2019, an 08 was used shunt the morning arrival out of the station.
At
Polmadie
Class 08s are used for shunting
Caledonian Sleepers
stock and also for moving
Class 334
units undergoing overhaul.
DBS
use of class 08s at Mossend Yard ended in October 2016. The final loco was
08632
. It remained at Mossend until sold in Janaury 2017.
There are three Class 08s on preserved railways
D3059 / 08046
/
Caledonian Railway, Brechin
D3558 / 08443
/
Boness and Kinneil Railway
D3605 / 08490
/
Strathspey Railway
Two of the earlier LMS design BR Class 11 locos are also preserved in Scotland:
12052
/
Caledonian Railway, Brechin
12093
/
Caledonian Railway, Brechin
See Also
External Links