Class 350
Welcome to scot-rail.co.uk, Scotland's online railway community. The group is for any rail enthusiast interested in the railways and trains of Scotland. It not only consists of the wiki that you're reading now, but a busy online forum and mailing list, which is accessible to anyone who registers. If you would like to join in, all you have to do is register with us for free.
Ten four-car Class 350/4 Electric Multiple-Unit trains are operated by
First Transpennine Express
on the Manchester Airport - Carlisle - Edinburgh / Glasgow Central route.
Set 350401 made its first appearance in Scotland on Tuesday
12 December 2013
, running empty from Preston to Edinburgh Waverley.
The first Class 350/4 passenger service took place on
30 December 2013
, 350401 and 350403 working the 1S35 07:15 Manchester Piccadilly to Glasgow Central, and 1M96 return 11:09 from Glasgow Central.
All ten units were in service from April 2014. They replaced
Class 185
DMUs.
On
2nd April 2014
350409 made its passenger debut in a new version of First Group's 'dynamic lines' livery. The nine other sets had run in service in an unbranded light grey colour scheme, but were soon reliveried, with 350401 the last running in grey during May 2014.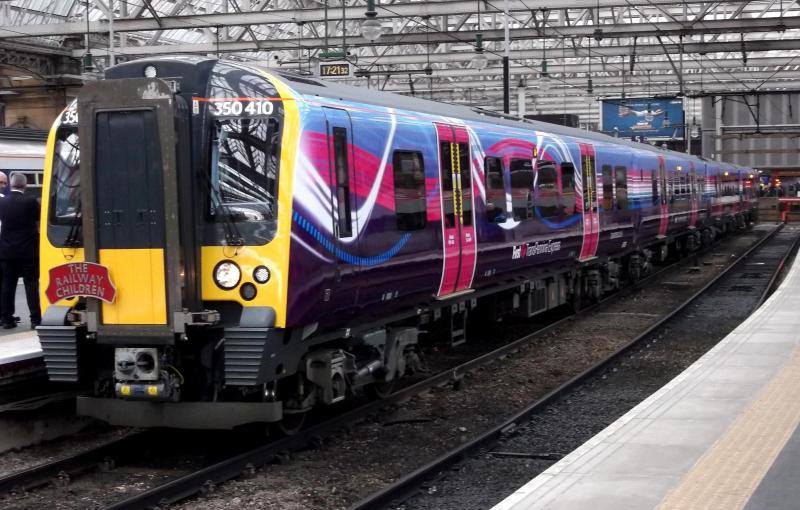 On Saturday 26th April 2014, First Transpennine Express operated a charter using their latest Desiro 350410 from Manchester Picadilly to Edinburgh and Glasgow Central.This was a charity special for The Railway Children. Organised by the Branch Line Society, it visited many unused routes.Here 1Z52, the return leg from Glasgow Central to Manchester awaits departure. Photo by BigJack
During the Glasgow Comonwealth Games in 2014, Class 350 units were hired in from London Midland.
LM Units
372
,
373
,
374
were seen north of the border.
Formations & Vehicle Numbers
Set Number
DMSO
TCO
PTSO
DMSO
Depot
Livery
Comments
350401
60691
60901
60941
60671
AK
FT
350402
60692
60902
60942
60672
AK
FT
350403
60693
60903
60943
60673
AK
FT
350404
60694
60904
60944
60674
AK
FT
350405
60695
60905
60945
60675
AK
FT
350406
60696
60906
60946
60676
AK
FT
350407
60697
60907
60947
60677
AK
FT
350408
60698
60908
60948
60678
AK
FT
350409
60699
60909
60949
60679
AK
FT
350410
60700
60910
60950
60680
AK
FT
Home Depot:
AK = Ardwick (Manchester)
Livery Codes:
UG = Unbranded light grey (none since May 2014)
FT = First Transpennine Express 'Dynamic lines' Purple & Blue with Magenta and White lines at window level. (From April 2014)
TP = Transpennine Express. Silver grey with 2-tone blue ends. (New in 2016, no 350s yet)
External Links