Class 185
Welcome to scot-rail.co.uk, Scotland's online railway community. The group is for any rail enthusiast interested in the railways and trains of Scotland. It not only consists of the wiki that you're reading now, but a busy online forum and mailing list, which is accessible to anyone who registers. If you would like to join in, all you have to do is register with us for free.
The three car "Pennine"
Class 185s
work the vast majority of
First TransPennine Express's
services in the north of england. From December 2007 these units started to operate between Manchester Airport and Glasgow/Edinburgh.
The first visit of a Class 185 in Scotland was when Siemens took a set to Stirling for a conference on the 7th February 2007.
It operated as the:
6X79 1448 Mossend Yard to Stirling 185138 had arrived at Mossend just after 03:00 behind 67006. The Royal locomotive changed ends so it would be leading on the return run and this meant 67030 led for the run up to Stirling, arriving just after 15:40 into Platform 10.
The return run 6X80 20:20 Stirling to the South now saw 67006 leading the train with 67030 tailing on the rear. It left Stirling 8 mins down at 20:28.
The Class 185s worked a number of training runs to Scotland in the weeks leading up to the start of First TransPennine Express's Manchester services, initially to Glasgow and then to Edinburgh.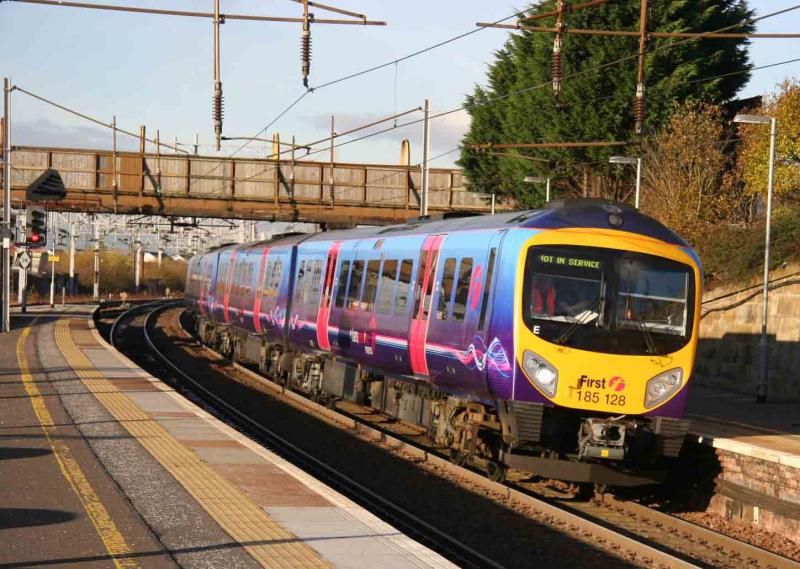 185128 on trial runs at Motherwell Photo:Alistair Blackwood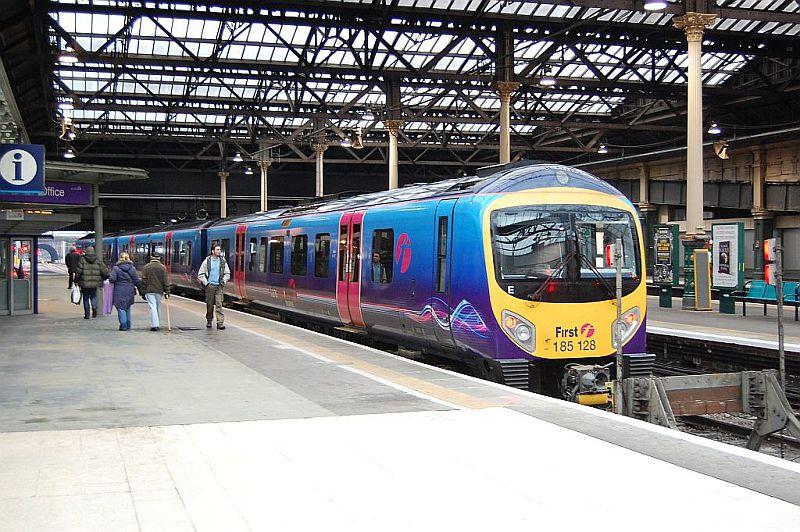 185128 sits in platform 14 at Edinburgh after a trial run Photo:Bruce Kitchener
The coaches are labelled
A + D (First & Standard Class + Disabled toilet)
B + E (All Standard Class + normal toilet)
C + F (All Standard Class)
| | | | | | | |
| --- | --- | --- | --- | --- | --- | --- |
| Number | A | M | B | Depot | Livery | Comments |
| 185101 | 54101 | 53101 | 51101 | AK | TP | |
| 185102 | 54102 | 53102 | 51102 | AK | TP | |
| 185103 | 54103 | 52103 | 51103 | AK | TP | |
| 185104 | 54104 | 53104 | 51104 | AK | TP | |
| 185105 | 54105 | 53105 | 51105 | AK | TP | |
| 185106 | 54106 | 53106 | 51106 | AK | TP | |
| 185107 | 54107 | 53107 | 51107 | AK | TP | |
| 185108 | 54108 | 53108 | 51108 | AK | TP | |
| 185109 | 54109 | 53109 | 51109 | AK | TP | |
| 185110 | 54110 | 53110 | 51110 | AK | TP | |
| 185111 | 54111 | 53111 | 51111 | AK | TP | |
| 185112 | 54412 | 53112 | 51112 | AK | TP | |
| 185113 | 54113 | 53113 | 51113 | AK | TP | |
| 185114 | 54114 | 53114 | 51114 | AK | TP | |
| 185115 | 54115 | 53115 | 51114 | AK | TP | |
| 185116 | 54116 | 53116 | 51116 | AK | TP | |
| 185117 | 54117 | 53117 | 51117 | AK | TP | |
| 185118 | 54118 | 53118 | 51118 | AK | TP | |
| 185119 | 54119 | 53119 | 51119 | AK | TP | |
| 185120 | 54120 | 53120 | 51120 | AK | TP | |
| 185121 | 54121 | 53121 | 51121 | AK | TP | |
| 185122 | 54122 | 53122 | 51122 | AK | TP | |
| 185123 | 54123 | 52123 | 51123 | AK | TP | |
| 185124 | 54124 | 53124 | 51124 | AK | TP | |
| 185125 | 54125 | 53125 | 51125 | AK | TP | |
| 185126 | 54126 | 53126 | 51102 | AK | TP | |
| 185127 | 54127 | 53127 | 51127 | AK | TP | |
| 185128 | 54128 | 53128 | 51128 | AK | TP | |
| 185129 | 54129 | 53129 | 51129 | AK | TP | |
| 185130 | 54130 | 53130 | 51130 | AK | TP | |
| 185131 | 54131 | 53131 | 51131 | AK | TP | |
| 185132 | 54432 | 53132 | 51132 | AK | TP | |
| 185133 | 54133 | 53133 | 51133 | AK | TP | |
| 185134 | 54134 | 53134 | 51134 | AK | TP | |
| 185135 | 54135 | 53135 | 51135 | AK | TP | |
| 185136 | 54136 | 53136 | 51136 | AK | TP | |
| 185137 | 54137 | 53137 | 51137 | AK | TP | |
| 185138 | 54138 | 53138 | 51338 | AK | TP | |
| 185139 | 54139 | 53139 | 51139 | AK | TP | |
| 185140 | 54140 | 53140 | 51140 | AK | TP | |
| 185141 | 54141 | 53141 | 51141 | AK | TP | |
| 185142 | 54142 | 53142 | 51142 | AK | TP | |
| 185143 | 54143 | 53143 | 51143 | AK | TP | |
| 185144 | 54144 | 53144 | 51144 | AK | TP | |
| 185145 | 54145 | 53145 | 51145 | AK | TP | |
| 185146 | 54146 | 53146 | 51146 | AK | TP | |
| 185147 | 54147 | 53147 | 51147 | AK | TP | |
| 185148 | 54148 | 53148 | 51148 | AK | TP | |
| 185149 | 54149 | 53149 | 51149 | AK | TP | |
| 185150 | 54150 | 53150 | 51150 | AK | TP | |
| 185151 | 54151 | 53151 | 51151 | AK | TP | |
TP = Trans Pennine