East Coast Mainline
Welcome to scot-rail.co.uk, Scotland's online railway community. The group is for any rail enthusiast interested in the railways and trains of Scotland. It not only consists of the wiki that you're reading now, but a busy online forum and mailing list, which is accessible to anyone who registers. If you would like to join in, all you have to do is register with us for free.
Introduction
The East Coast Mainline (ECML) is the main route running from Aberdeen to London Kings Cross via Edinburgh, Berwick and Newcastle, hugging the east coast of Scotland and North East England before taking a more inland path more or less after Durham. However, controversially, Network Rail only describe the ECML as being between Edinburgh and London King's Cross.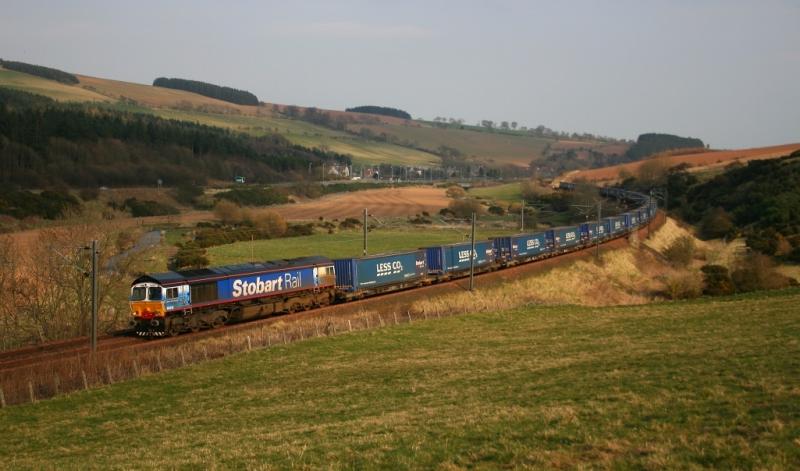 Diverted James » 66414 (or James the Engine if you prefer) rounds the curve through Houndwood in the Berwickshire hills with the diverted 4S43 Daventry - Grangemouth Photo by Steve_B
History
The constituent companies that made up the ECML were originally the North British Railway in Scotland and the North Eastern Railway and Great Northern Railways in England. These came under the umbrella of the LNER upon Grouping in 1923 and British Railways on Nationalisation in 1948. British Railways became British Rail around about 1964 and upon privatisation a plethora of railway companies now run services on the ECML the main being
ScotRail
,
East Coast
and
Arriva Crosscountry
although there are others as you progress South from Newcastle through York, Peterborough etc into the London suburbs.
Carstairs Extension
When electrification was extended from Edinburgh to Glasgow Central via Carstairs, the ECML took on an extension over the former LMS West Coast Mainline from Carstairs into Glasgow Central. Anglo Scottish Glasgow/Edinburgh/ London services originally were operated by Great North Eastern Railway, a subsidiary of Sea Containers Ltd. They have now relinquished this in favour of the aforementioned National Express East Coast. The cross country services were operated by Virgin who have now given over to Arriva.
Stations
Stations served nowadays are
Glasgow Central
, Motherwell, Carstairs,
Edinburgh Haymarket
,
Edinburgh Waverley
, Dunbar, Berwick Upon Tweed, Alnmouth, Morpeth, Newcastle, Durham, Darlington, Northallerton, York, Doncaster, Retford, Newark North Gate, Grantham, Peterborough, Stevenage and London King's Cross.
Services
1t/h Edinburgh Waverley - London Kings Cross
1t/2h Glasgow Central - London Kings Cross
4t/d Aberdeen - London Kings Cross
1t/d Inverness - London Kings Cross
Cross Country?
TO BE ADDED