Edinburgh Waverley Expansion
Welcome to scot-rail.co.uk, Scotland's online railway community. The group is for any rail enthusiast interested in the railways and trains of Scotland. It not only consists of the wiki that you're reading now, but a busy online forum and mailing list, which is accessible to anyone who registers. If you would like to join in, all you have to do is register with us for free.
As part of Transport Scotland's investments work is currently taking place at
Edinburgh Waverley
to increase capacity and facilitate the introduction of electric services between Edinburgh and Glasgow via Bathgate and Airdrie.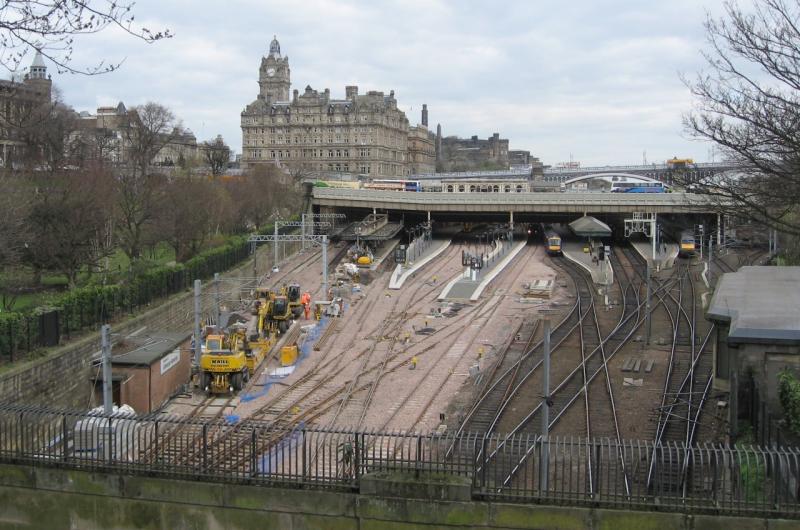 The west end throat of Edinburgh Waverley on 6th April 2007. Photo by Dysgraphyk
The Work
This work is required to
allow four more trains per hour into Waverley (necessary for other projects e.g. Waverley Line and Airdrie Bathgate)
allow for longer commuter trains
improve accessability
This will be delivered by
Building and commissioning of a new IECC signalling centre
Three additional through platforms and a reinstated east end bay
Remodelling track work at the west end throat
constructing a weather protected canopy over the Waverley Steps entrace
Other work will include cleaning, painting and repairing aspects of the station.
Two Contracts were placed in December 2005. AMEC SPIE Rail was awarded a £24million contract to carry out track and platform improvements, and Westinghouse Rail Systems won the £29million contract to install upgraded signalling and telecoms.
Work began in January 2006 and is expected to be completed by December 2007 when all platforms will be operational.
Signalling:Edinburgh Nov 2007
.
There are four planned 'work phases' during 2007. This will result in:
Platforms 15, 16, 17 and 18 closing from 27 December 2006 until the end of March 2007
Platforms 18, 19 and 20 close from April 1 2007 until approximately mid-May 2007
Platforms 12, 13 and 14 close from mid-May 2007 until the end of July 2007
Platforms 8, 9, 10 and 11 close from August 2007 until November 2007
Platform numbers refer to new numbering that came into effect on 27th December 2006
Progress
Work started on the north side of the station, where a new platform face was constructed opposite platform 19 and platform 2.
The North Loop and North Loop Siding were lifted, a new scissors cross-over was put in and a realigned North loop was laid.
A temporary footbridge was erected in May 2006 to connect the station concourse to the Waverley Steps via Princes Mall, while the existing link bridge to the Waverley Steps was replaced.
At the east end of the station, Platforms 2 and 3 were extended.
Work started on building a new platform opposite platform 11.
To access to the new platform, a lift and staircase were built on the south side of the Klondyke wall.
Platform 3 was brought into use on 11 December 2006 for Edinburgh to Newcraighall services.
Platforms 10, 20 and 1 were brought into use on 27 December 2006.
platform 12 was extended in December 2017
Platform 5 and 6 are being extended in 2018
Balmoral Platform

June 2006

July 2006

August 2006

December 2006
Photos by Donald Stirling
Edinburgh Waverley Statistics
With the addition of the new platforms at Waverley there are some interesting facts about the station:
627 metres of new platform face
3623 metres total platform space - which is an impressive 3.6km - or 2.2 miles
18 platforms available for passenger use
A number of members are recording progress with their camera
Discussion regarding the work
Associated Works
Associated with these works a new bay platform was constructed at Haymarket 'Platform 0', to allow some services to terminate/start there during the remodelling of the western throat at Waverley. The platform began use from December 27, 2006.
Again, members recorded progress of construction
Discussion on the New Platform
Slateford Yard was also upgraded to accommodate a temporary First Scotrail servicing depot (18 month life during disruptive work at Waverley). The depot was used from 11 December 2006.
---
External Links