Class 305
Welcome to scot-rail.co.uk, Scotland's online railway community. The group is for any rail enthusiast interested in the railways and trains of Scotland. It not only consists of the wiki that you're reading now, but a busy online forum and mailing list, which is accessible to anyone who registers. If you would like to join in, all you have to do is register with us for free.
The
Class 305s
were 4-car, slam door electric multiple units (EMUs).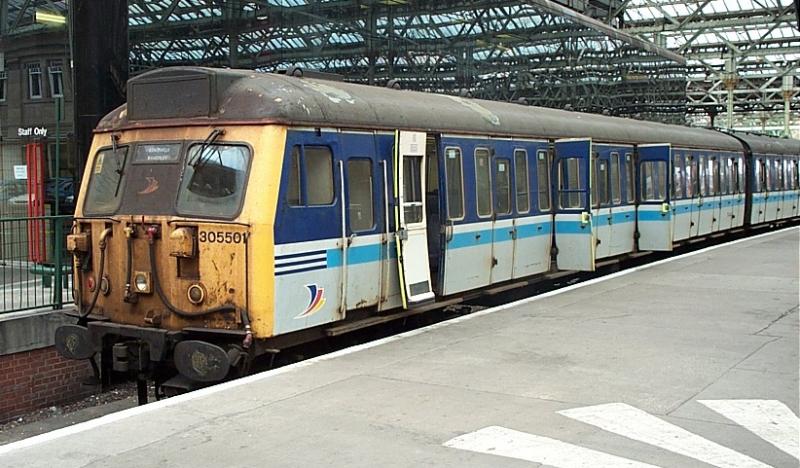 EMU 305501 at Edinburgh Waverley platform 7, after arrival from North Berwick. (5th July 2001). Photo by Dysgraphyk
The Class 305s were built by British Railways at Doncaster in 1960 and used for 30 years on commuter routes into London's Liverpool Street and Fenchurch Street stations, before being replaced by more modern stock.
Following electrification of the East Coast Main Line and the Drem to North Berwick branch in July 1991, five units were transferred to Scotland and maintained at
Shields Depot
) for use on the Edinburgh to North Berwick route.
The units were:
305501
305502
305508
305517
305519
From July 2001, some duties were taken over by
Class 318
units, and by DMUs.
305502 and 508 were withdrawn and taken south to Immingham for scrap (together with 303014) by 60088 on 7th November 2001.
Only 305517 survived into 2002, its last passenger working was 17:15 North Berwick - Edinburgh on Friday 25th January,
The final 3 units (501, 517 and 519) were moved from Edinburgh Waverley to Immingham by 66098 on 31st January 2002.
Class 322
units were first introduced onto the North Berwick line shortly after the Class 305's demise.
---
External Links: