Class 220
Welcome to scot-rail.co.uk, Scotland's online railway community. The group is for any rail enthusiast interested in the railways and trains of Scotland. It not only consists of the wiki that you're reading now, but a busy online forum and mailing list, which is accessible to anyone who registers. If you would like to join in, all you have to do is register with us for free.
Arriva CrossCountry
operate a fleet of 34, four car
Class 220
"
Voyagers
".
These trains operate between Glasgow/Edinburgh and the South via Birmingham. They also work some trains north of Edinburgh to Dundee and Aberdeen.
When operated by
Virgin Cross Country
, they also ran via the WCML to Manchester and Birmingham.
The trains were built by Bombardier and delivered between 2001-2002. They are based at Central Rivers Depot, near Burton-on-Trent.
Each class 220 vehicle has a 750hp Cummins QSK1 diesel engine under the floor, which powers two electric traction motors driving the inner axles on each bogie. The trains have a maximum speed of 125mph.
Class 220s are very similar to
class 221s
, however the two classes are fitted with different bogies - the class 220s have inside frames which expose the whole of the wheel face.
When operated by
Virgin Cross Country
, the 220s had a 'silver shield' on the nose, and red backed nameplates.
All the units were named, prior to Virgin loosing the franchise, mostly after areas of Britain, with a 'Voyager' suffix.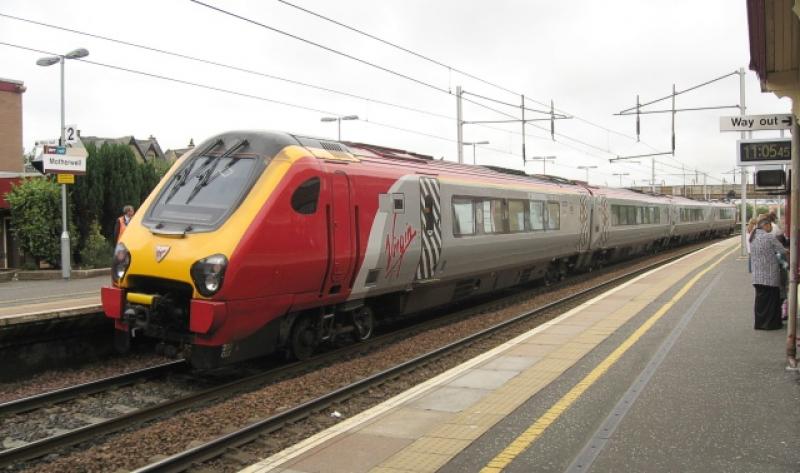 Virgin 220027 at Motherwell » 220.027 departs from Motherwell with the 07:00 Birmingham New Street - Glasgow Central train on Saturday 1st September 2007 Photo by Dysgraphyk
Class 220 units have visited the
Bo'ness and Kinneil Railway
to carry out Autumn low adhesion training for Virgin Trains drivers.
220009
Gatwick Voyager
was the first of the class to visit on on 28th September 2001.
photo link
It was the last training run of the season, the other trips had used 158s.
Training with class 220s also took place for 3 weeks in September 2002, with units running from Edinburgh to Cadder Yard to reverse before heading to Bo'ness.
(archived message)
.
Up until December 2008 on Sunday mornings class 220 and 221's would come onto the WCML via the Cathcart Circle.
See Also
Internal Links
External Links