Class 25
Welcome to scot-rail.co.uk, Scotland's online railway community. The group is for any rail enthusiast interested in the railways and trains of Scotland. It not only consists of the wiki that you're reading now, but a busy online forum and mailing list, which is accessible to anyone who registers. If you would like to join in, all you have to do is register with us for free.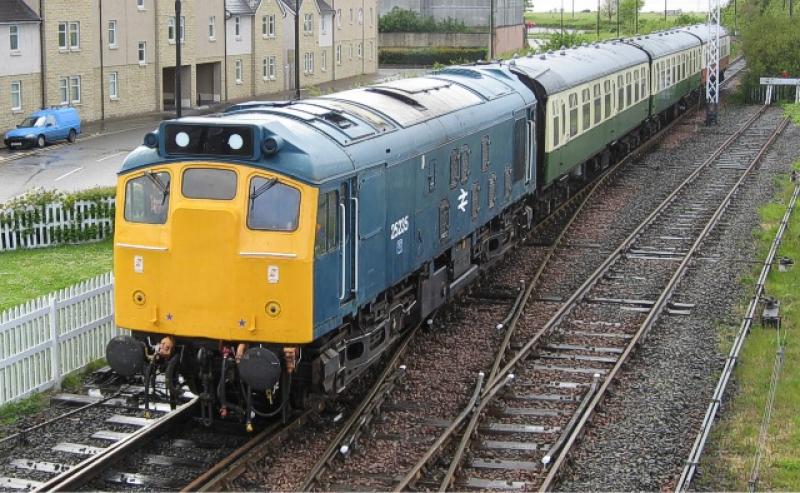 Preserved 25235 arrives at Bo'ness after working the last trip to Birkhill on Sunday 6th May 2007. Photo: Dysgraphyk
The class 25 was a BR design built from 1961 to 1967 at Darlington and Derby works. (Beyer Peacock also built some locos in 1965/66). In total 327 were constructed.
The design of this locomotive evolved from the class 24, and was fitted with 6LDA28-B 1250hp Sulzer engines, and had a 90mph top speed. A redesigned bodyshell was introduced by Derby from 1963, and used on locos that became 25083-217/248-327.
Class 25s had worked across the border into Scotland for several years before the Scottish Region received its first allocation of class 25s.
These were D7611-23 (25261-273) delivered new to Eastfield during 1966, to replace steam locos on freight in Ayrshire. These 13 locos had square recesses under the drivers windows for tablet catchers (never fitted). Later in 1966 eleven more, D7698-7609, moved north from Tinlsey to Eastfield and Haymarket.
These 25/3s didn't stay long on the region and between 1967 and 1969 were swapped with boiler fitted class 25s and
27s
.
The replacement class 25s were D7576-9/81/83/84/90/91 (25226-229/231/233/234/240/241), and these locos were fitted with dual (air and vacuum) brakes in 1970.
In the early years of the Edinburgh - Glasgow Push & Pull service, these locos often substituted for
class 27s
.
Many more class 25s were transferred to Scotland in the 1970s as replacements for class 24s.
The class 25s could be found on most routes in Scotland, mostly on freight, but also passenger workings in place of
class 27s
, particularly the Glasgow - Dundee route.
Scottish Region allocation, October 1977
Eastfield (ED) 33 locos
25001, 25002, 25005, 25006, 25007, 25008, 25009, 25010, 25019, 25021, 25023, 25025, 25044, 25049, 25072, 25077, 25078, 25082, 25086, 25087, 25093, 25098, 25108, 25227, 25230, 25232, 25235, 25239, 25240, 25241, 25244, 25247, 25301
Haymarket (HA) 19 locos
25011, 25013, 25026, 25028, 25033, 25034, 25035, 25037, 25050, 25059, 25065, 25066, 25075, 25079, 25084, 25085, 25091, 25171, 25237
Inverness (IS) 11 locos
25062, 25064, 25068, 25083, 25226, 25228, 25229, 25231, 25233, 25234, 25238
Decline
The 25/0 locos 25001-025 were not equiped with boilers or air brakes, and had non-standard BTH traction motors (others had AEI motors). They were progressively withdrawn between 1976 and 1980.
The influx of
Class 37s
from 1978 onwards enabled the Scottish Region to remove the class 25s from its fleet.
The last twenty-two 25's based at Eastfield and Haymarket were transferred south (to Crewe, Carlisle and Longsight) in October 1982.
Class 25s continued to visit southern Scotland until final withdrawal of the class in March 1987.
One of the class 25912 (ex 25322) was retained by BR as a training loco. Numbered as D7672, repainted green and named
Tamworth Castle
. It was used on a few railtours 1989-1991. None took the loco into Scotland, however on April 29th 1991 D7672 ran light engine to MC Metals, Glasgow for asbestos removal, returning south on May 18th 1991, ready for preservation.
Preservation
Twenty class 25s survive in preservation, with three located in Scotland:
---
External Links: