MK3 DVT Push-Pull
Welcome to scot-rail.co.uk, Scotland's online railway community. The group is for any rail enthusiast interested in the railways and trains of Scotland. It not only consists of the wiki that you're reading now, but a busy online forum and mailing list, which is accessible to anyone who registers. If you would like to join in, all you have to do is register with us for free.
West Coast Main Line
The Mark3 DVTs were introduced by Intercity in 1989/1990 for use on daytime West Coast main line trains from London Euston, and soon became a familiar sight at Glasgow Central.
Locomotives used were the then new
Class 90s
, older
Class 87s
, plus a few
Class 86/2s
.
The locomotives and MK3 stock were replaced by
Virgin Trains'
new
class 390 Pendolino trains
.
North Berwick Push-Pull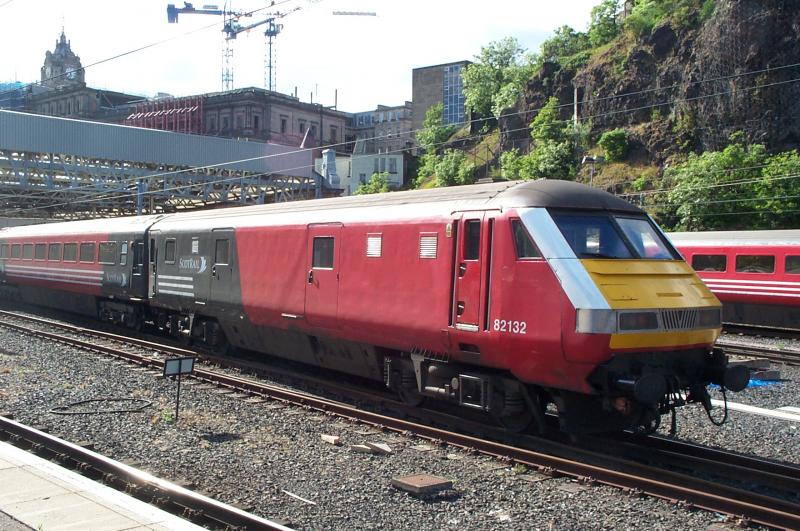 Mk3 DVT for the North Berwick service » Mk3 Driving Van Trailer 82132 in Virgin Trains colours, but with ScotRail branding. Photo by Dysgraphyk
The
Class 322
EMUs used on the route were to be sent to Anglia, and with a shortage of DMUs, and no replacement EMUs the solution found was using spare Mk3 push-pull stock.
The coaching stock remained in Virgin trains livery, but with the branding replaced by the ScotRail logo.
Locomotives were
Class 90s
provided by EWS, in either Railfreight Distribution two-tone grey, or EWS maroon and gold livery.
An initial trial run was carried out on Sunday
21 December 2003
, with 90023.
The Push-pull trains started work on
24th May 2004
, running Mondays - Fridays only.
The trains ran to North Berwick from Edinburgh or from Haymarket with reversals taking place at Slateford. They were not used on through trains to Glasgow Central.
The trains were maintained at Polmadie.
Push-Pull operation ended on
Friday 2nd September 2005
, with 90021 bringing the 18:17 from North Berwick into Edinburgh.
North Berwick Mk3 Formations, October 2nd 2004
| | |
| --- | --- |
| Set No. | Coaches |
| SC01 | 82132 12092 12137 12005 12147 |
| SC02 | 82109 12041 12065 12139 12100 |
| SC03 | 82106 12019 12046 12134 12040 |
| SC04 | 82112 12014 12172 12032 12038 |
| SC05 | 82120 12128 12166 12151 12004 |
Class 90s used on the service were:
90017/18/20-24/26-31/33-37/39/40.
90038 had been used on driver training runs.