Snow ploughs
Welcome to scot-rail.co.uk, Scotland's online railway community. The group is for any rail enthusiast interested in the railways and trains of Scotland. It not only consists of the wiki that you're reading now, but a busy online forum and mailing list, which is accessible to anyone who registers. If you would like to join in, all you have to do is register with us for free.
Miniature Snow Ploughs
Trains may run normally with with snow lying up to 20cm above rail level. When snow is 20-30cm deep, trains fitted with miniature snow ploughs can run normally, and these may also be authorised to run when the snow is up to 45cm above rail level.
Miniature Snow Ploughs (Locomotives)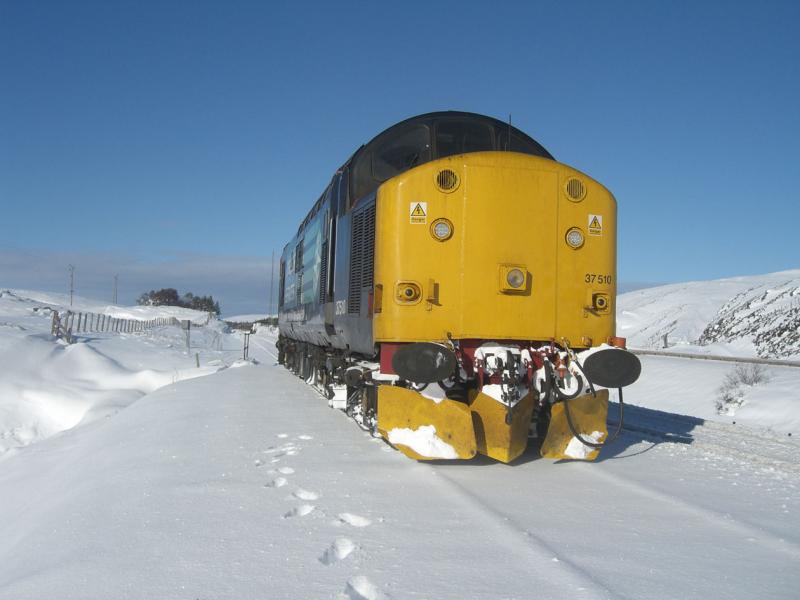 37510 at Slochd Loop on 1Z99 Snow patrolling duty, 11 February 2009. Photo by altnabreac
Many former BR diesel locomotives can be fitted with 3 piece miniature snow ploughs (MSPs). However
Class 66
and
Class 67
locomotive are not equipped for this.
Locomotives fitted with miniature snowploughs may be hired by
Network Rail
for patrol work, running light engine during falling snow to keep the line clear.
Miniature Snow Ploughs (DMUs)
Class 156
units were fitted with snowplough/obstacle deflectors when they were introduced to Scotland in 1989.
Class 158
units based in Scotland (158701-746) had the lower front end fairings modified to include a snowplough blade during 1991.
These are officially classed as obstacle deflectors rather than snow ploughs.
Snow Ploughs
Network Rail
own specialist equipment which can be used to clear drifting snow which is beyond the capability of the miniature ploughs fitted to locos. The vehicles listed below are those likely to see use in Scotland.
Independent Snow Ploughs
These large 'Drift' ploughs were built by British Rail in the 1960's on modified frames of steam loco tenders. Network Rail has 20 of these ploughs.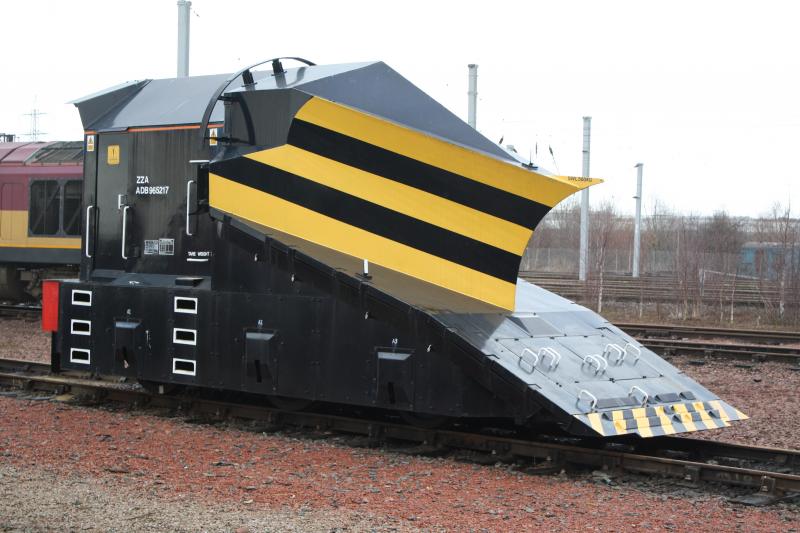 Snowplough ADB965217 sitting at Mossend, March 2010 Photo by DEREKO
The following list details the locations (Scotland and Northern England) from late-2020:
ADB 965203 - Carlisle
ADB 965209 - Motherwell
ADB 965210 - Carlisle
ADB 965224 - Inverness
ADB 965230 - Inverness
ADB 965231 - Motherwell
ADB 965234 - Motherwell
ADB 965236 - Motherwell
ADB 965242 - Carlisle
ADB 965243 - Carlisle
There are also Independent snow ploughs preserved at Glenfinnan Railway Museum (ADB 965200) Bo'ness (ADB 965201).
Locomotives used with these ploughs need to have the driver's position on the left-side of the cab to see past the body of the plough (so class 67 & 68 are unsuitable).
The ploughs are equipped with retractable side flaps, skids, and adjustable front spade plates. These must be retracted except when required for ploughing.
During ploughing operations:
The normal formation of a snow plough train should be 2 independent ploughs separated by 2 main line diesel locomotives. Where 2 locomotives are used these should be working in multiple.
The snow plough train must be accompanied by a track engineer's representative, a traction supervisor, and a rolling stock technician.
The driver is permitted to drive from the leading cab of the second locomotive.
Speed must not exceed 45mph
No train may run on any adjacent line to that being cleared.
Beilhack V Ploughs
ADB 965578 - Carlisle
ADB 965579 - Carlisle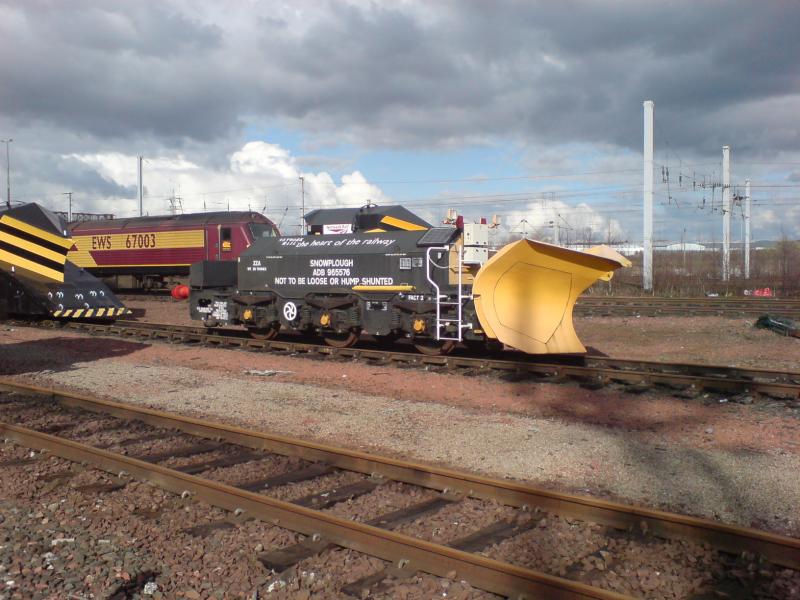 Beilhack Bogie Mounted Snowplough ADB965576 at Mossend (04-04-10) Photo by Geddy_Lee
Network Rail has 8 of these ploughs, which were constructed in the 1980s. They are Beilhack Type PB600 ploughs mounted on former class 40 bogies, and are used for patrol work and ploughing drifts up to 1.8 metres high.
The ploughs may be coupled front and rear of a locomotive, or worked singly provided the loco is equipped with miniature snow ploughs. Maximum speed is 45mph.
The train must be accompanied by a Network Rail operations department representative and a rolling stock technician.
When in use on double track lines the plough blades are adjusted to deflect snow to the left of the track.
Normal working can continue on adjacent lines unless the person in charge considers there is a danger to other traffic.
Network Rail's fleet of Beilhack ploughs were overhauled at Brodie Rail, Kilmarnock in 2011. Following this, two originally based at Mossend were reallocated to Doncaster.
Snow Blower Machines
ADB 968500 - Rutherglen OTP Depot
ADB 968501 - Rutherglen OTP Depot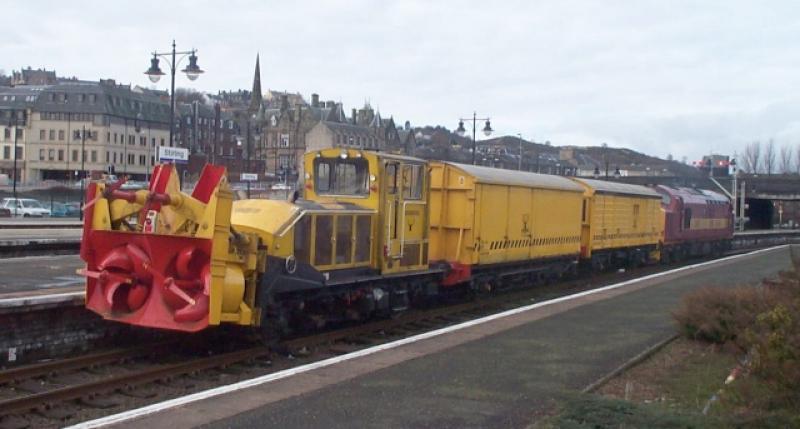 Snow blower at Stirling, March 2001 » The Inverness based Snow blower machine, ADB968500, returning north behind 37669, pauses at Stirling on 9 March 2001. The snow blower had been in use in the Carstairs area the previous week. Photo by Dysgraphyk
These are Beilhack self-propelled rotary snow blowers which can operate at up to 40mph when not clearing snow. The first machine was built in 1980 and based at Inverness. A second was built in 1989 for Network SouthEast and based in London. It moved to Kilmarnock in 2002. Both snow blowers moved to Motherwell in 2007, and then to Rutherglen OTP Depot in 2008.
Snow blowing may only take place when traffic on adjacent lines has been stopped. The snow blower machines feature a built-in turntable allowing them to change the direction of snow clearance.
An experimental snow blower mounted on a redundant 'Grampus' open wagon (number DX69001) had been parked out of use in Perth New Yard for many years, but was scrapped in 2008.
Snow Train
7095940141 (YXA wagon) + ADB 977869 (QXA mess coach) - Perth
Scotland has its own £1m winter-weather engineering train that quickly defrosts rail junctions. The train has hot-air blowers at either end and uses blasts of steam, hot water and compressed air to quickly thaw frozen points. It is also used to transport equipment and people quickly to wherever they're needed on the network.
The two-vehicle train first appeared for testing in February 2012.
The train is normally based at Perth carriage shed.
See Also
External Links