The Jacobite
Welcome to scot-rail.co.uk, Scotland's online railway community. The group is for any rail enthusiast interested in the railways and trains of Scotland. It not only consists of the wiki that you're reading now, but a busy online forum and mailing list, which is accessible to anyone who registers. If you would like to join in, all you have to do is register with us for free.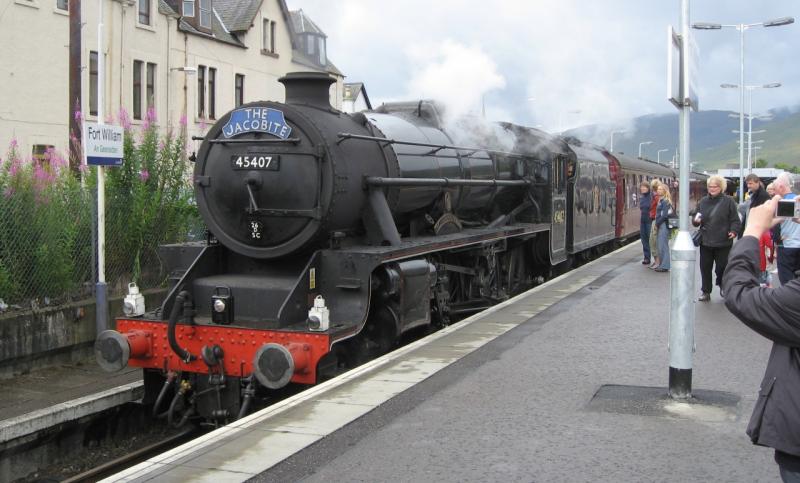 45407 at Fort William, 2nd August 2007. Photo: Dysgraphyk
The Jacobite
is the name of the summer service between Fort William and Mallaig using steam locomotives.
This steam train has been running since 1984; in the later British Rail days it was known as
The Lochaber
.
Since 1995 it has been operated by
West Coast Railway Company
.
The 2012 season will use the following locomotives
LNER K1 Class 2-6-0 no.62005
((LMSR Class 5MT 4-6-0 45407
LMSR Class 5MT 4-6-0 44871
The locomotive usually runs chimney first to Mallaig, and returns tender first to Fort William.
After arrival at Mallaig platform 1, the locomotive runs round the train, then shunts the stock into platform 2.
After departure from Mallaig (plaform 2), the train pauses briefly outside the station for the Ground Frame to be reset, before the train proceeds to Glenfinnan. The return train also stops at Morar because of the Open Level Crossing.
The train leaves Fort William at 10.15, arriving at Mallaig at 12.26. It leaves Mallaig at 14.11, arriving back at Fort William at 16.03.
(
Jacobite Timings from 14 May 2012
)
Headcode

Route

Notes

Times

2Y61
10:15 Fort William - Mallaig (a 12:26)
timings
2Y62
14:11 Mallaig - Fort William (a 16:03)
timings
2Y68
14:45 Fort William - Mallaig (a 16:44)
Afternoon train
timings
2Y69
18:40 Mallaig - Fort William (a 20:30)
Afternoon train
timings
Running Monday 14th May - Friday 26th October 2012.
The service will run Mondays to Fridays throughout, and Saturdays & Sundays, 23rd June to 26th August 2012.
The afternoon service runs Monday to Friday (4th June to 31st August 2012)
---
External Links