Class 158
Welcome to scot-rail.co.uk, Scotland's online railway community. The group is for any rail enthusiast interested in the railways and trains of Scotland. It not only consists of the wiki that you're reading now, but a busy online forum and mailing list, which is accessible to anyone who registers. If you would like to join in, all you have to do is register with us for free.
Introduction
ScotRail operate a fleet of forty
Class 158
"
Express
" DMUs. These are allocated between
Haymarket Depot
and
Inverness Depot
. The units are primarily used on long distance rural services as well as short distance communter services within the Central Belt.
Routes
Class 158s currently operate the following routes:
Glasgow Queen Street/Edinburgh - Stirling/Dunblane/Alloa (shared with 156s/170s)
Glasgow Queen Street - Falkirk Grahamston (shared with the 156s/170s)
Glasgow Queen Street - Maryhill - Anniesland (shared with 156s/170s)
Edinburgh - West Calder - Shotts - Glasgow Central (shared with 156s)
Edinburgh Waverley/Glasgow Queen Street - Perth/Dundee/Aberdeen/Inverness (Shared with 170s)
Aberdeen - Inverness (Shared with 170s)
Inverness - Kyle/Wick
Fife Circle (Shared with 156s/170s)
Refurbishment
The Class 158s are presently undergoing an exterior repainting programme from First ScotRail livery into the ScotRail Saltire livery. This is expected to be completed in 2018.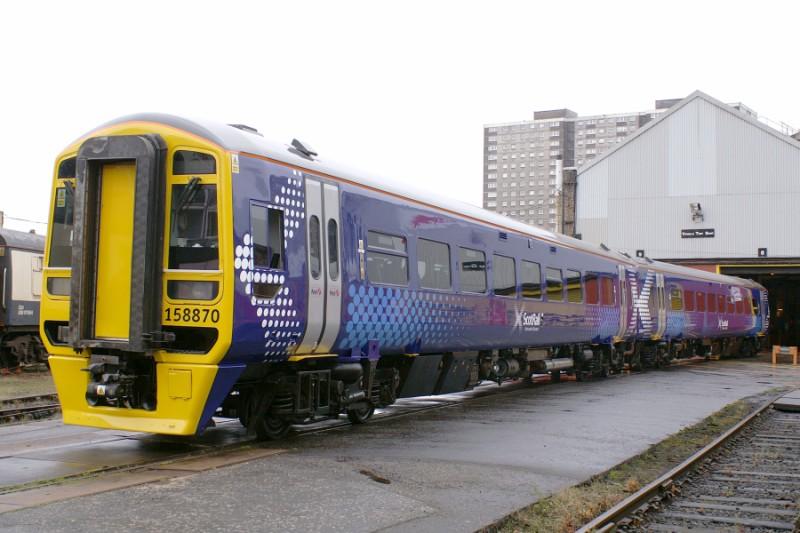 158870 » Ex Works 158870 stands outside the test house prior to departure on Sunday 19th September Taken with permission of Railcare & FirstScotrail Photo by class47man
Loans
158782, 158786, 158789 and 159791 arrived at HA on loan during February 2007. 158791 returned south to Northern on 3rd March 2007 whilst the other 3 units remained and have now been repainted into the TS Scotrail Saltire livery.
158867, 158868, 158869 and 158870 arrived at Haymarket on 14 December 2007 on long term loan from Northern, an arrangement which was due to end in June 2010. However a new agreement was made with the ROSCO and the units now form part of the ScotRail fleet and will remain with ScotRail indefinitely. All 5 have now been repainted into the TS Scotrail Saltire livery. All 8 units are expected to remain in Scotland until 2018 when they will transfer to Northern rail.
The first 2 158s (158870/871) left Scotland on 5th January 2018. the remaining 6 will leave in the coming months.
See also
Internal links
External links